On our recent girlfriend getaway, we had the chance to work our way around Fayetteville tasting some of the best foodie spots. Getting a taste of Fayetteville North Carolina offers visitors a great way to create a more "authentic" travel experience.
When traveling there's no better place to start than with local foods to find the flavors of the community and have the opportunity to meet local patrons and owners. Food nourishes our soul in so many lovely ways, including immersing us into the culture of an area.
A reliable national food chain is always safe bet and can be comforting, but it will truly enhance your journey to add in some regional choices. Local coffee shops are the heart-beat of the community. Family owned restaurants are charming locations filled with memories. Specialty venues celebrate local foods and traditions. We enjoy finding out what makes a community tick and how they celebrate their area with food.
In Fayetteville, we found some amazing locations that you definitely need to add to your foodie travel wish lists: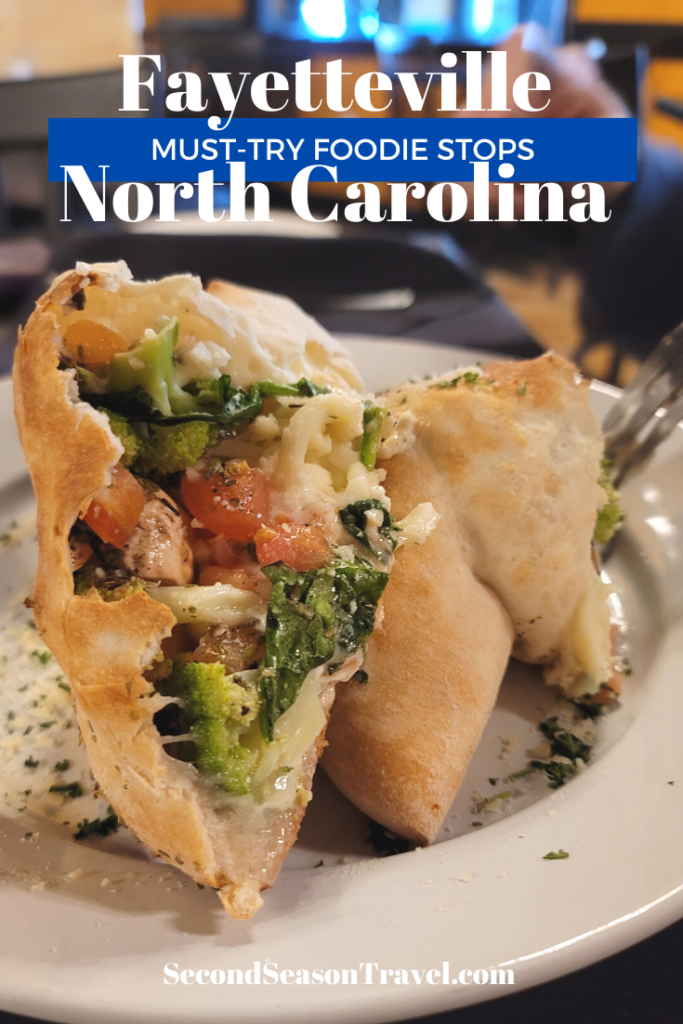 Coffee & More
We love to begin each morning with great brew! A cup in our hotel room is a good start and when we hit the road, it's time to experience local favorites.
Some mornings are just donut mornings, aren't they? When you are craving a sweet treat with cup o' Jo, Duck Donuts will delight. This regional coffee chain offers fresh – and we mean fresh! They are made to order with the toppings you select. You'll also find a wide variety of coffee treat and regular coffee options, too. The only challenge is deciding what delicious toppings you want, there's a wealth of possibilities from Maple Bacon to Chocolate Covered Banana!
If you're looking for a great brew, chai tea, or a hand-crafted drink like a Honey Lavender Latte (yum!), The Coffee Cup offers a terrific pick-me-up any time of the day. We also loved that they had Vegan treats! We picked up some cookies that became our breakfast the next day and were absolutely scrumptious. Located in downtown Fayetteville, it's a great spot to stop for a rest during your shopping adventures.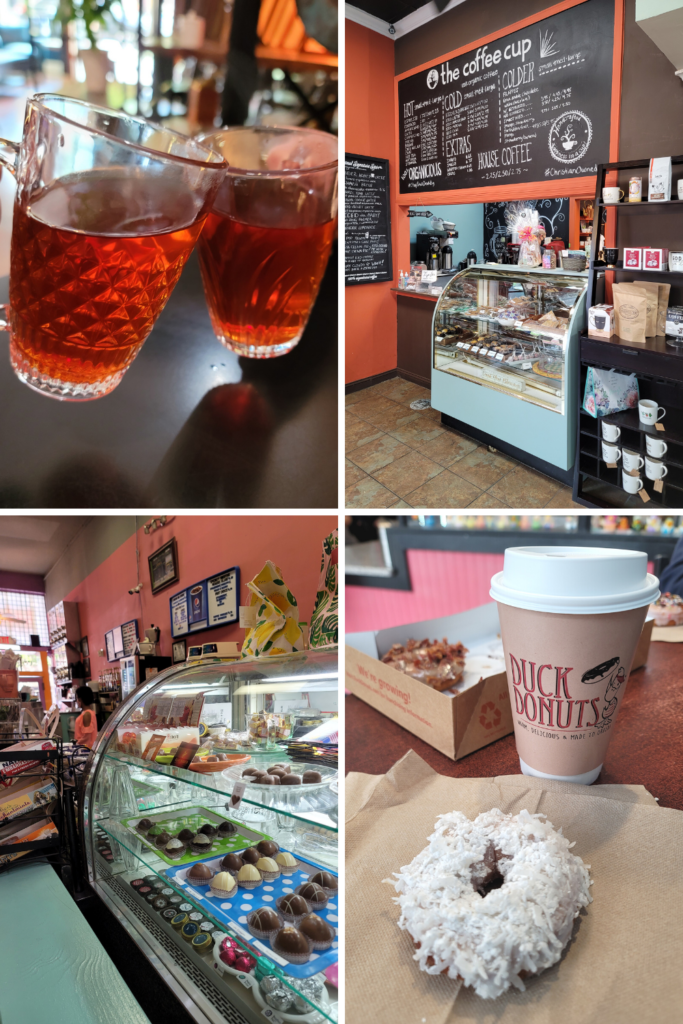 Also located in downtown Fayetteville, the Rude Awakening Coffee House is located in a historical building that used to house a soda shop. It's and eclectic, quirky and fun shop chock full of coffee delights, baked goods, trinkets and treats. Plan to spend a few minutes there to soak it all in while you decide on your brew choice for the day.
Not a coffee drinker? No worries! Fayetteville is home to Winterbloom Tea. This lovely location offers fresh, premium hot teas, iced teas, and even specialty tea cocktails! Their menu is extensive, so be sure to take a moment to look it over before you decide. We opted for a hot Banana Bread Tea blend and absolutely fell in love with the aroma and taste. So much so that Barb purchased a bag to bring home! We also purchased other varities to take home and sample, too. As Grace noted, local teas make an excellent souvenir!
Note: (When you stop at Winterbloom Tea for a girlfriend getaway toast, you will be asked for your ID. This is due to the fact that the establishment serves alcohol and is customary at any "bar style" location.)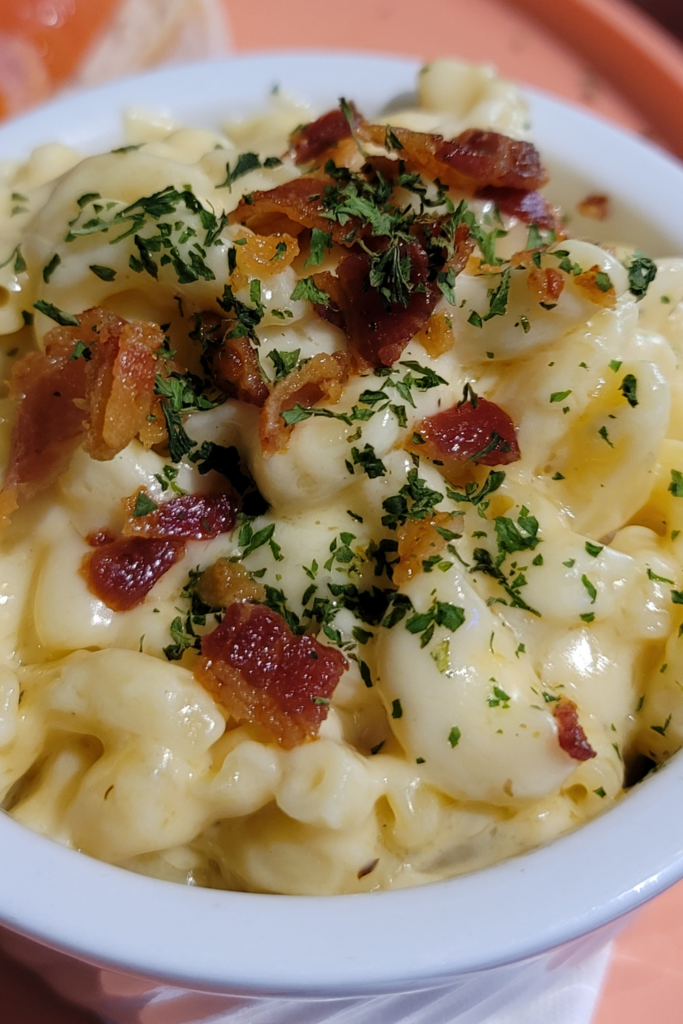 Lunch and Brunch
When the locals eat there regularly, you know you are onto something great! Blue Moon Cafe is a true gem located in the heart of downtown Fayetteville. The menu is super fresh and full of coastal favorites along with delicious surprises. Everything about the place makes you feel comfortably at home and the food is pure comfort, too.
We stopped in for lunch and would have returned over and over again had we had more time in the area. If we lived local, it would absolutely be a regular lunch date meeting spot. Do come hungry as the portions are generous! Favorite dishes included the (shareable) Crab Dip, Loxed Up smoked salmon plate, and the Queen of Hearts Flatbread (which is a great Vegetarian option. If you are in the mood for some super comfort food, try the Mac 'N Cheese, it's everything you ever hoped Mac 'N Cheese could be!
In the mood for a burger, then put Scrub Oaks Contemporary Pub high on your list! Scrub Oaks changes their menu seasonally to take advantage of local produce and seafood, so you can't go wrong with their specialty dishes. A year 'round stand-out are their burgers paired with seasoned fries. Cooked to order and piled high, they pair nicely with a draft beer or your favorite vintage.
Every weekend Scrub Oaks features off menu special items including specialty drinks, appetizers, and entrees. It's a family-friendly location with a casual atmosphere and lovely service.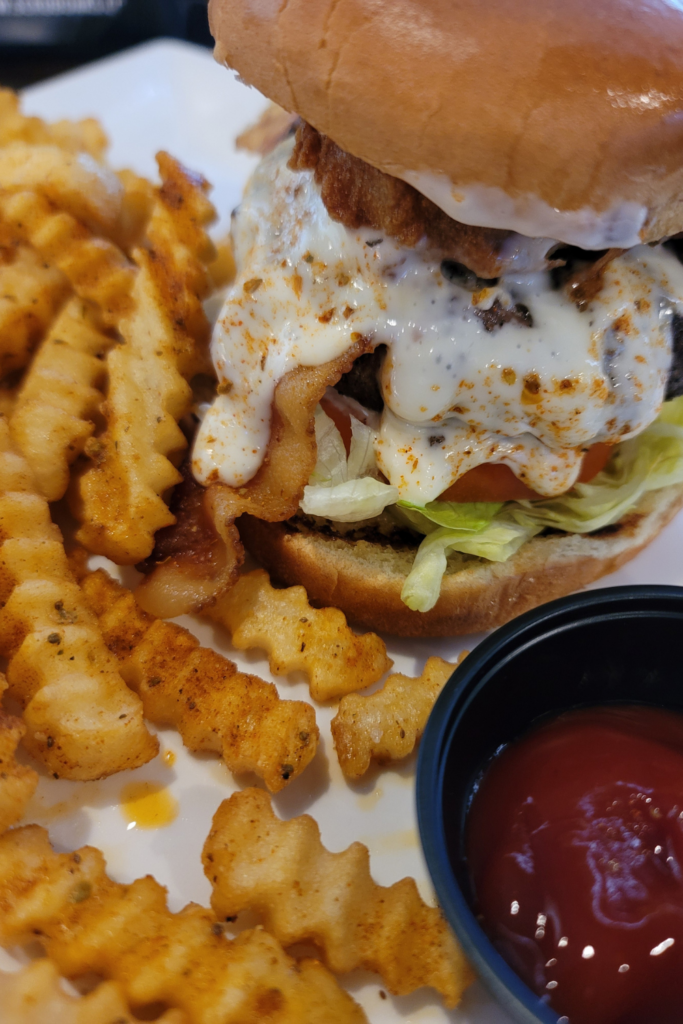 Dirtbag Ales Brewery Farmers Market
If you happen to be in the Fayetteville area on a Sunday (March 21-Nov. 21), head out to the Dirtbag Ales Farmers Market! Open from 10am to 2pm, the event features locally grown products, local food trucks, fresh grown produce, homemade treats, and a whole lot of fun for everyone.
The Dirtbag Ales Brewery Farmer's Market is a unique collaboration between Dirtbag Ales and local farmers and artisans, working together to showcase some of the best local produce and products the area has to offer. Sit a spell and listen to live music or walk around to sample and buy all types of local goods. If you're looking for a special treat, sample a few Dirtbag Ales while you're there!
Napkins is Dirtbag Ales on-site restaurant offering a delicious menu featuring local meats and produce. On Farmers Market day, Napkins shops the Farmers Market before deciding on their special daily features menu so you are getting the freshest of fresh local ingredients with each bite.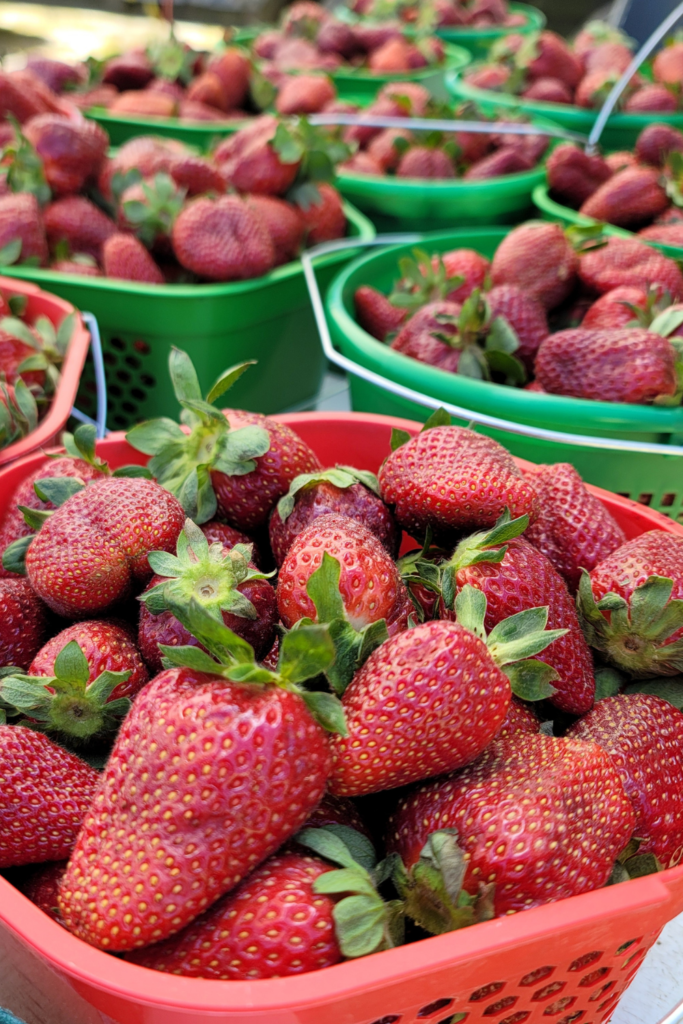 Dinner Delights
Every area has specialty restaurants that locals love. Grilled Ginger is an authentic Vietnamese restaurant that you'll truly enjoy. They feature wonderful healthy dishes and delightfully fun bubble teas in a variety of flavors. This casual spot is truly perfect for relaxing dinner conversation.
Portions are very generous, so this is an excellent stop if you're on a budget. You can take your leftovers back to the hotel and enjoy them for lunch the next day. The Dau Hu Ca Ry (Curry Tofu) and the Bun Bi Cha Gio (Shredded Pork and Egg Roll Vermicelli) are both stand-out dishes.
The Mediterranean Grill and Market is another local gem. Featuring shawarma, gyros, falafels, halal meats, kabobs, baklava, Turkish coffee, and Greek food, you'll be glad you popped in for a bite, but will absolutely have a hard time choosing which treats to enjoy!
Mediterranean markets like Pharoh's Village are excellent for times when you want quick service and delicious, fresh foods. We both loved the Vegetarian platter which featured some ridiculously-good stuffed grape leaves, hummus, falafel and side salad of choice. So good! We were stuffed afterwards but really enjoyed every bite.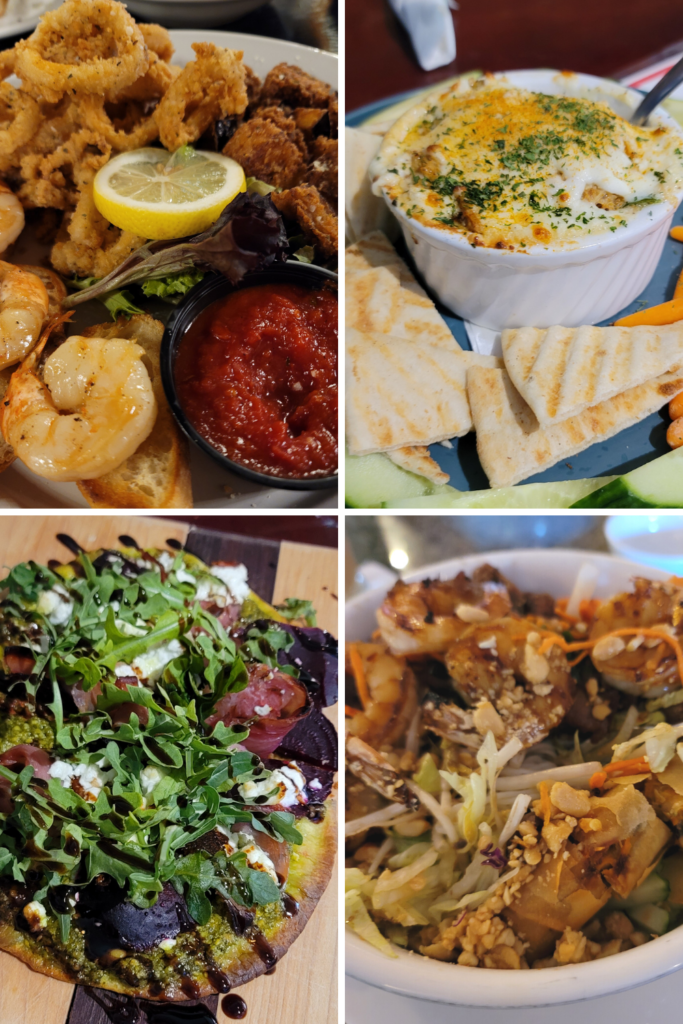 If you are shopping the downtown Fayetteville area, Pierro's Italian Bistro is a fabulous choice for a quick appetizer or a long, leisurely dinner. Everything is made fresh to order and magnifico! They feature one of the most diverse wine selections in the area and authentic Italian dishes.
Come hungry but do save room for dessert. From cannoli to zeppole and tiramisu, you'll find all your favorites here.
Another winning choice for Italian cuisine in the area is Luigis Italian Chop House and Bar. We didn't make it there, but hear they specialize in homemade sauces, pan sautéed pasta dishes, and hand cut Black Angus Steaks. It's on our bucket list when we return!