Are you looking for the perfect speaker to help your next party start with a bang? Speakers are an integral component in any party, and they are essential to helping highlight the mood of the moment. There's nothing worse than inviting people over for a party and realizing that your speakers are too quiet. You need the perfect music to match your mood – and get the party going! But finding the right speakers can be tricky, especially if you're looking for something with a little more volume. So if you are thinking to yourself, "what is the loudest Bluetooth speaker?" then take a look at these top ten loudest Bluetooth speakers and find the best speaker for your next party!
Sony SRS-XB43
The Sony SRS-XB43 is a portable, easy-to-set-up Bluetooth speaker. It has an impressive 10 hours of battery life, so you can play your music without worrying about a power source! The speaker also includes a microphone, so you can be the DJ at your next party! This speaker has an excellent 24-hour battery life and a nice, sleek design. It's not the loudest Bluetooth speaker on this list, coming in at 91 decibels (dB), but it is still a great option for those looking for a more powerful speaker!
Sonos Move
The Sonos Move is a speaker with a sleek, compact design. Get the party started with this Bluetooth speaker that provides crisp and clear sound. This portable and lightweight Bluetooth speaker can be used in many different settings, from your living room to the beach. The rechargeable battery lasts for up to 11 hours of continuous playtime, which is not long compared to other speakers on this list, but it can still last through a party or beach trip! Even though this speaker is at this is towards the bottom of the loudness pyramid, it still can produce an incredibly loud 92 dB!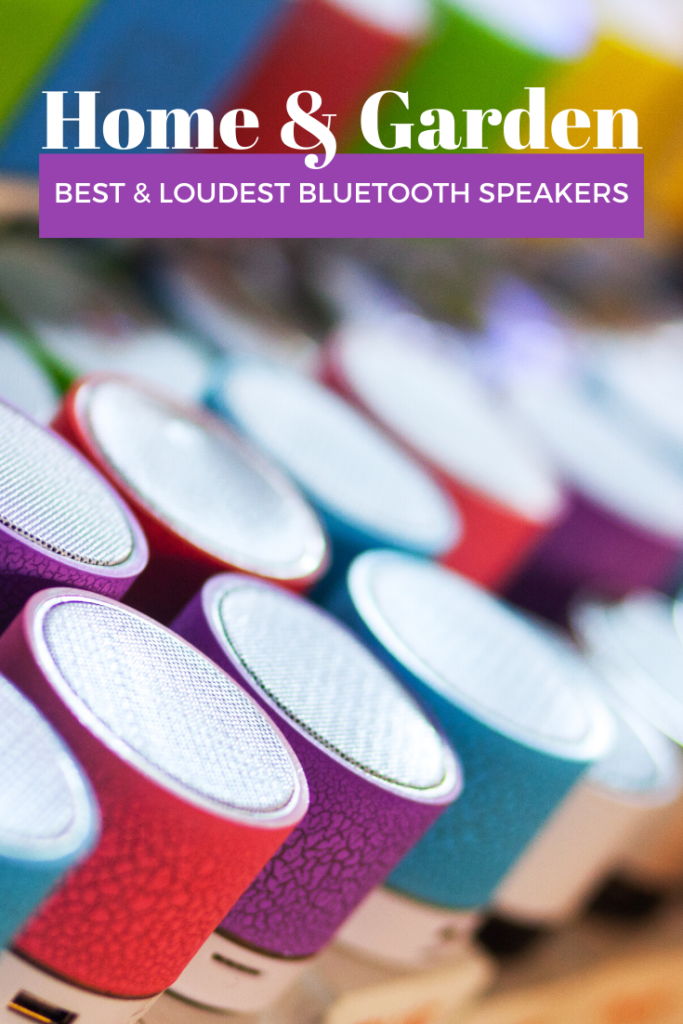 Anker Soundcore Motion Boom
The Motion Boom is one of the more affordable Bluetooth speakers on this list, making it a great value for the money. With a whopping output of 93 dB, it packs a huge punch when it comes to sound. Plus, this speaker is very portable and durable. One of the best features is the battery that can last for up to 24 hours, making it perfect for any on-the-go trip!
JBL Boombox 2
With a loudness of 96 dB, you'll be able to enjoy your party music loud enough for everyone to hear. Plus, the JBL Boombox is waterproof, making it an excellent choice for all water-based activities. This speaker is incredibly easy to transport and easily fits in a backpack. It also comes with a rechargeable battery for up to 24 hours of playtime and the ability to charge two devices that are USB-chargeable!
Sony SRS-XP700 X-Series
Sony has a reputation for producing high-quality electronics, and this speaker lives up to the company's standards. With a maximum volume of 99 dB, it's an excellent choice for when you want your music blasting. The Sony SRS-XP700 is also great for playing music because it offers an impressive 25 hours of battery life. This speaker also allows for the connection of a mic or guitar, allowing you to have the perfect karaoke night or jam session!
Ultimate Ears Hyperboom
The UE Hyperboom has 360 degrees of omnidirectional sound, so you can hear it no matter which way you're facing. The Hyperboom is also water-resistant, making it perfect for your next pool party. With 24 hours of battery life, you'll be able to listen to your tunes all day long without having to worry about charging. This speaker weighs in at around 13 pounds, making it one of the larger, less portable options on this list. However, it can reach a whopping 100 dB, making it one of the louder choices on this list!
Soundcore Trance
If you're looking for a Bluetooth speaker with a little more volume, the Soundcore Trance will be perfect for you. With a maximum of 101 dB, this speaker gets pretty loud. That means your next party is sure to be the best one yet. This speaker also features an excellent battery life of up to 18 hours. One of the most distinguishing features of this speaker is the two circular LED lights that dance with your music, keeping your party driving all night!
JBL Partybox 310
The JBL Partybox 310 is one of the top three loudest speakers out there. This speaker is capable of pumping up to an impressive 104 dB! The ability to crank up the volume on this speaker means that you won't have to worry about not being able to hear your music. This speaker is rather large, weighing in at about 42 pounds. However, it comes with wheels and a handle, making it a lot easier to transport. This speaker also has guitar and mic inputs and can last for up to 18 hours!
Marshall Woburn II
The Marshall Woburn II is a Bluetooth speaker that produces an extraordinary sound level of 110dB! This speaker is perfect for everyday listening but also has the ability to produce some serious volume for parties. The only downside is that this speaker has no battery power and must be plugged into a wall socket. However, this speaker is very elegant looking and would be a great addition to your home for any purpose!
Soundboks (Gen 3)
The Soundboks speaker is the loudest of the portable Bluetooth speakers on the market, with a whopping maximum volume of 126 dB! This is louder than a siren, which only comes in at 120 dB! This speaker is powerful enough to fill an entire room – or house! – with sound. The downside to this speaker is that it is very large and difficult to transport, weighing in at 34 pounds. However, it has a battery life of a whopping 40 hours, making it perfect for weekend getaways and more extended parties! If you are looking for the loudest portable speaker on the market, the exceptionally loud Soundboks speaker is what you seek!