It's such a wonderful luxury to buy a cup of your favorite flavored brew in the morning, isn't it? Some coffee-theme stores have made fortunes serving flavored coffees to people across the world. But flavored coffee doesn't need to cost a fortune, you can make your own coffee syrups from the convenience of your home.
One of the reasons these stores do well is because people really crave those flavored coffees, but they think they can't make them at home. Are you someone who is allowing a chunk of your budget to go towards morning coffee? You'll be much more comfortable, at home with your coffee, than trying to fight the traffic to get it elsewhere.
If you think you have to go out to have flavored coffee you can change your mind. When you make your own flavorings, you can have your favorite flavor any time you want.
What do you like? Caramel? Strawberry? Raspberry? There are many different types of coffee flavorings that you can make in just a few minutes. Make a particular flavor for your own self or make a gift set for another coffee lover.
It's easy to make many different flavors that you would otherwise have to go out for. Try these recipes first and then explore for more, the possibilities are endless!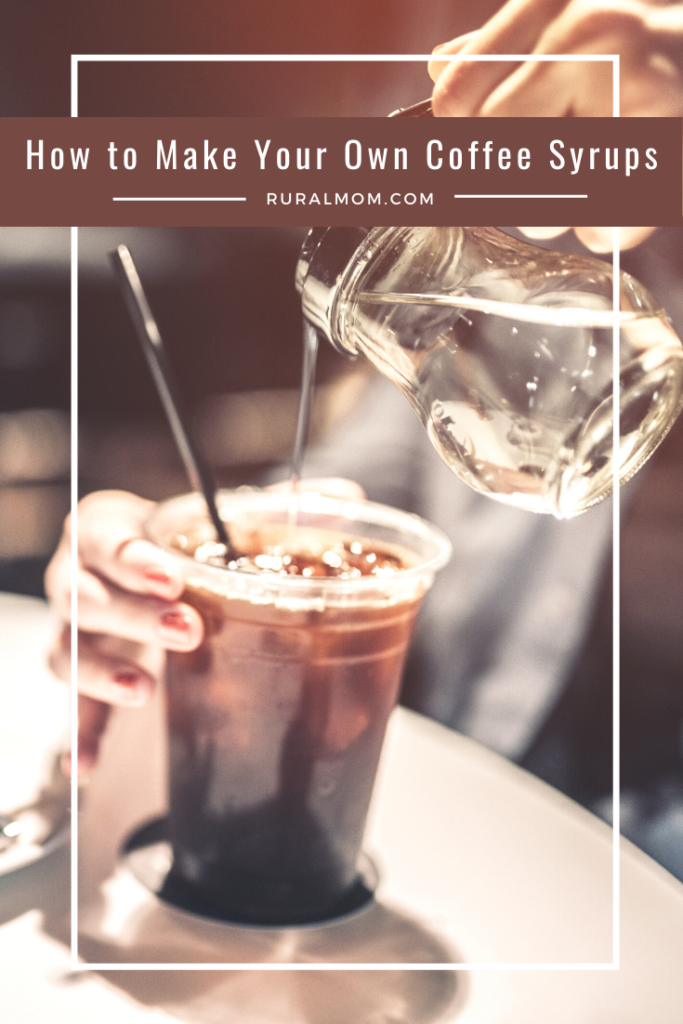 Vanilla Syrup
To make vanilla flavoring, pour two cups of water, and two cups of sugar, in a saucepan. Add a half-teaspoon of vanilla, bring to a boil, and stir the mixture until the sugar has dissolved. Remove from heat and cool. Store in a glass jar in the refrigerator. Most syrups will store well for up to a week.
This is a delicious vanilla flavoring that you'll love in your morning coffee, or even as a deserved treat. For a lighter shade to the finished syrup, use clear vanilla extract.
Raspberry Syrup
Raspberry syrup is made by mixing two cups of water and two cups of sugar. Boil until the sugar has dissolved. Smash the raspberries the best you can, in a separate bowl. Pour them into the syrup and allow the mixture to sit for about five minutes.
Next, pour syrup mix through a fine strainer to separate raspberry pieces and/or seeds, before putting in the decanter or other container. Store in the refrigerator for up to one week.
Caramel Syrup
Make caramel flavoring for your coffee by mixing two cups of sugar, two cups of water, and a half-cup of caramel syrup. The syrup should be the type that you pour over ice cream. Bring it to a boil and then pour it into the decanter. Store in the refrigerator for up to one week.
Caramel is one of our favorite flavorings. Thankfully, it's so easy to make your own caramel coffee syrups at home!
Strawberry and/or Chocolate Syrup
You'll love strawberry coffee flavoring. Strawberry syrup is made by mixing the usual two cups of sugar, two cups of water, and a half-cup of strawberry ice cream syrup.
Replace the strawberry with chocolate syrup to make a chocolate coffee in the morning. For an extra treat, add a little bit of chocolate and strawberry coffee syrups to your coffee for a sweet confection.
Make any one of the flavorings, or many of them, and enjoy them, or give them to someone who can enjoy them instead. They're luscious.