One of the most common statements I hear from others when I talk about growing herbs is "I wish I could have an herb garden but I can't keep plants alive." This is the biggest myth! Are herbs like rosemary hard to grow? Nope, not at all!
Rosemary is a popular garden perennial useful in herb, fragrance and container gardens. It's popular for good reasons. It's delicious to use in recipes and truly easy to grow. Rosemary is a prized essential oil for use in aromatherapy massages and home health. The fragrant flowers and stems are used in potpourri blends, perfumes, scented baths or herb vinegars, too.
With needle-like foliage and a fragrance that can't be forgotten, Rosemary is an herb that is popular in perennial borders and kitchen gardens alike.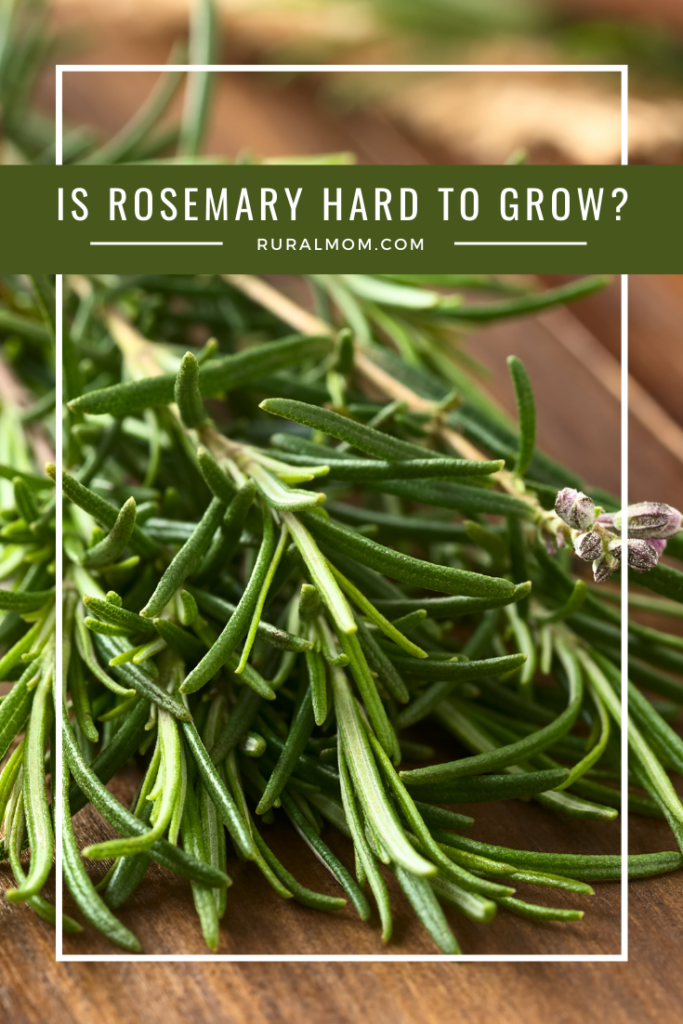 Cultivation Information
Botanical and Common Name – The scientific name for rosemary is Rosmarinus officinalis.
Plant Category – Rosemary is a perennial herb.
Bloom Time and Color – Rosemary has edible flowers in a delicate blue shade that can be used in salad, teas or floated in scented baths. Expect rosemary to bloom in the heat of summer.
Foliage – The fine cut foliage of rosemary is often described as needle like although each leaf is rather thicker than a pine needle. Rosemary foliage is highly fragrant and a welcome addition to fragrance gardens in many areas. Semi-evergreen through zone 7, the rosemary is sometimes used as an indoor Christmas tree.
How to Grow Rosemary
Rosemary can have either an upright or sprawling growth habit depending on the cultivar. In the United States Rosemary will only grow 2-4′ tall and wide although in areas where it is native, or winter hardy, rosemary grows as a shrub to 6′ tall.
Rosemary will need winter protection in zone 7 and needs well-drained soil to survive. Drought tolerance increases once the rosemary plants are well established. Only light shade will be tolerated. This herb requires little maintenance beyond light pruning if the gardener desires a specific shape.
Very few insects bother rosemary, one of the reasons rosemary essential oil is so effective for pest and disease control, although powdery mildew may develop if the plant is kept too moist.
Using Rosemary in the Garden
Companion Plants – Plant rosemary with other fragrant plants, drought tolerant plants, herbs or container plants.
Best Season  – Rosemary has year round interest in zones 8-10 with the evergreen foliage. Edible and fragrant flowers appear through the mid-summer months.
Placement in the Garden – Try using rosemary as an attractive edging plant, short hedge, in a kitchen herb garden, fragrance garden or mixed border.
Favorite Rosemary Cultivars and Varieties for Herb Gardens
Arp Rosemary (Rosmarinus officinalis 'Arp') – one of the most winter-hardy rosemarys, 'Arp' is sold as hardy in zone 6 although to be safe gardeners might plant it in a protected area.
Spice Islands Rosemary (Rosmarinus officinalis 'Spice Islands') – Darker blue flowers and more narrow leaves make this rosemary unique.
White Rosemary (Rosmarinus officinalis 'Albus') – As you might expect the 'Alba' or 'Albus' form of rosemary boasts white flowers instead of blue.
Majorica Pink Rosemary (Rosmarinus officinalis 'Majorica Pink') – 'Majorica Pink' has pink flowers instead of the typical blue rosemary flowers.
Golden Rain Rosemary (Rosmarinus officinalis 'Golden Rain') – This unique plant is a variegated rosemary whose dark green leaves have yellow streaks throughout.
If you think you don't have a green thumb in the garden, try growing Rosemary anyway. I think you'll truly be surprised how well it thrives with very little attention!
Looking for more ways to incorporate herbs into your lifestyle?
Be sure to check out Barb new book GETTING BAKED: Everything You Need to Know About Hemp, CBD, and Medicinal Gardening – now available for pre-order!