My husband and I had a bit of a disagreement last week about whether we should decorate for Christmas. His view was a bit, "Bah Humbug." Mine is more like "bring on the glitter and holiday cheer!"
Which one of us is right? Should you decorate for Christmas?
Well, I still think it's simply a matter of opinion. However, when I researched, I found there are plenty of benefits to decorating for the holidays.
I'll add that the plus column for my side of the argument!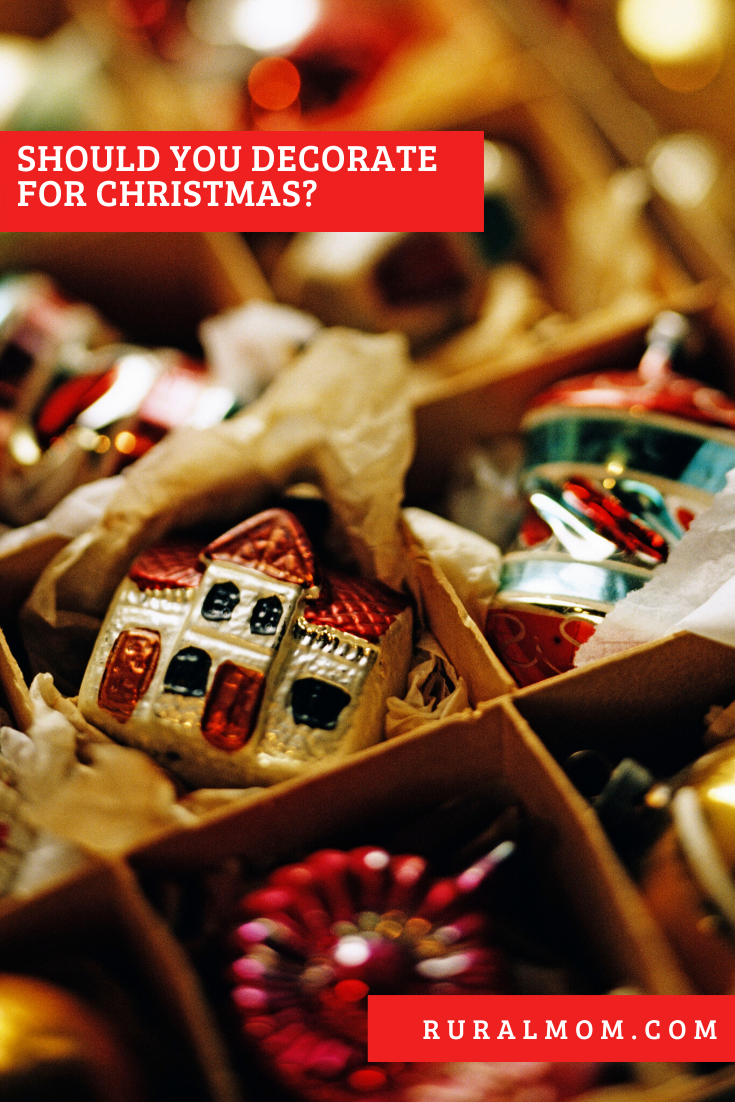 Why Should You Decorate for Christmas?
Christmas decorations are synonymous with the holiday season. It's tough to deny the feeling of love that is often associated with holiday decorations.  When you see them around the house and the local town centers, it tends to lift your spirits.
Everything from the lights and the tinsel to the Christmas trees are memorable parts of Christmas time. However, one thing that is often overlooked is the benefits in regards to having Christmas decorations. If you look at the concept analytically, there are actually countless benefits that can be associated with Christmas decorations. Here's a few of my favorites:
Holiday Spirit
The first benefit of Christmas decorations is the feeling you get when you see them. Preparing the home for Christmas allows you to feel the holiday cheer. This, in turn, has countless benefits in regards to the general emotional health and well-being of an individual.
Listening to music under the lights of the Christmas tree or watching a movie with your romantic partner with the scent of the mistletoe and pine can prove to perfectly relax you. This essentially can help you combat the stress of the holidays season.
It's contributes to your overall mental health through the holiday season. When you are relaxed and less stressed, you enjoy the holidays more!
Prepare Yourself for Christmas Joy
Another benefit when you decorate for Christmas is it can prepare you for Christmas in its entirety. This simply action can help you plan your family life throughout the holiday season.
Essentially, it opens the doors for activities and themes that are unique to the season. You can be influenced to take trips to Christmas themed locations and enjoy their decorations. Or you could even theme your own Christmas parties with their own unique decorations for a similar effect.
You could even theme every room in your house with their own unique decoration and Christmas theme. How wonderful it would be to have a complete wintertime home for you to enjoy!
Deck The Halls!
Christmas can be most beautiful time of the year. One of the primary contributing factors is the abundance of Christmas decorations.
In short, Christmas decorations have countless benefits including:
contributing positively to your overall mental health and wellness
opening doors for new ideas
creating unique memories
uplifting your holiday spirit by creating a joyful space in your home
adding Christmas joy and relaxation to your space.
You don't have to go overboard with expenses either. Use what you already have or pick up a few fun items from your local dollar store. Or ask your friends and relatives if they have extra decorations they can spare.
Reap the benefits of Christmas decorations and use them to your advantage to benefit you throughout the entire holiday season.
And seriously, don't let anyone dampen your holiday joy! You can always find a compromise, too. My husband and I decided we'd focus on the inside of the home and skip the lights outside this year.
Do you decorate for Christmas? Whether you choose to or not, I wish you the best of the holiday season and much joy!