I stumbled upon GIRL WASH YOUR FACE via a friend raving about the book on Facebook after she read it. Snagged a copy at my local bookstore to check it out and I'm so glad I did! It's number 14 on my 50 books by 50 reading goal.
GIRL WASH YOUR FACE is the perfect "spa time" or pool side read.  It's the type of book you want to take the time to absorb in a quiet, peaceful setting, letting the inspiring message sink in.
Each chapter is meant to be digest, reflected upon and read over again, because truly, you need to take each one to heart!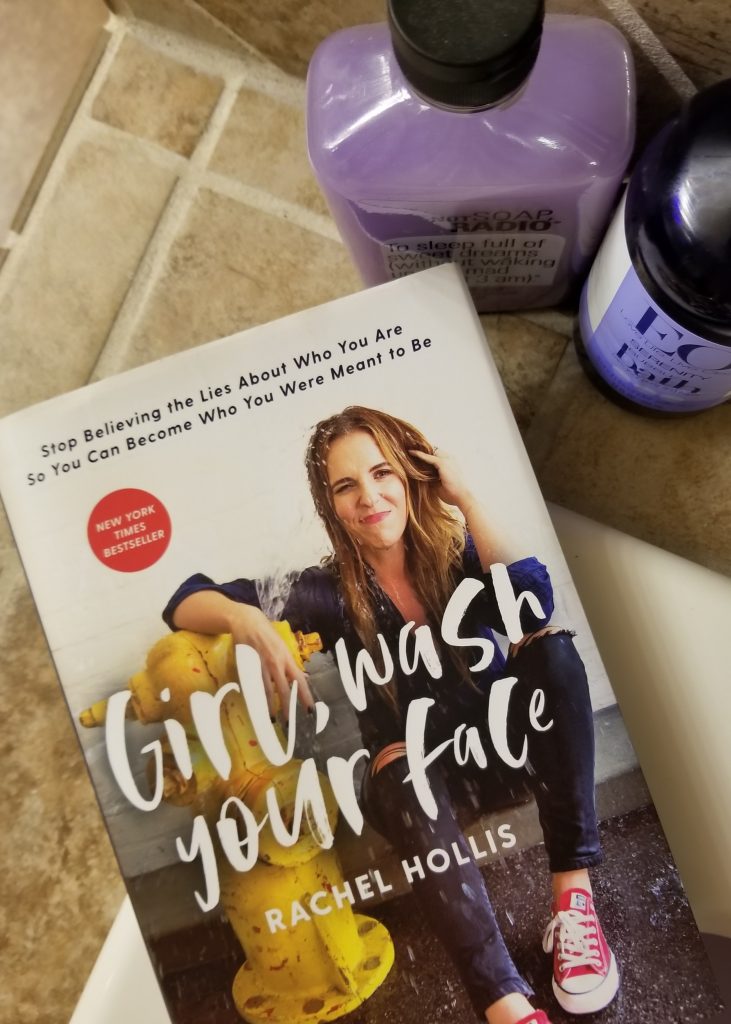 There are very few self-help books I rave about, but this one deserves every bit of praise for it's raw honesty and joyful inspiration. 
The author, Rachel Hollis, speaks directly from her soul to yours, in a heart-to-heart chat you definitely need to hear.  One that can only be delivered by someone who has walked the walk and is still, by admission, stumbling from time to time right along with you.
It's a rare gift to have someone open up completely and dare to dive into revealing their own mess.  I applaud Hollis for her candor and faith because it's deeply needed by the world… and by me!
Three chapters into GIRL WASH YOUR FACE I was like "Holy cow! That's totally me!" and "I wish someone would have shared that with me eons ago!" Hollis lovingly exposes the lies that hold us all back and challenges you to view them from a better angle.
[amazon_link asins='B072TMB75T' template='ProductAd' store='ruralmom' marketplace='US' link_id='23395f9b-acc4-11e8-97ec-550958c0369a']
I'm of the mind that we each ultimately hold our own answers but GIRL WASH YOUR FACE can certainly lead you in the right direction to find them and live the best version of your life now.  Hollis is the mentor and awesome friend we all need to help set us straight towards walking a happier path.
This book is everything you hope it will be – enlightening, empowering, hilarious, joy-filled, inspiring and full of realistic advice and actionable steps.  Whether you have it all together or you are still a hot mess (I'm somewhere in the middle,) you will gain something beautiful from reading it, if at the very least, the understanding of someone who's right there with you.
Win a copy of GIRL WASH YOUR FACE
One (1) Rural Mom reader will win a $15 (fifteen dollar) Amazon Gift Card to purchase a copy of GIRL WASH YOUR FACE… or if you already own the book, to purchase something else to add inspiration to your life!
US only, 18+
ENTER via the Rafflecopter below:
What on your bookshelf right now?  Have you read GIRL WASH YOUR FACE? What are your thoughts?