Simple Jar Craft Using 3 Items
This simple jar craft using 3 items is a craft that will keep the kids busy when they say they are bored and are also useful for storage containers in their room and to hold trinkets, pens and pencils. Any size jar made out of glass, plastic or cardboard can be used so set several out on the table and let them start crafting. Even adults enjoy making these so pull up a chair by your child and create some yourself.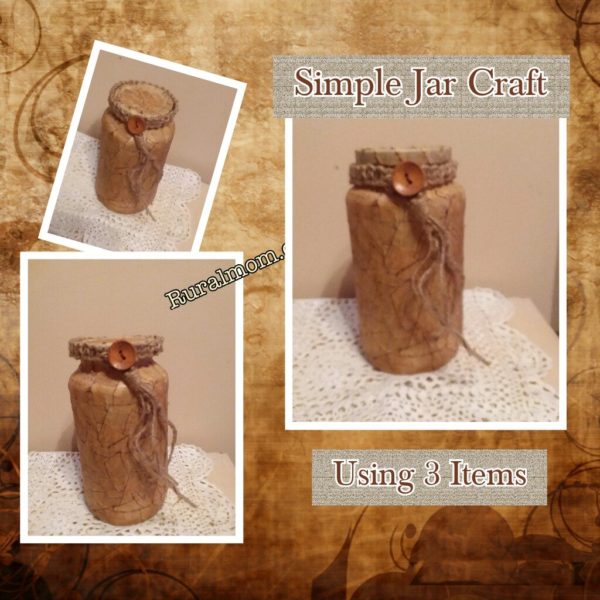 Supply List
Masking tape. (I like using the narrow best)
Brown shoe polish (liquid or paste)
Jar
Be Artistic
Tear off pieces of masking tape overlapping them on the bottle. Encourage them to experiment with short and long pieces and arranging them horizontally and vertical while overlapping all over the jar. Pieces in size of ½ inch to 1 inch usually work best.

Adding the shoe polish
Brown shoe polish works best as it adds a cork effect to the tape on the bottle. Begin applying the shoe polish until and just spread it around the jar. Begin applying it lightly and add more if desired.
Finishing Up
I leave the lid on the jar so I can see how high to apply the tape. I polish the jar first and then put shoe polish on the lid last.
Once the jar is dry then I decorate the lid. I made a macrame band added a button and put it on the lid. It is now ready to fill up with special treasures of your favorite things.
Gift Ideas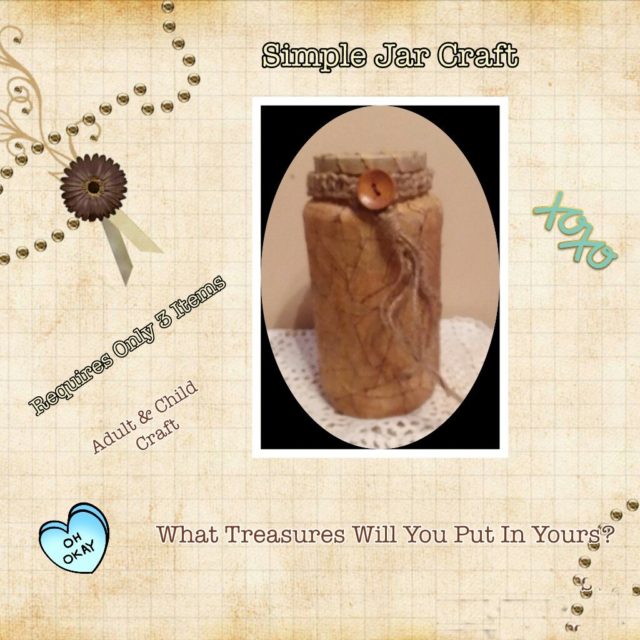 These jars are inexpensive gifts filled with fun trinkets and candies. Labels can be used to mark the jars as gifts or as a reminder what is stored inside. Add ribbons or a collage of buttons and lace to make the jar look vintage.