We would all love to have a linen closet that resembles a page from Better Homes & Garden Magazine.  If you are like me, the reality is you don't have enough time or money to keep every corner of your home looking like a gloss-polish photo shoot.  Maybe we can't keep things picture perfect, but thanks to a little ingenuity and some clever products from my partnership with Thirty-One Gifts, I've discovered achievable ways to organize your linen closet and keep it that way!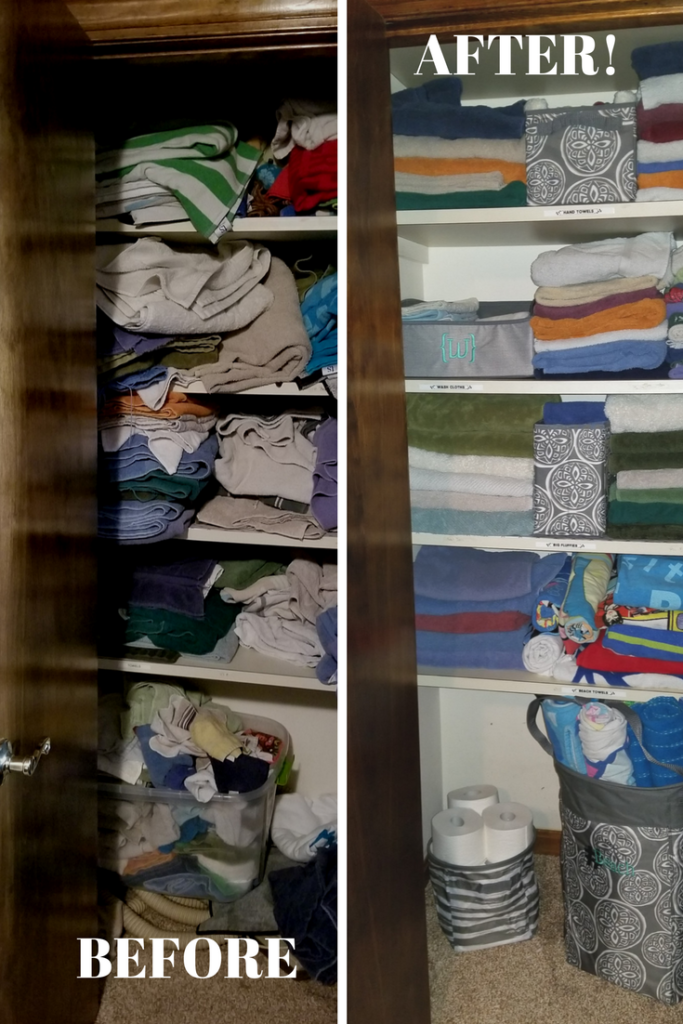 We recently purchased a new home.  I thought this would be a wonderful chance to start from scratch and have everything organized from the get-go.  But, um, not so much…
The truth is, when you move into a new home, you are in such a hurry to get everything unpacked so you actually have clothes to wear and dishes to cook with that things wind up a bit willy-nilly.  Our old home was actually more organized than the new as I had time to grow into the space and uncover a niche for every little thing.
Our chaos spilled over quickly into one of the heaviest used storage areas – our linen closet.  Shelves were cleaned, towels were stuffed in some semblance of order and then with each wash load, things got more and more random.  The "before" picture you see above is stark reality, uncut, unedited reality of what my disastrous central linen closet morphed into.
The "after" picture is also an unedited photo and a view that simply makes me smile every time I open the closet.  And believe it or not, there is nearly the same amount of stuff tucked in that closet in both photos.  I took out exactly 5 towels and 2 hand towels that were so ragged they have now been re-purposed to rags. The real difference is re-thinking your space and maximizing the space with some really awesome tools.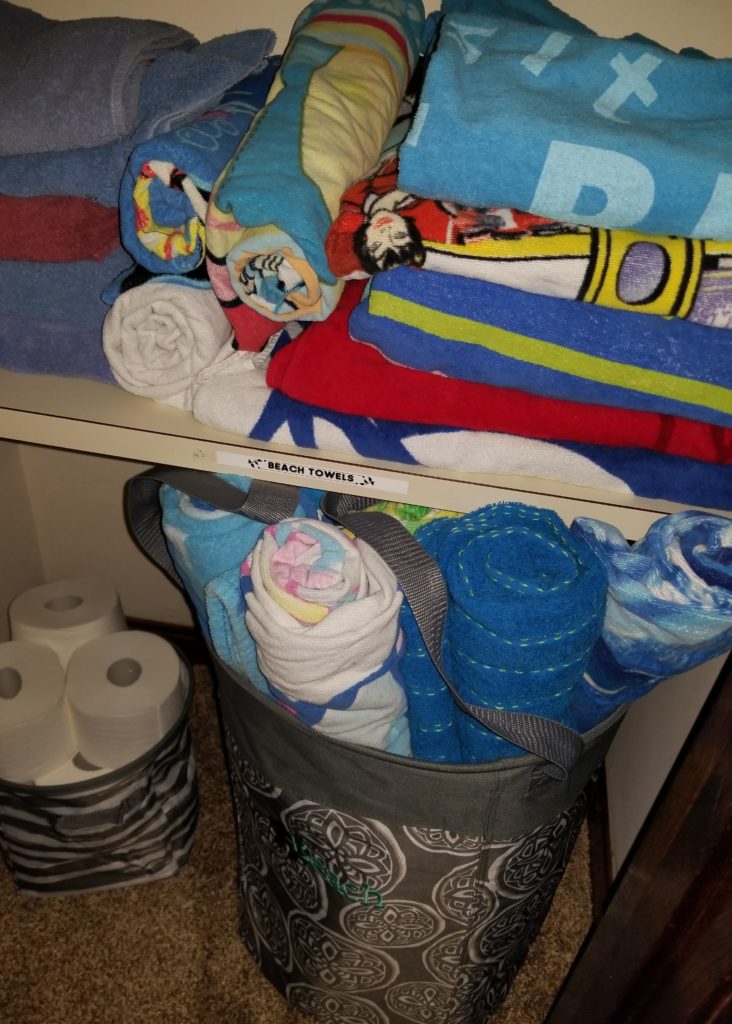 Even better, I created space.  As you can see in the "after" photo, I was able to free up floor space to move in other toiletries that I had stashed under the sink in our bathroom, which in turn, freed up some much-needed space there.   I even have extra room to stock up on toilet paper when I find sales.
Taming my linen closet took about an hour and the results are holding up.  Three weeks later, everything is still square in its space and I'll be comfortable having any guest in our home open it up to grab a towel.  Below are the key steps that help me master the art of organization in our linen closet.  I hope they help you to bring a bit of loveliness to your home!
Step 1 – Sort Your Linen Closet
In order to put everything in order, I had to pull everything out of my closet first.  While this sometimes seems daunting, on the upside, it gives you the chance to find out if you need any new items and to re-purpose any old items you have.
To some it may seem like we have an excess of beach towels, but we have a swimming pool and a boat, so we definitely use plenty during the warm months.  On the other hand, I think we probably have too many general purpose towels.  I've kept them for now, but will probably pair them down some more and likely donate them.
Step 2 – Re-Think the Space in Your Linen Closet
Once you can visually see exactly how many wash cloths, hand towels, beach towels and so on that you have, it's super easy to determine how much space you need to allocate to each one.  Larger items stack easily on closet shelves, but smaller items can be trickier.
The easiest way to stack smaller items like wash cloths and hand towels is to contain them.  Containers like the Thirty-One Gifts Your Way Fold N File or the Thirty-One Your Way Rectangle often used in an office setting, are also the perfect height and width for holding hand towels.  Simply fold the hand towels as you normally would and then stack them vertically inside the container for ease of use.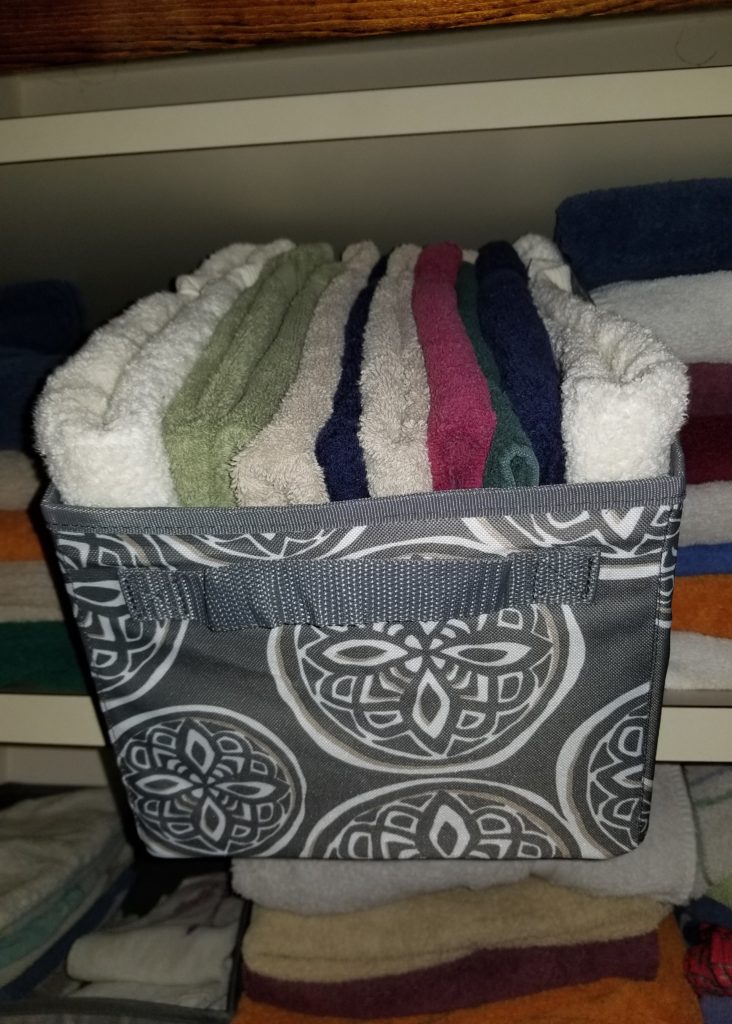 Containers are also perfect for wash cloths.  I used the Thirty-One Gifts Your Way Display Bin for both wash cloths and small gym towels.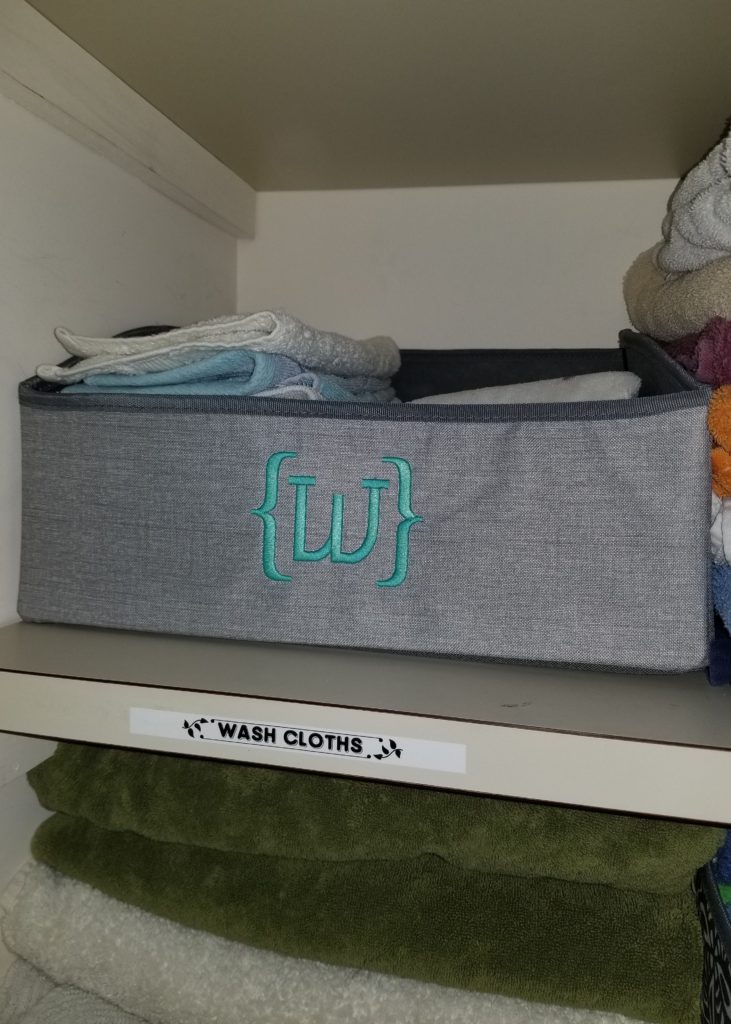 Larger items may be corralled in storage containers, too.  This can help you really maximize the use of floor space in your closet.  I opted to put a lot of our beach towels in a Thirty-One Gifts Stand Tall Bin.  This not only helped me utilize the bottom floor space in my closet efficiently, but now when we have guests over to our pool in the summer, I can simply pick up the basket and bring it outside to our deck for everyone to grab a towel when needed.
You'll notice that I also rolled my beach towels.  Sometimes, it really helps to think a little outside the towel box to determine how things will best fit in your new linen closet organization setting.   Just as I know that rolling clothes can help you pack a lot more in a suitcase, rolling towels can help you pack a lot more into a container.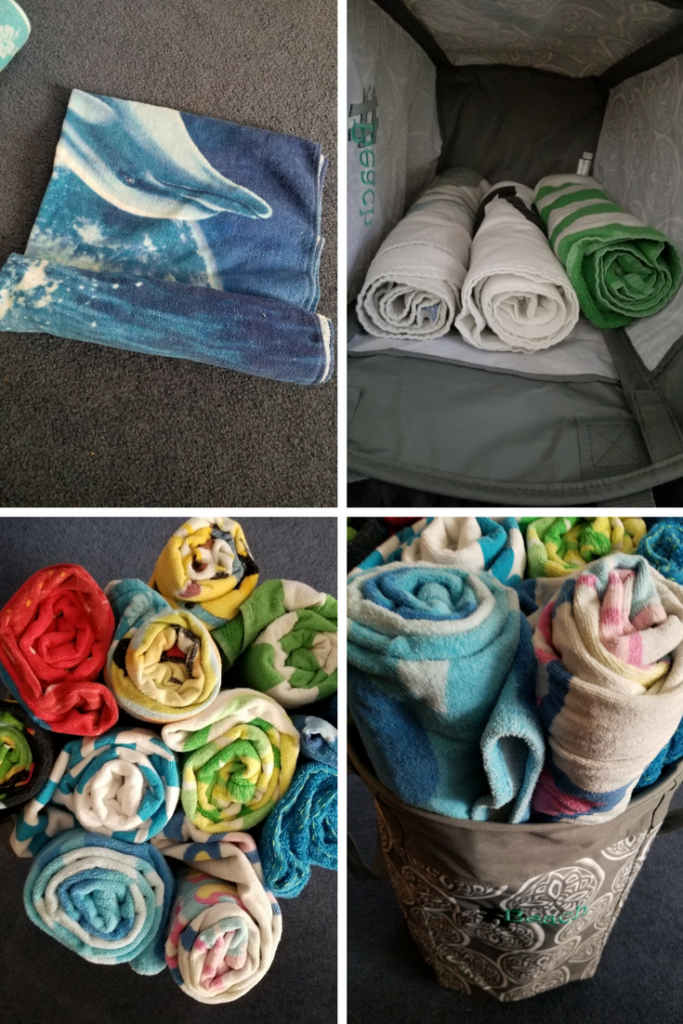 Step 3 – Label Your Linen Closet
This step is critical to getting other people's cooperation in keeping your linen closet the lovely little dreamy bundle of organized bliss you worked so hard to achieve.
Not only does it add a little flair to your closet, it guides everyone using your linen closet to find exactly what they are looking for.  My family and guests no longer have to dig for a bath or beach towel, nor wonder where to put the clean towels from the laundry.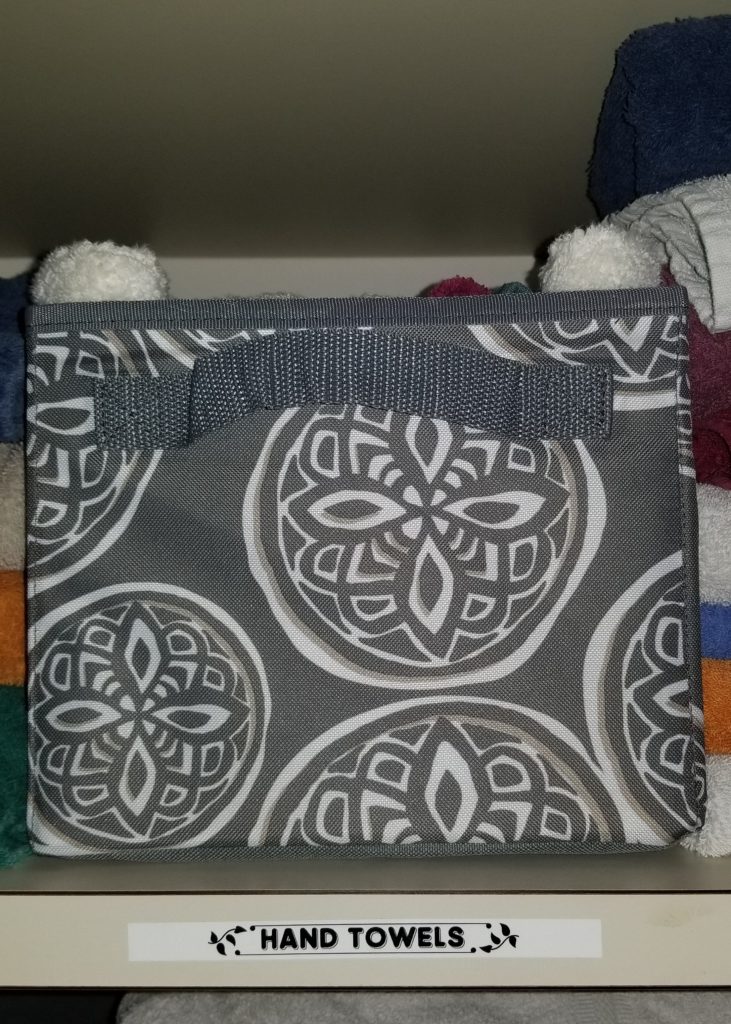 It's also great for quickly visually seeing what items we are low on so that I can refocus my laundry efforts for the day or know when to go toilet paper shopping!
You can use whatever labeling method you are comfortable with.  I used a combination of having personalized labels embroidered directly onto my items (a very cool feature of Thirty-One Gifts products) and putting labels onto the edge of the shelves with my sticker labels from my label maker.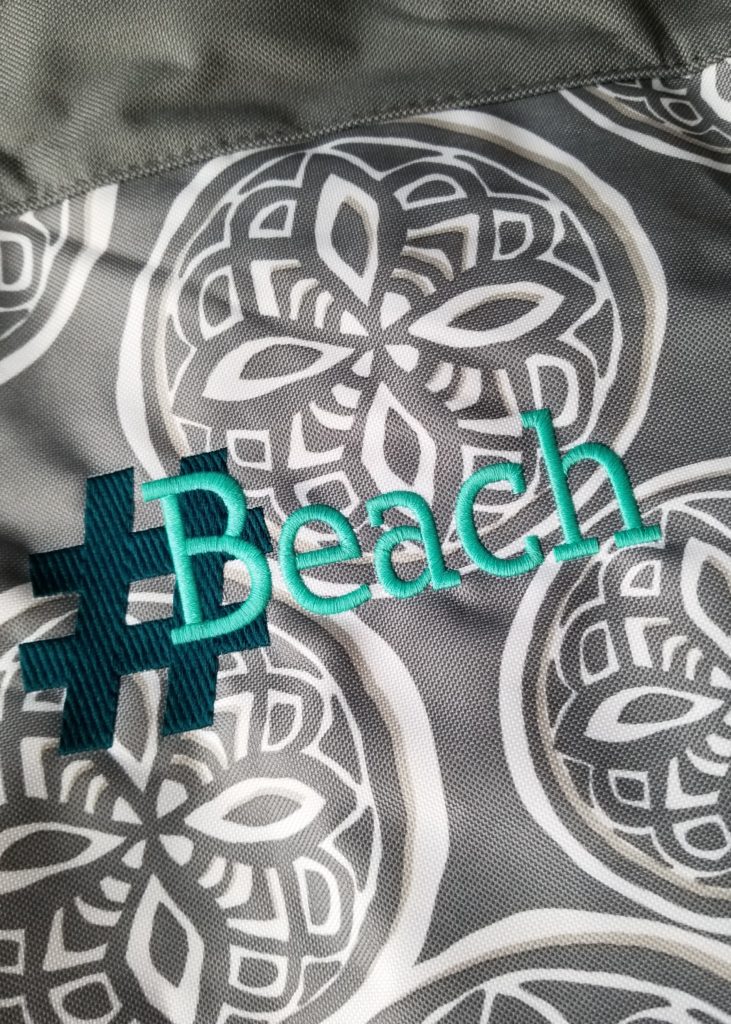 In the end, I may not have a magazine-ready linen closet but I have a beautifully organized space that I'll happily share a photo of anytime! What are you waiting for?  You, too, can use these achievable and effective ways to organize your linen closet. The hour you spend will be well worth the serenity you feel each time you open the door!