This post is written by me on behalf of Tyson Foods, Inc.. All opinions are entirely my own.
Cinnamon, ginger, nutmeg – these are the three seasonings of my childhood that I loved to smell coming from the kitchen. Once the delicious spices tickled my senses, I knew it was nearly time for Thanksgiving and my father was in the kitchen baking pumpkin pies!
There's nothing quite like pumpkin pie to usher in the holiday season. No other dessert in America is so synonymous with autumn and family holiday feasts. I've made my share of these delicious baker's confections and now my family loves to awaken to the aromas of all-spice, cloves and fresh pastry crusts.
But let's face it, life gets busy and the holidays are often the busiest time of the year for us.  With multiple family gatherings and plenty of pumpkin pies adorning the dessert table, I sometimes just don't have the time to spare to bake from scratch.  That's when I head over to my local Meijer store and turn to a brand like Sara Lee® help me deliver a traditional pumpkin pie to my hungry guests!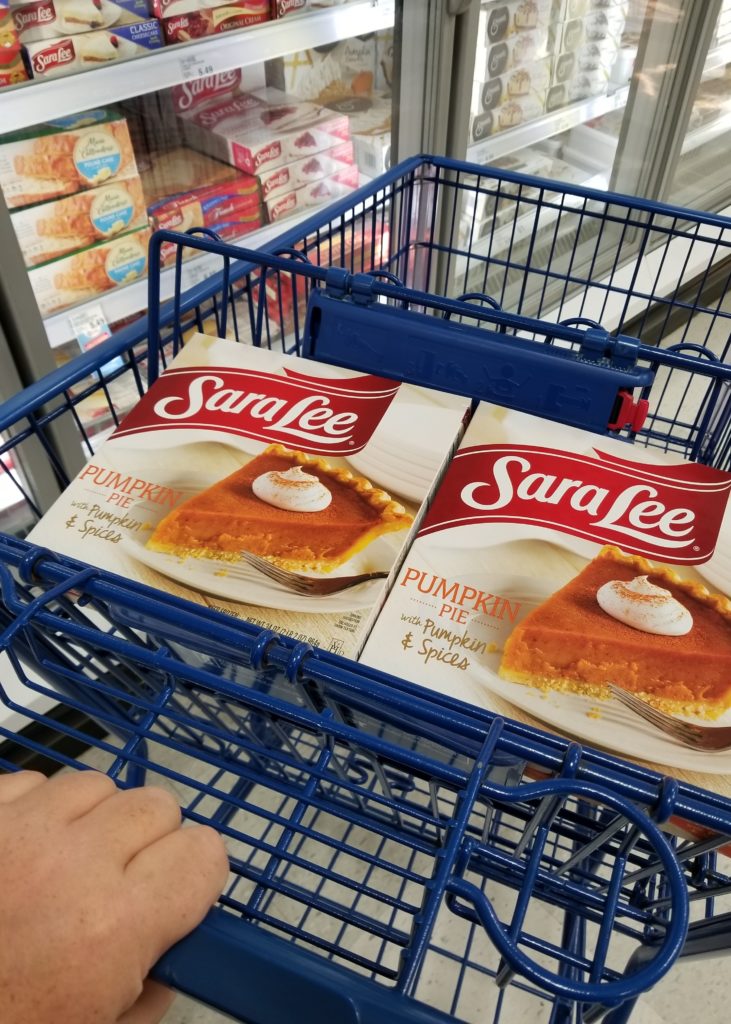 As a farm fresh Kentucky gal, I also love to incorporate the flavors of home and take things up a notch with my pumpkin pies, especially when I'm headed to a potluck dinner or special celebration.  Out of necessity, with my busy schedule, I've developed a super easy pumpkin pie recipe hack to pair the rich, smooth goodness of Sara Lee® Pumpkin Pie with a bit of gourmet Kentucky-inspired toppings to create a real show-stopper.
This is the kind of recipe everyone will ask how you found time to bake it during the busy holiday season.  You can point them to Meijer to pick up a Sara Lee® Pumpkin Pie in the frozen aisle and follow the recipe here.  Or you can simply savor the moment and keep your baking secrets to yourself… I won't tell!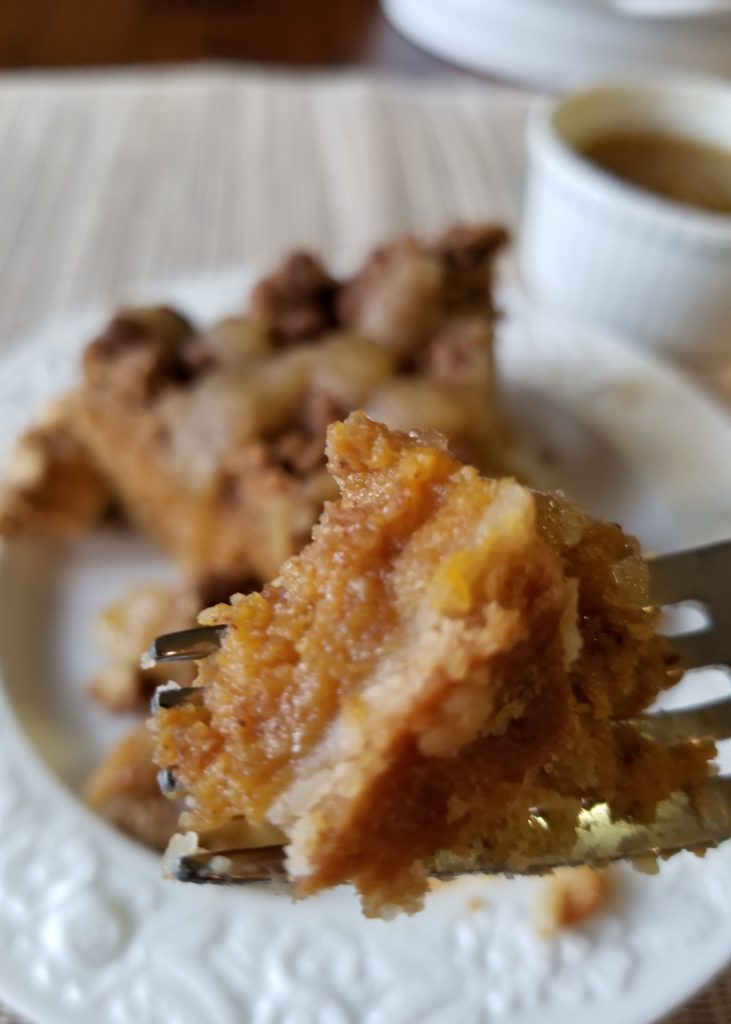 Sara Lee® Pumpkin Pie with Black Walnut Crumb and Kentucky Bourbon Sugar Sauce
The key to the success of this pie is to start with an excellent base.  From my experience, Sara Lee® Pumpkin Pie is an excellent choice, chock full of a special blend of cinnamon and spices that tastes just like homemade.  Outside of that, you just need a few minutes to whip up the black walnut crumb topping and, if desired, the Kentucky Bourbon Sugar Sauce to accompany the dish.
Just as pumpkin pie is synonymous with family holiday feasts – black walnuts, Kentucky Bourbon and sorghum top the list of flavors synonymous with our Blue Grass State.  If you don't have sorghum on hand, you can substitute dark molasses or pure maple syrup, both will give a slightly different flavor profile but the sauce will still be delicious.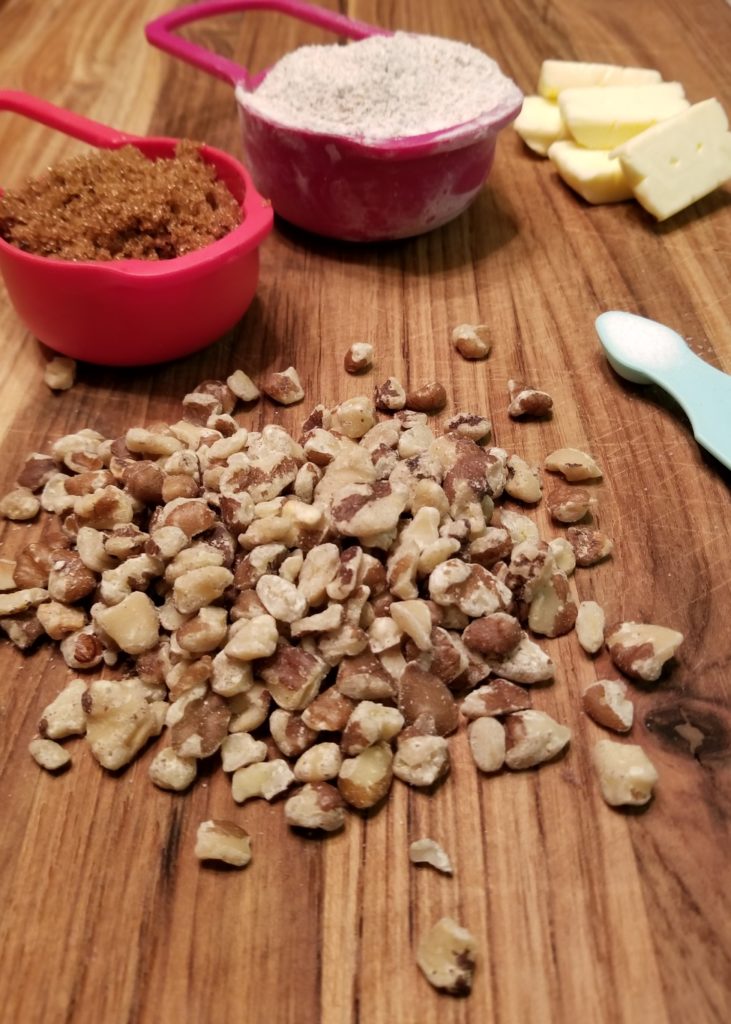 Ingredients:
1 Sara Lee® Frozen Dessert Pumpkin Pie
Crumb Topping
5 Tablespoons unsalted butter
1/4 cup brown sugar
1/2 cup wheat flour (may substitute all-purpose flour, but wheat flour delivers a fantastic texture and extra-savory element to the crumb mix)
1/4 teaspoon sea salt
1/2 cup black walnuts, chopped
Kentucky Bourbon Sugar Sauce
2 Tablespoons Kentucky Bourbon (as the saying goes, if it doesn't say "Kentucky Bourbon," it's not Kentucky Bourbon!)
4 Tablespoons unsalted butter
1/4 cup sugar
3/4 teaspoon sorghum
Directions:
Remove Sara Lee® Frozen Dessert Pumpkin Pie from package and wrapper.  Preheat oven as per manufacturer's directions.  Bake pie as per manufacturer's directions.
Set timer to check on the pumpkin pie twenty minutes prior to suggested baking timing.  For example, if suggested baking time is 50 minutes, set the timer for 30 minutes.
In a small sauce pot, melt the butter over a medium heat.  Stir occasionally until butter begins to bubble.  Continue stirring until the butter has browned slightly (it will take on a golden brown tinge and will have small bits of brown begin to form at the bottom of the pan.)  Remove from heat and allow to cool for 3 minutes.
Add in the brown sugar, stirring constantly until fully incorporated.  Add in the salt and flour, stirring until fully incorporated.  Gently fold in the black walnuts until evenly distributed.
When the timer you set for the pumpkin pie is up, gently remove the pumpkin pie from the oven.  Spread the crumb mixture completely over the top of the pumpkin pie (using your hands or a spoon, if preferred.)
Return pumpkin pie to the oven and continue baking for the additional twenty minutes needed.  Remove pie from oven when time is complete or when the crumb topping is browned and the edges of the pie are lightly browned.
Cool on a cooling rack for 1 hour.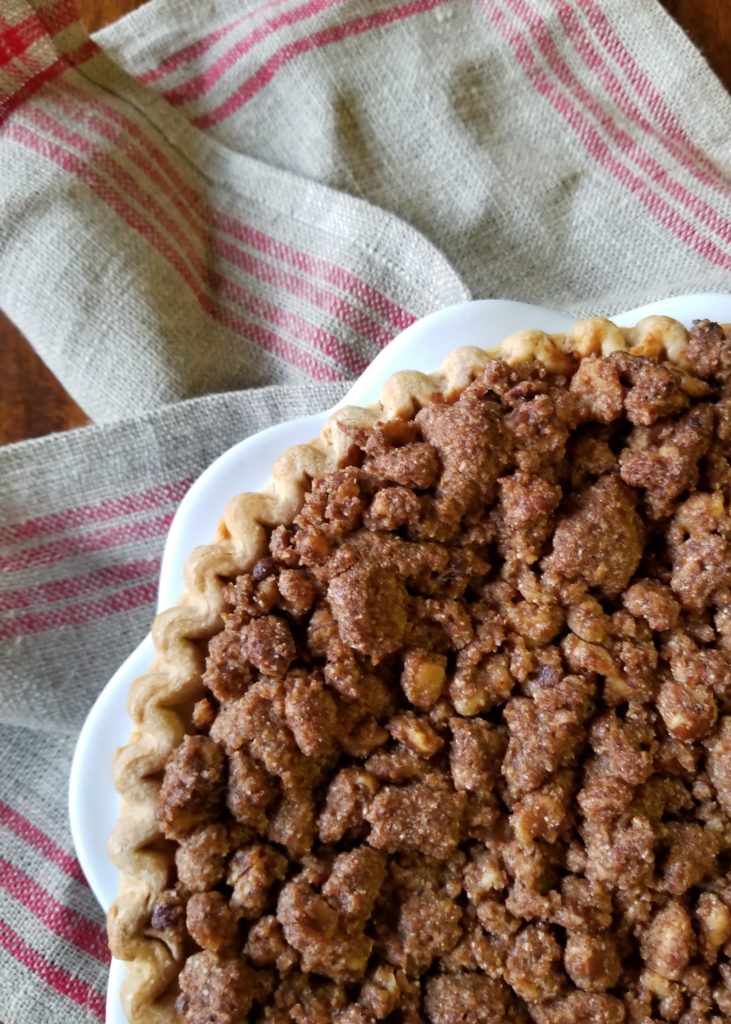 Just prior to serving the pie, if you'd like to add a bit of extra sweetness, whip up a batch of Kentucky Bourbon sauce.
In a small sauce pot, melt the butter over a medium heat until completely melted.  Add in sugar and whisk until fully incorporated.  Add in Kentucky Bourbon and sorghum.  Whisk until fully incorporated.  Lower the heat to simmer and continue stirring until the mixture thickens (it will almost look like thin applesauce.) Remove from heat.
Slice and plate pumpkin pie with black walnut crumble.  Drizzle a bit of Kentucky Bourbon sugar sauce over the pie or on the plate to the side of the pie.  Alternatively, pour the Kentucky Bourbon sugar sauce into a small ramekin and place it on the table for guests to dollop their own serving.  Remember – a little of this sauce goes a long way, it's brimming with bourbon flavor but it's also quite sweet!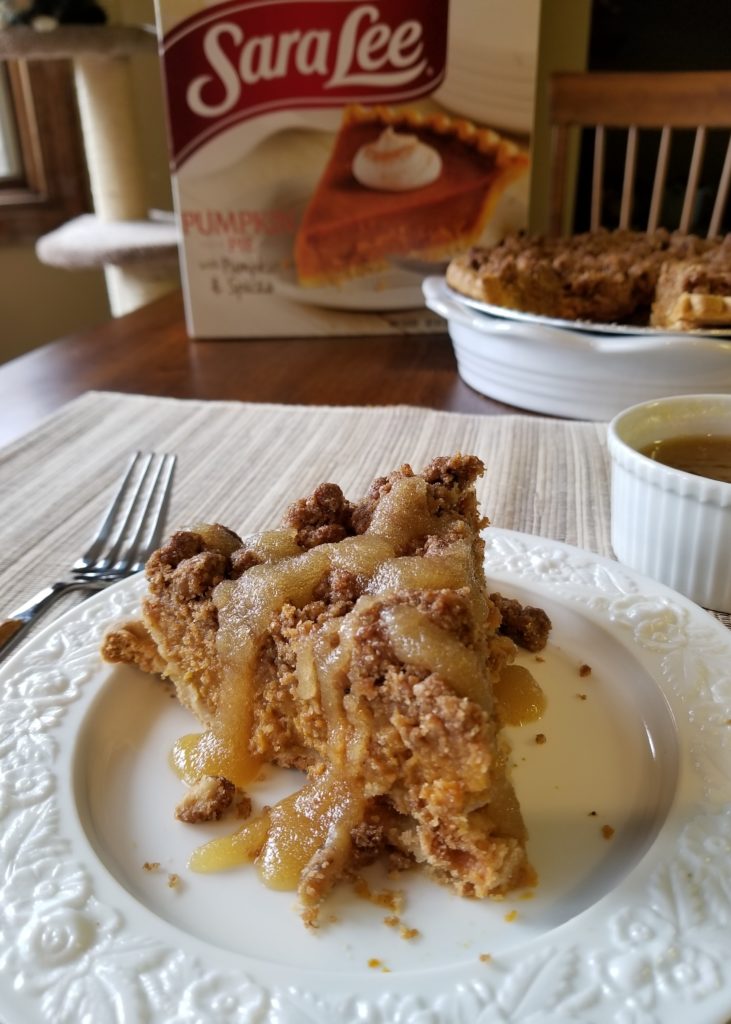 Tyson® products, like Sara Lee® Frozen Dessert Pumpkin Pie, are perfect for all cooking occasions and all holiday season long.  They'll help give you a break in the kitchen (who doesn't need that during the holidays?!) and more time to spend enjoying your family.  After all, the best ingredient of the holiday season is sharing time with the ones we love!
I was selected for this opportunity as a member of CLEVER and the content and opinions expressed here are all my own.