If you've been around for any amount of time, you know that I'm pretty proud of my Irish heritage.  We celebrate all things Irish around here, and St. Patrick's Day is definitely one of those things! In honor of one of my favorite holidays and thanks to our partnership with Oriental Trading, I'm sharing some quirky St. Patrick's Day traditions and party tips with you. Green beer is only the tip of the Blarney Stone!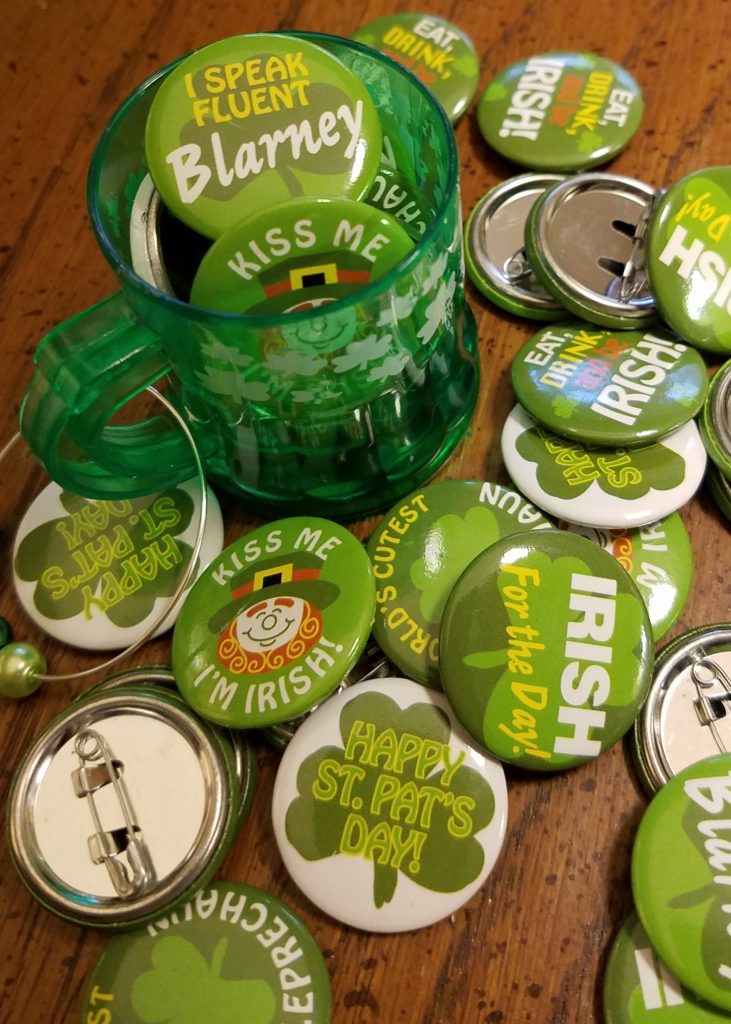 In my hometown of Chicago, the Irish people dye the Chicago River green (with vegetable-based dye) every year.
Hot Springs, Arkansas hosts the shortest St. Patrick's Day parade in the world – the parade route is only 98 feet long. Their parade also includes Elvis impersonators. Why? Truthfully I'm not sure.
In New London, Wisconsin, members of the Shamrock Club dress as leprechauns on St. Patrick's Day and change the town's street signs to say "New Dublin."
The Irish gather in O'Neill, Nebraska on a giant painted shamrock and read "Green Eggs and Ham" every year. The town also wears green on the 17th of every month to celebrate their heritage. That's a tradition I might take up myself!
In Brisbane, Australia, residents dress as old-time Irish settlers sent to build a nation for the Queensland Irish Association Parade. The yearly re-enactment is something I definitely would love to attend someday!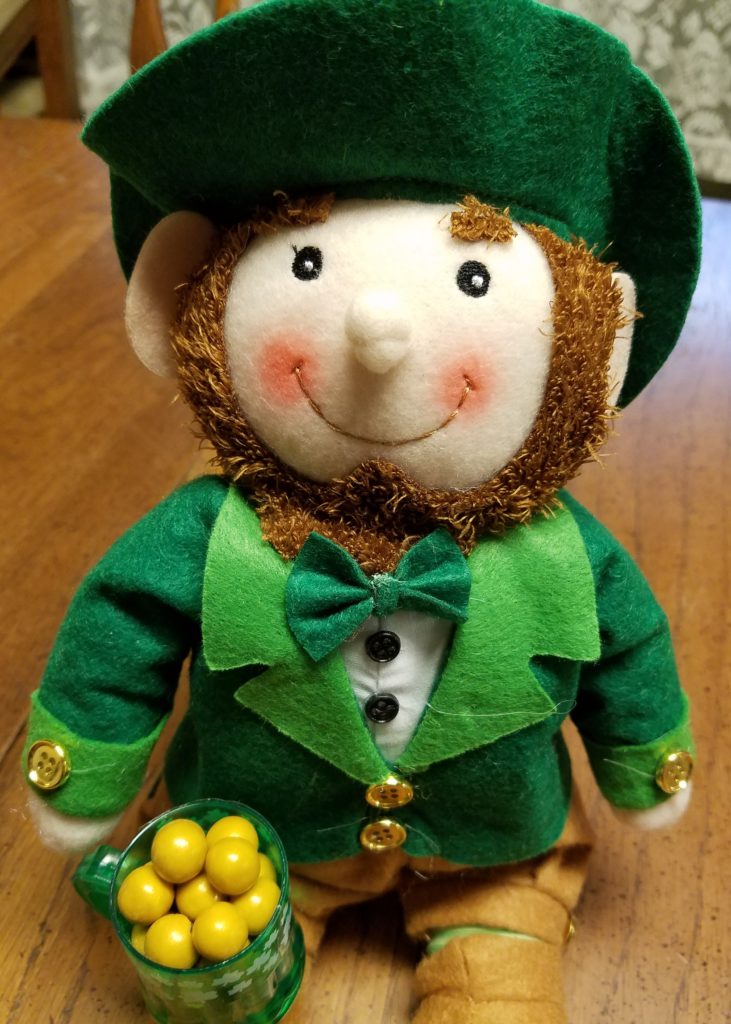 There's a common theme among all St. Patrick's Day celebrations, however, and that's that we love a good party! Here are some of my best St. Patty's day party tips.
Go green! Take these Irish Pub Dinner Plates I found at Oriental Trading for example. How cool are they? Pair them with St. Pat's Pot of Gold Tissue Paper Centerpiece and the Irish Pub Luncheon Napkins and you've got a festive dinner setting.  All you need to add a bit of bangers and mash!
Oriental Trading also has some quirky items – if you're part of the above-mentioned Shamrock Club, you can find your green tights and a green wig there, too. They also carry hundreds of other St. Patrick's Day party supplies. I get most of my holiday party supplies through Oriental Trading. The prices are great and the one-stop shopping is a major bonus. There are so many options that I always find what I need. They make it easy for me to express my "Irish Style".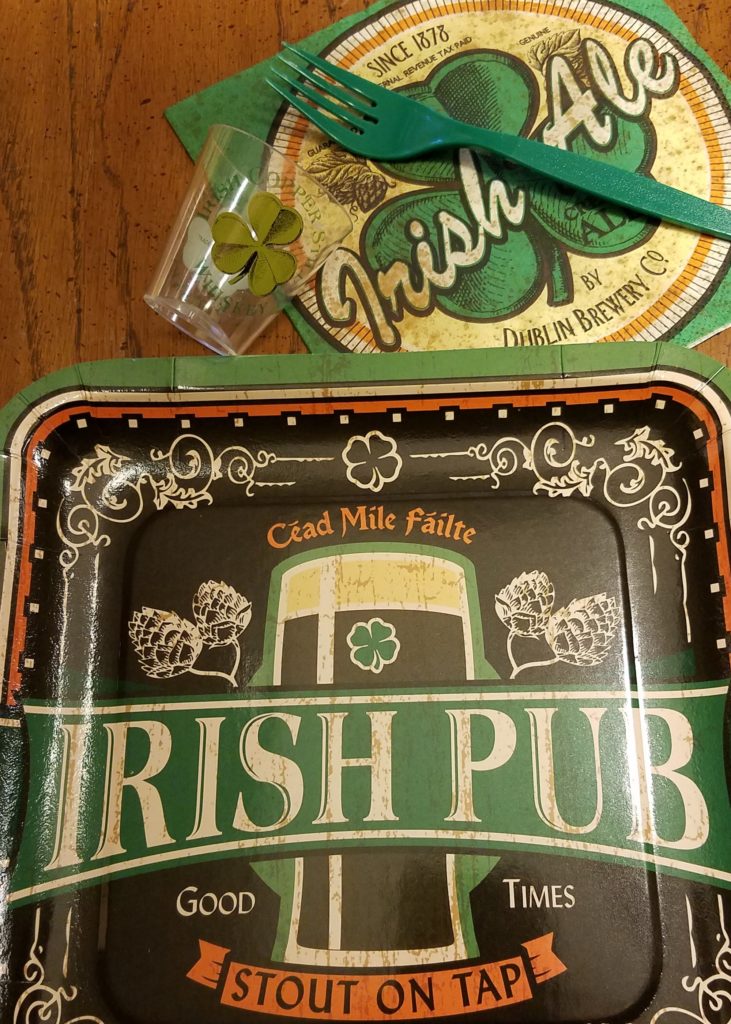 Have plenty of food and drink! Patrick's Day parties can include the traditional corned beef and cabbage dinner or just a mix of apps and Guinness, but make sure you have enough for everyone! Check Pinterest for some fun green food ideas, too. Note: You don't need to be Irish for this one to be important – if your party includes alcohol (like most do), be sure that you've planned for people to get home safely. You might even want to have a St. Pat's sleepover and serve traditional Irish scones in the morning. How fun would that be?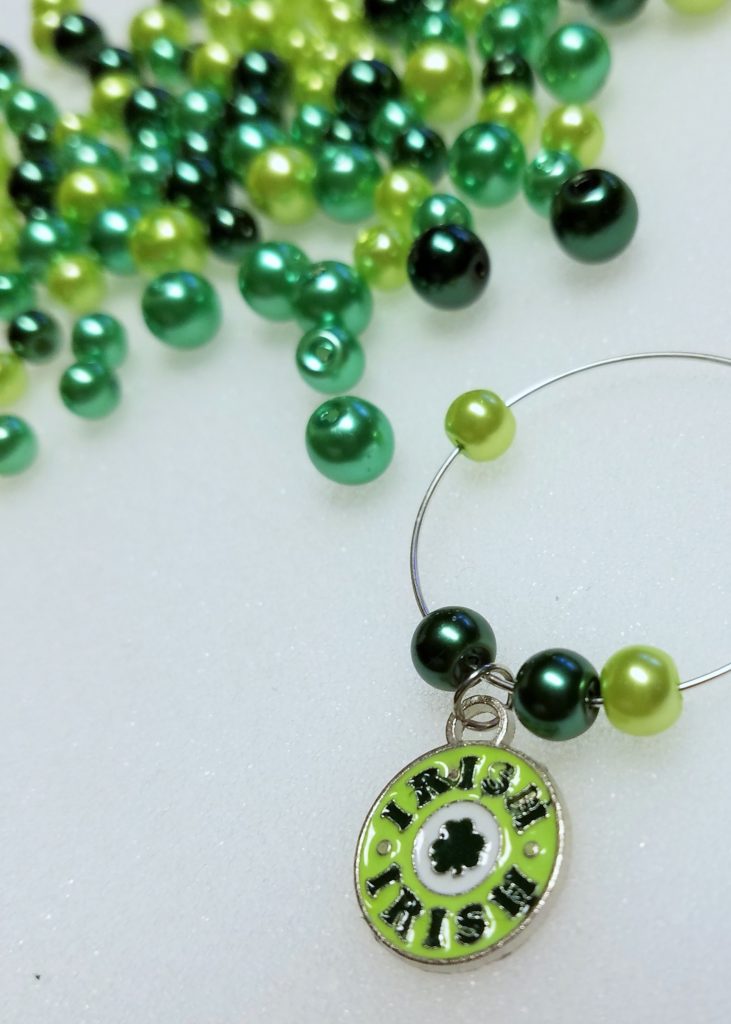 Send guests home with a wee bit of Irish charm! I had so much fun putting together DIY wine charms this year, inspired by a St. Patrick's Day Charm Ring tutorial on Oriental Trading. I hope my guests love them as much as I do! It makes me smile to give them something to take home with them. Hopefully they'll use them throughout the year and remember how much fun we had! (Assuming I can keep the charms away from the leprechauns until then. They like the shiny things you know!)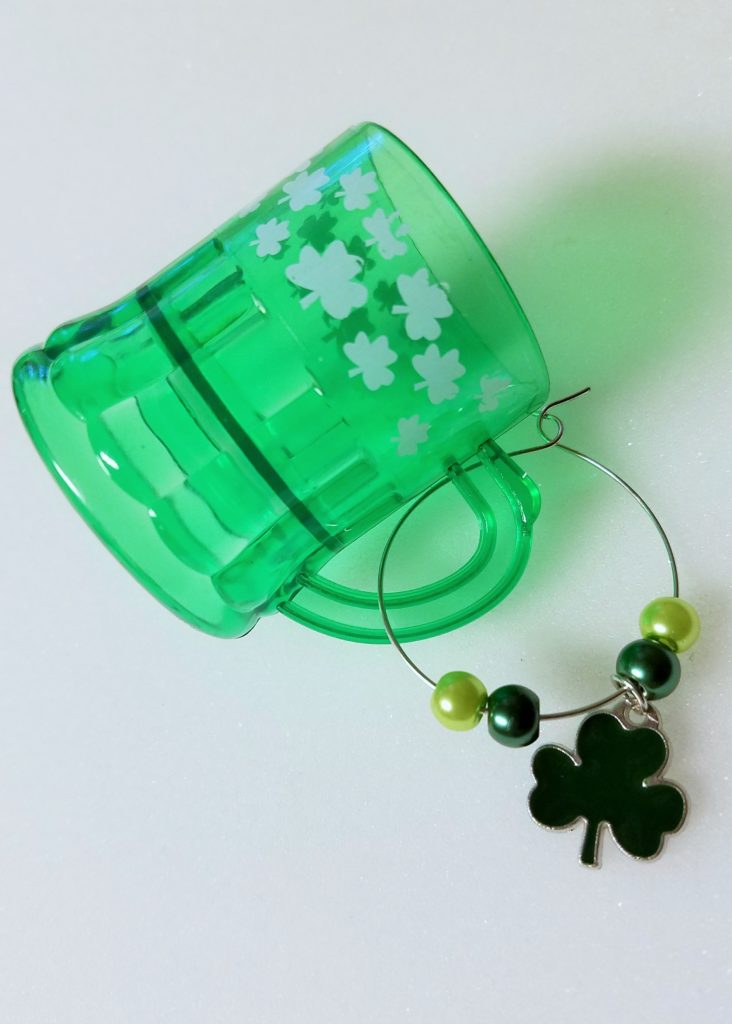 Rather than attaching them to wine or beer glasses, I found these super cute St. Patrick's Day Mini Shamrock mugs to attache the charms to as a parting gift for my guests.  Filled with gold chocolate candies, they will be a super fun "lucky charm" for everyone to enjoy!
No time to craft? No worries!  Just purchase the items for the wine charms and let guests at your party create their own.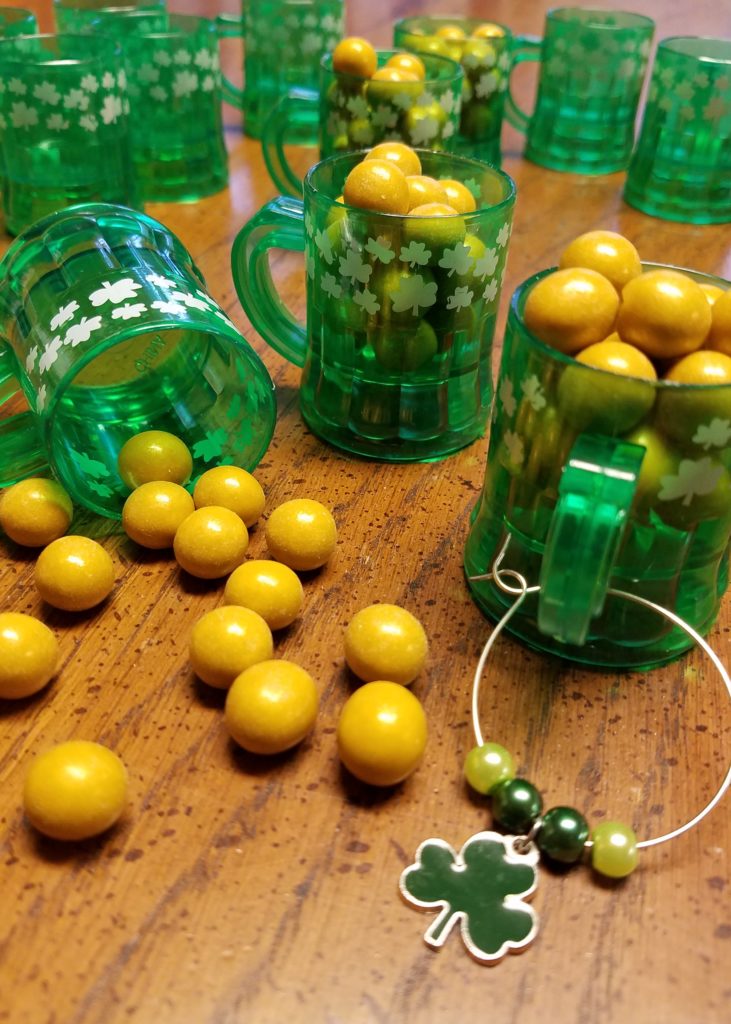 The best tip of all is to enjoy the magic the holiday brings! You can't celebrate a holiday that involves rainbows, pots of gold, and little men in green without a little bit o' magic in your heart. Let yours run free!  As the saying goes, "If you're enough lucky to be Irish…you're lucky enough!"
Happy St. Patrick's Day!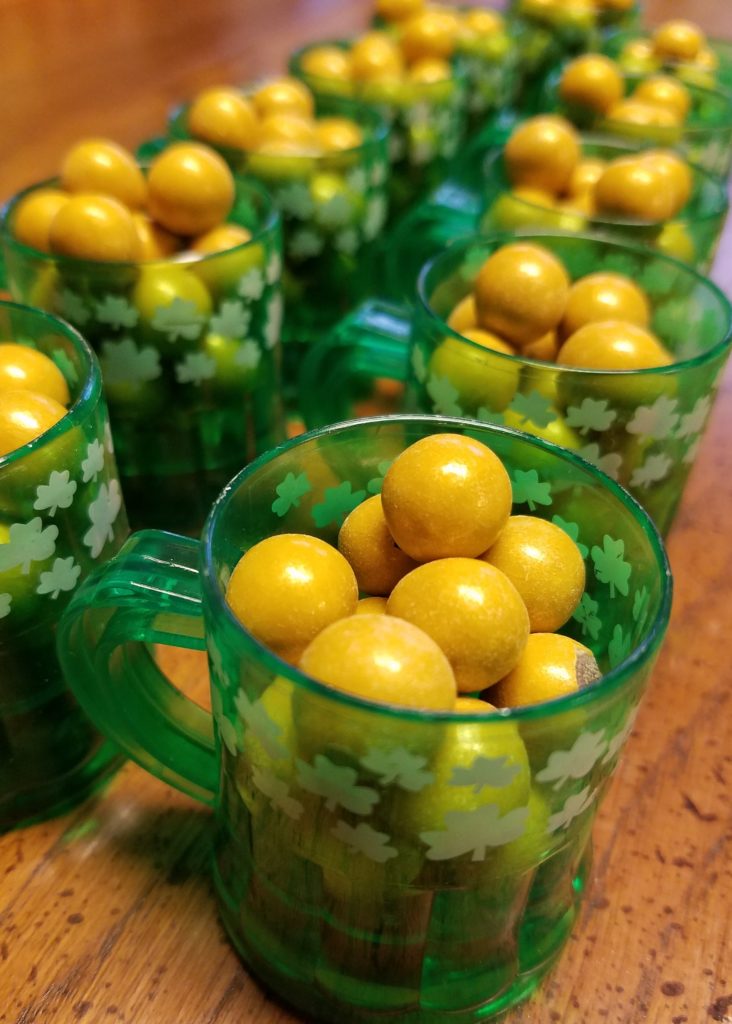 What are some of your favorite St. Patrick's Day traditions?