I love my pressure cooker! I'm currently loving my Instant Pot but I've had a few other styles over the years, too. The technology just keeps getting better and better with each one.
Pressure cooking is wonderful for canning and making soups and stews, but did you know you could make things like cheesecake and hard-boiled eggs in an Instant Pot too?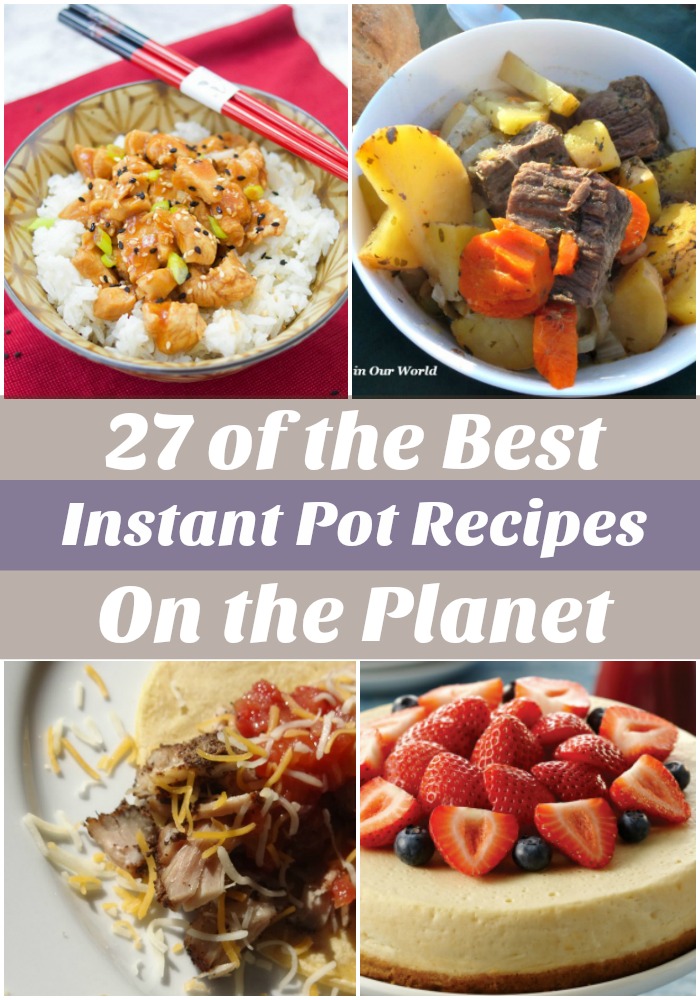 Need more ideas? Take a look at the 27 of the best Instant Pot recipes on the planet.
1. Pressure Cooker Coffee Crusted Pork Tacos
2. Instant Pot Cracked Up Chicken and Broccoli Rice
3. Red Lentil Chili Recipe
4. Fall Off The Bone Ribs
5. Cajun-Style Tofu with Tomatoes and Okra
6. Asian Sesame Instant Pot Chicken
7. Barbecue Chicken
8. Instant Pot Supreme Pizza Pasta
9. Pressure Cooker Beef Short Ribs
10. Easy Spanish Rice
11. Beer and Barbecue Pulled Pork
12. Apple Cider Barbecue Chicken Wings
13. One Pot Chicken Florentine
14. Thai Chicken Curry With Coconut Milk
15. Cheesecake Factory Chicken Madeira
16. Pressured Cooked Roma Tomato Roasted Chicken and Herbs
17. Instant Pot BBQ Pork Chops Recipe
18. Instant Pot Sausage Cacciatore
 [amazon_link asins='1623156122,B00FLYWNYQ,B075HHYXWF,0399580883,1641520434,1981961577,1985882078,B06XK41BQV,B01MFEBQH1,B06Y1MP2PY' template='ProductCarousel' store='ruralmom' marketplace='US' link_id='f09d4616-3fa6-11e8-bc78-cdafa40358df']
Instant Pot Soups
19. Hearty Garlic Chicken Noodle Soup
20. World's Fastest Lasagna Soup
21. Instant Pot Low Carb Loaded Cauliflower Soup
22. Roasted Red Pepper Soup
23. Slow Cooker Minestrone Soup
Instant Pot Desserts
24. Instant Pot Apple Bread With Salted Caramel Icing
25. Instant Pot Cheesecake
26. Instant Pot Salted Caramel Cheesecake
27. Samoa Cheesecake Made With Ricotta
Do you have a favorite Instant Pot or pressure cooker recipe?