I'm sure by now you know that I'm totally excited to go to the premiere of PETE'S DRAGON, but I'm going to tell you again – I couldn't be more excited! It was one of my most absolute favorite movies as a child, and being able to be a part of this event is nothing short of magical.
To enhance my standard "press" wardrobe, I decided to make a themed necklace to wear during the interview sessions with the cast of PETE'S DRAGON.  I simply used a small locket, cord and a few pictures of the old and new movie posters. The result is a Pete's Dragon style dual-sided locket that will pair well with my daytime work wear.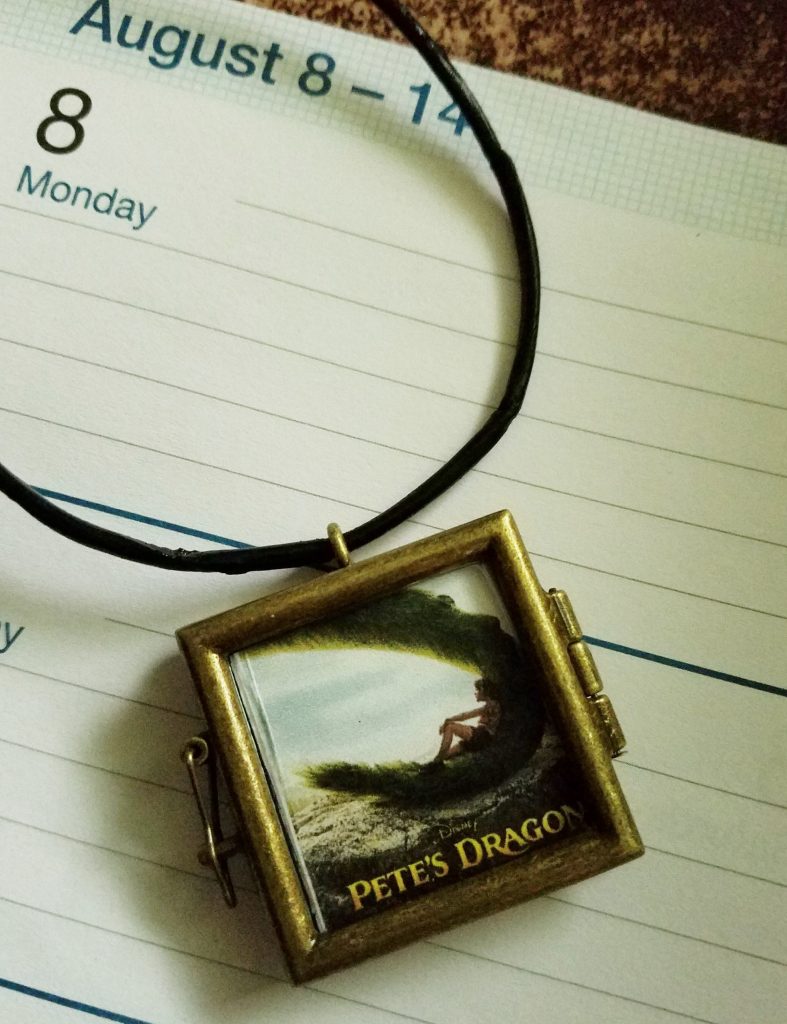 Of course, I had to take a look and see what might be available in the way of "dragon" fashion and that led to some other cool finds on the internet. For example, take a look at this cute Elliot the Dragon Craft I saw on Momma Rambles. It's the perfect rainy day activity for a little one.
There are products popping up all over the place too – you wouldn't believe the vintage items I've stumbled upon like this Pete's Dragon Thermo Bottle and hundreds of old VCR tapes and books. My mind really took a trip down memory lane when I came across this Pete's Dragon Colorform Set. Colorforms were so much fun! Browsing through the retro memorabilia is like stepping into a time machine. It's funny how we thought things were so modern then and looking back they're so simple!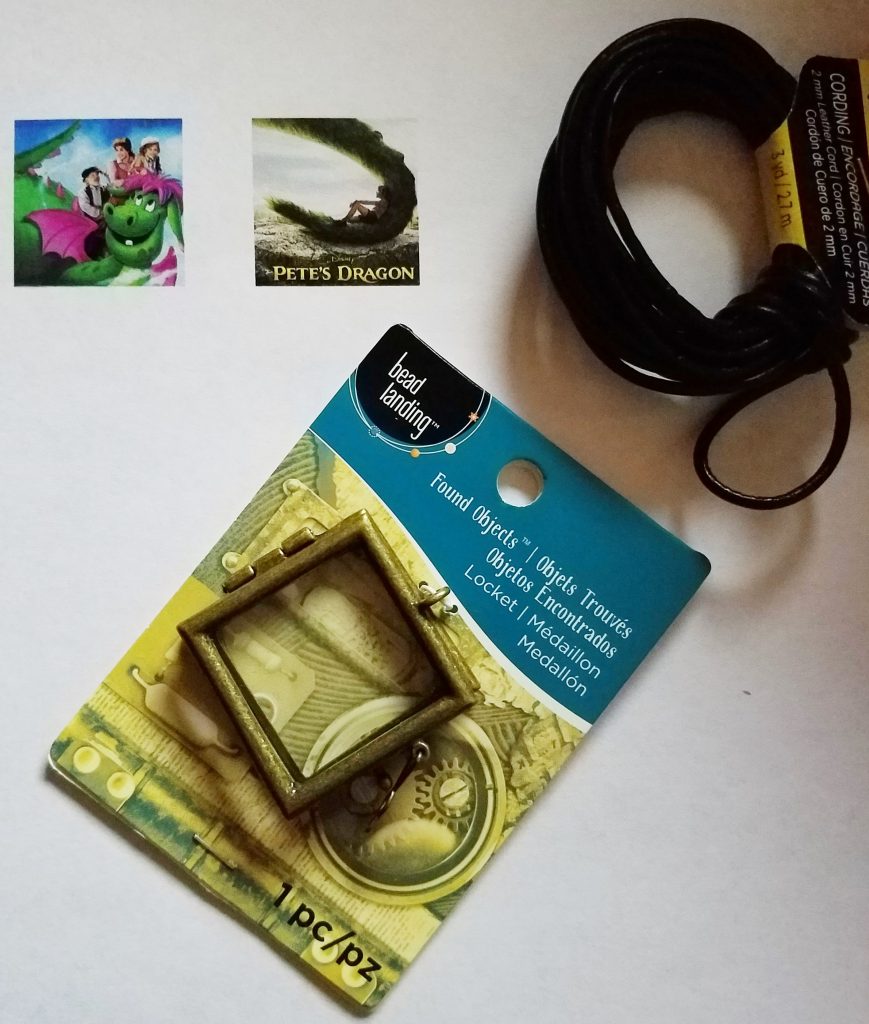 And how adorable are these light switch and electrical outlet covers for a kid's room? The Etsy sellers are already thinking ahead with things like Pete's Dragon Halloween costumes, Pete's Dragon Gift tags and this Pete's Dragon Christmas Ornament. I also think my granddaughter might need Santa to bring her this Pete's Dragon Tutu.
As you can imagine, the Disney Store has some awesome Pete's Dragon themed products as well. I love this Elliott Christmas ornament. This personalizable Pete's Dragon Fire Breathing iPhone case is more on the adult side, but I think I know some teen boys who would really like it.  (In LA next week, I should get the inside scoop on some of the Pete's Dragon movie collectibles and merchandise that will be hitting the shelves soon – I will be sure to update you!)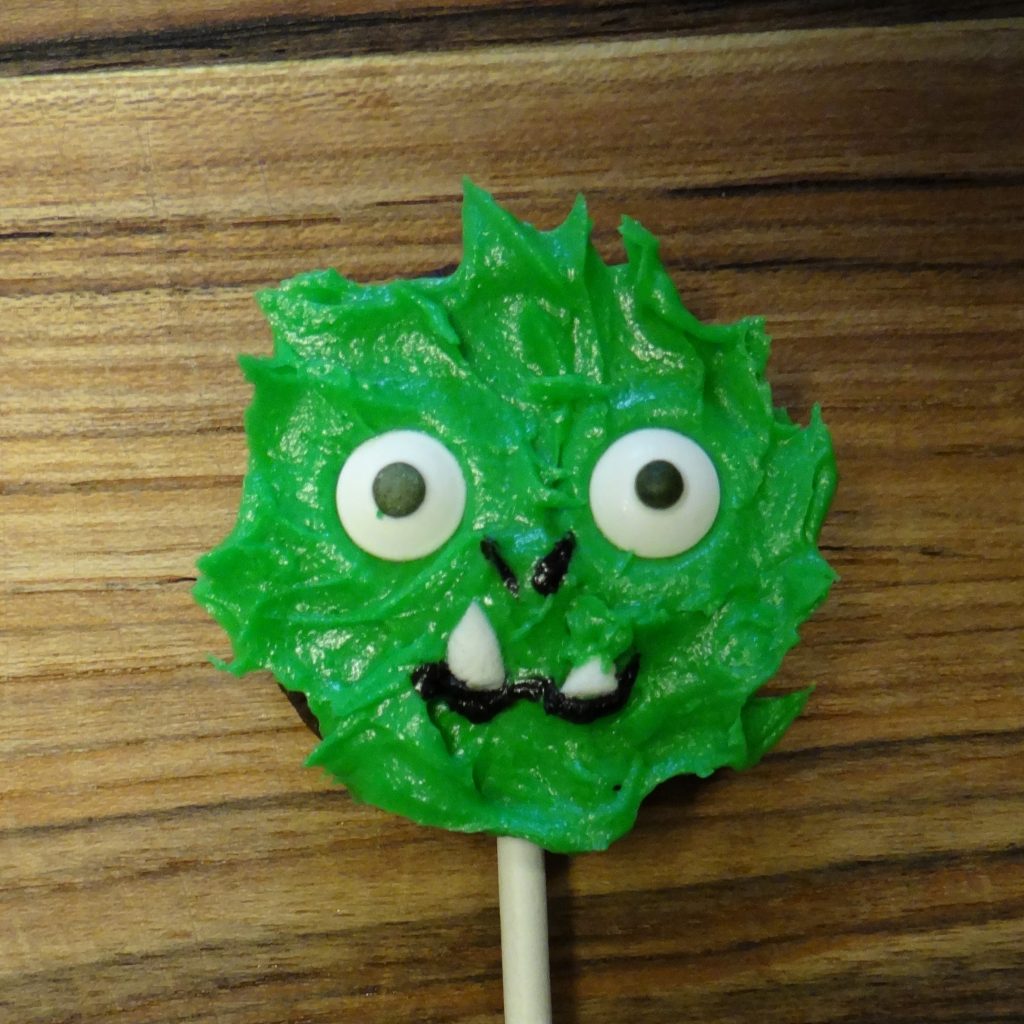 Then my mind got to wandering…wouldn't a Pete's Dragon Baby Shower be the cutest thing ever? You could serve Pete's Dragon punch and little dragon themed snacks like Pete's Dragon Cookie Pops (pictured)…Along the same lines, isn't Pete's Dragon nursery décor a great idea?
Okay, okay, so maybe I'm getting a little bit carried away there. Seriously, though, I can't wait to go!  Be sure to follow the hashtag #PetesDragonEvent and stay tuned to Rural Mom for more PETE'S DRAGON fun!