I'm partnering with FICO today to talk about why knowing your FICO® Scores has helped me make better financial decisions. 
Did you know that FICO® Scores are the credit scores used by 90 percent of the top U.S. lenders?  Yet, many of us have never reviewed our FICO Score or even know where to look.
I was once very confused by the whole credit score system, and worse, wasn't concerned about it.  Then, I bought my first home.  Fortunately, I had an excellent lender who took the time to explain the credit score system and how my credit score impacted my loan interest rate.  But, I still didn't know that not every credit score was a FICO Score and why that mattered.
There are scads of companies out there offering insight into, or a peek at, your credit score.  If they aren't showing you your FICO Score, though, the information may be utterly useless to you.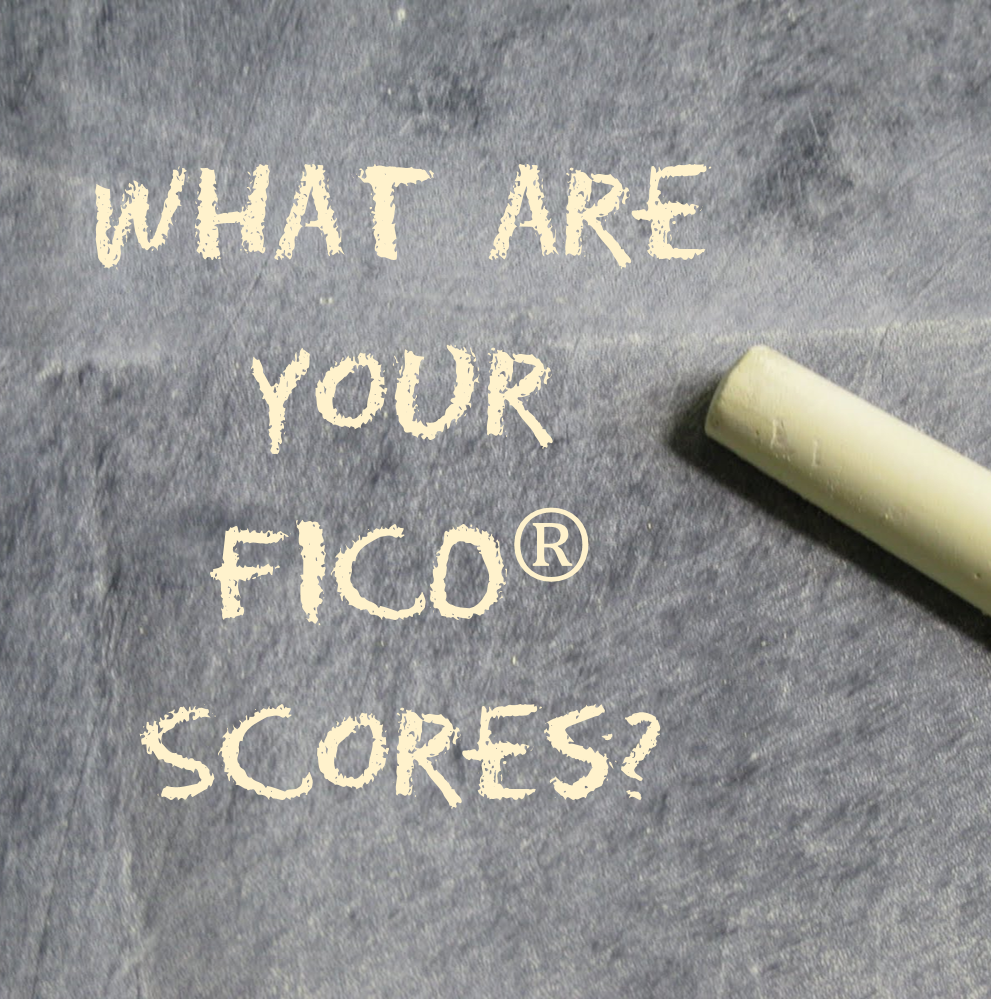 Have you ever applied for credit without viewing your FICO® Scores?  Why does it matter?
First, it's important to have a good understanding of what a FICO Score is. The term "FICO" is an acronym for the Fair Isaac Corporation, the company that pioneered development of the method for calculating credit scores. Other companies offer credit score formulas, but FICO Scores are the scores the majority of businesses look to as the industry standard.
Businesses look at your FICO Scores to determine whether you qualify for a loan or credit, the amount of the loan or credit you are eligible for, and what interest rate you will receive on your loan or line of credit.  This is why your score matters.  FICO Scores range from 300-850, and the higher the score, generally the better loan and interest rate you will receive.
It means even more than you may realize, too, as FICO Scores are not only a factor when you are applying for a loan or credit, but will also come into consideration for other areas of your life.  Ever apply for a cell phone?  It's possible they looked at your FICO Scores to ensure you were a good credit risk before offering you service.  Other businesses like your car and home insurance company or rental agencies (including rent-to-own and rental properties) may also look at your credit before deciding whether to extend insurance or a rental to you.
Once I understood the above, it made it easier for me to understand the mortgage process I went through on my next home and other applicable times when my FICO Scores came into play.
Do you know how your actions affect your FICO Scores? 
I was fortunate to get a decent rate on my first mortgage as I had established healthy credit practices, which had helped boost my scores.  Though I was told I had a good score, though, I really didn't understand why.  My lender explained, at the time, that it was due to my good credit practices like keeping my credit card balances low and paying my loan payments on time.  That was awesome to find out but I still had no idea there were other things that were factored into my FICO Scores, too.
According to FICO, your payment history contributes 35 percent to your FICO Score calculation.  Paying your bills on time and staying current with all bills will affect your score in a very positive way.  Other areas that impact your FICO Scores are:
Amount of debt owed. Keeping your credit balances low will improve this area.  Having too much debt will lower your score.
Length of your credit history.  New credit users may need co-signers on loans for this reason, as they may not have enough established credit history.
How much new credit you have.   Every time someone pulls your credit report to check for your eligibility for a new loan or line of credit, it has the potential to affect your credit score. For example, opening numerous credit cards rapidly could impact your score in a negative way as it illustrates risky behavior.
Types of credit you use.  If your history has a good mix of credit accounts such as credit cards and loans that have been used responsibly, it's generally favorable to your score.  If you have not established any credit, it may have a negative impact on your score as you may be seen as a credit risk with no history for the lender to review.
Having all this information has helped me to make better financial decisions throughout the years.  Now, I make a point to regularly check my FICO Scores and actively work on improving credit areas that may need attention.  This has kept my credit profile healthy and I'm grateful for this as we are currently seeking a new farm, for which we will certainly want the very best interest rates available!
Get all the facts on credit scores and find out how to review your FICO Scores at: http://www.fyitrack.com/?A263FD53
Have you ever been confused about credit scores? What tips do you have to share?