Every new mom worries about safety. Baby proofing, choosing the right crib, vaccinations….there are so many big decisions to be made in the first few days, weeks, or months of your new baby's life. One of the biggest decisions for any new parent is the car seat. With so many options on the market, and so much time spent transporting your kiddo back and forth from places like grandma's house or the doctor's office, you want to make sure you're making the right choice.
Safety 1st has been on my radar throughout my entire pregnancy. With a name like that, they have to be doing something good, right? Their website and Facebook pages assure nervous first-time moms like me that they are determined to look out for the safety of our babies. I can dig that.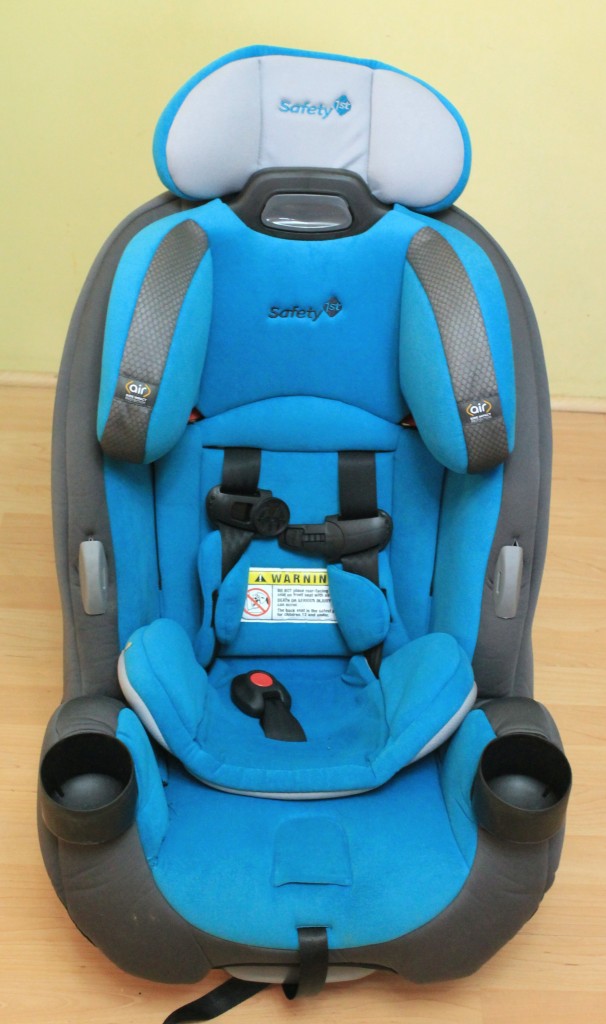 After a lot of thought, research, and browsing internet registries, I decided to add a Safety 1st car seat to my baby registry. When I got the chance to review one, I was ecstatic. When it arrived well before the baby did, the first thing I wanted to do was take it out of the box and look at it. My first thought? Car seats have come a LONG way since I was in them.
I received the Grow and Go Air 3-in-1 Car Seat in Evening Tide. The Go and Grow Air 3-in-1 car seat is available at most retailers selling baby and toddler products, and online. It comes in a variety of colors, including the bright blue "Evening Tide" we received.
Like most baby items I've dreamed of choosing, receiving, and using, this car seat serves multiple purposes. It can be your baby's first car seat, with rear-facing capability from 5-40 pounds. Once your child has outgrown that, it transforms into a forward-facing seat serving children between 22 and 65 pounds. Finally, when you're ready to move on to a booster seat, it can do that too, for children 40-100 pounds. Transforming the chair seems easy enough, especially with the multiple pillows that can be added and removed to make sure the car seat is always the perfect fit for your child. This does make the car seat bulkier than some, but it fits into our Kia Soul well. It might be a bit of a tight squeeze in smaller cars while rear-facing, but as you progress to forward facing, this would not be an issue. The car seat is also fairly heavy, so you probably won't want to transport it between cars any more an absolutely necessary.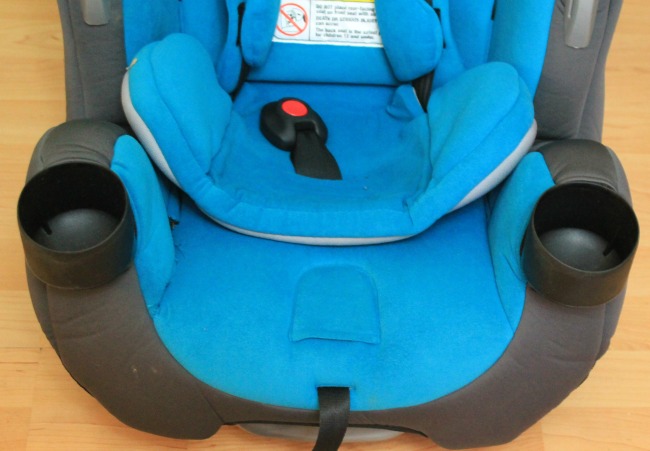 One unexpected aspect of the car seat was the cup holders. Neither my car seat as a child nor my little brother's car seat had this built in bit of luxury. Obviously, you won't be using these for your newborn, but once you're forward-facing or using a booster seat, your child will definitely like being able to keep their sippy cups and snacks close at hand. If you've ever been on a road trip with a hangry child, you're going to love this feature as much as I do.
While we're on the topic of snacks and drinks, that brings up another aspect of the car seat that I really like. If you're going to have a baby or a child in your car, you're probably going to have messes, right? Safety 1st seems to know this, because they've designed this car seat for easy clean-up. Not only is the seat pad removable for cleaning, it's also machine washable and safe for your dryer. I don't know how many things I've ruined thanks to dryer shrinkage, and I can only imagine that will get worse with new mommy brain and sleep deprivation. Knowing I can toss the seat pad in the washer or dryer without worrying?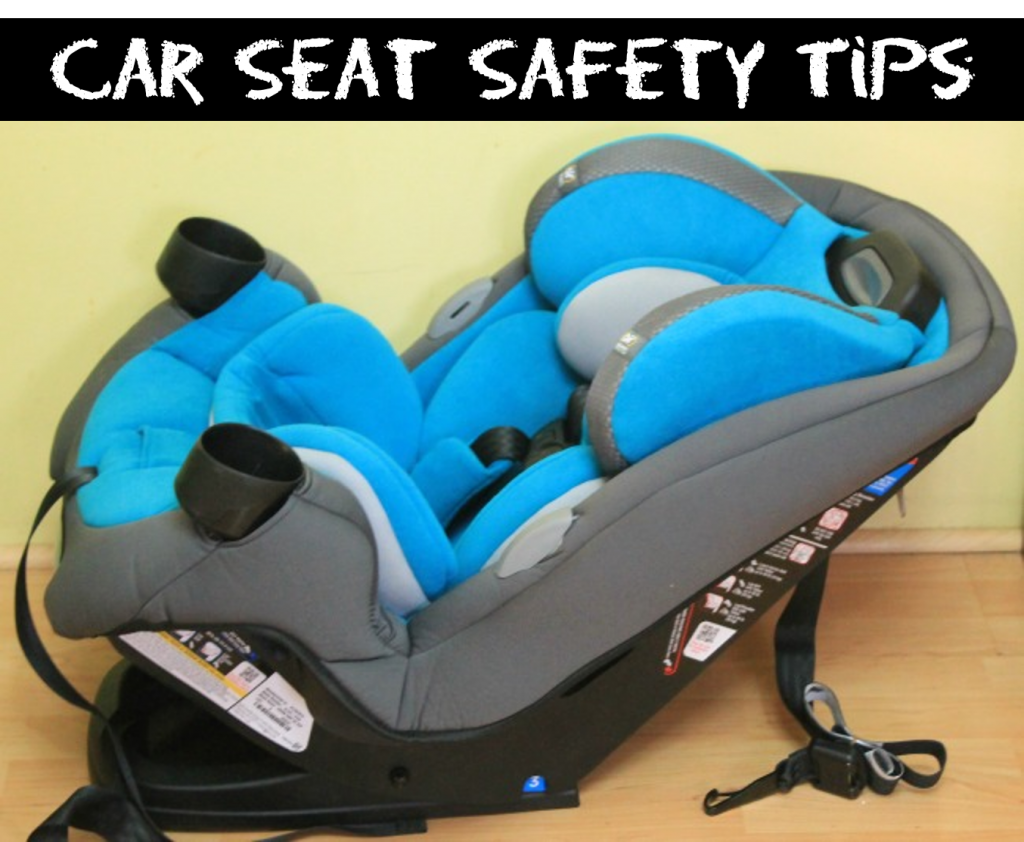 Of course, while easy clean-up, cup-holders, and the ability to grow with your child are nice features, there's only one thing that really matters in the end. How well does this keep your child safe? I was very pleased to read that this car seat not only meets but actually exceeds Federal Safety Standards! It is made with Air Protect (hence the Air in the name), which is an advanced cushioning system proven to add an extra level of safety for your child.
Since safety is such a big concern and so many parents have questions about car seats (I know I did!), here are a few safety tips from Ryan Hawker, Safety 1st Child Passenger Safety Technician and Car Seat Safety Expert:
Don't Turn Them Around!
When children start to get older, it becomes tempting for parents to turn their kids around. However, it's vital to keep your child rear-facing for as long as possible (allowed by the car seat's height, weight, and other criteria)! According to a study in the Journal of Injury Prevention,children under the age of two are 75 percent less likely to die or be severely injured in the event of a car crash if they are rear-facing. Many convertible car seats, such as the new Safety 1st Grow and Go Air, allow children up to 40 lbs to ride rear-facing. This means that children up to 3-years-old can ride rear-facing. When a child has outgrown the rear-facing capacity of their convertible car seat, they can begin to face forward. If you are going to switch your child to a convertible car seat before age two, purchase a seat that will keep him or her rear-facing.
If you have an older child, boosters are extremely important. Most states require a child to be in a booster until 8 years old, as they have been proven to reduce the risk of serious injury by 45%, according to Safe Kids.
Proper Installation Saves Lives
According to the National Highway Traffic Safety Association, 75% of car seats are installed incorrectly. Are you one of those parents? If you are not sure, check! Remember, every car and car seat has different requirements for safe installation, so it's important to read both the car seat and car manual.
When installing, use either the LATCH or the seat belt. Do not use both! The seat belt is a very effective way to install a car seat but LATCH was developed to provide another option for parents that find it challenging to properly install a child restraint with the seat belt. Once you have the car seat installed make sure it does not move more than one-inch side to side. If you are still unsure if you've done it right, check in with a local Child Passenger Safety Technician before you hit the road.
You can visit a local police station, fire station, AAA office or Safe Kids Chapter for guidance. Or simply go to seatcheck.org or http://www.safekids.org/events/field_type/check-event.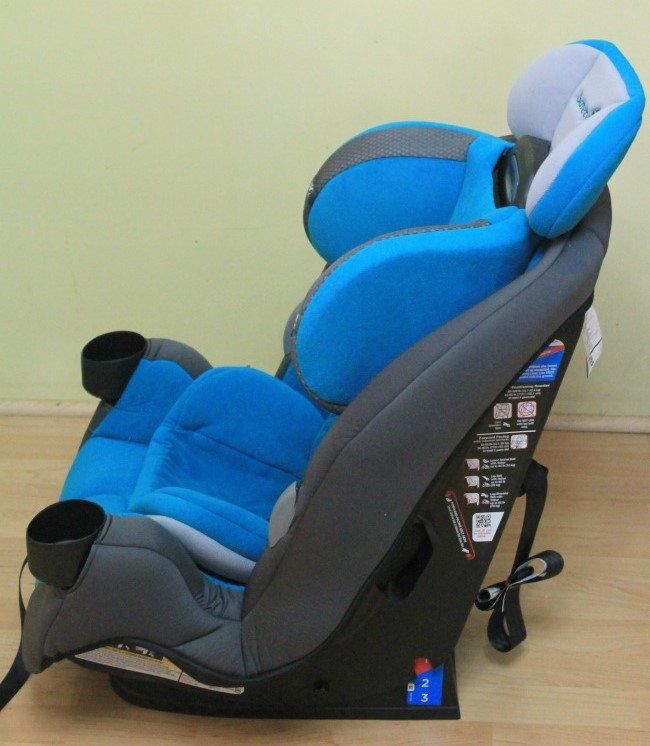 Is your seat safe?
It's something you rarely think about, but car seats expire! You can find the expiration date on the back or the side of the car seat. Additionally, if a car seat has been in a crash you should not use it. Plastic can warp, materials can fray and the car seat will not protect a child correctly. This also means that you should avoid used car seats. The history of a car seat tells a lot about its ability to protect on the road ahead. If you don't know where it has been, you don't know if it can protect your child.
To recycle a car seat, check with your local waste management facility to see if they recycle number 5 plastic.
Want to know more?  You can find more answers to commonly asked car seat questions and other child safety topics at https://www.safety1st.com/