The older I get, the more baskets I seem to accumulate, particularly around the holidays!  While I love the storage potential and casual decor they offer my home, after awhile there are only so many baskets you can use at catch-alls,  so it's time to find clever ways to upcycle and re-purpose.  I've re-purposed many a basket to put together Easter baskets for family and friends, to keep our DVD/Blu-ray collection neat and tidy, and even have a little "guest" basket set up with toiletries and towels for people who stay over during the holidays.
This year, in an effort to promote a more sustainable lifestyle this Easter, Gifts.com called upon me to help celebrate the season with an Upcycled Easter basket project.  I decided it was the perfect opportunity to create  a centerpiece that would be both functional and serve simultaneously be gift for my guests!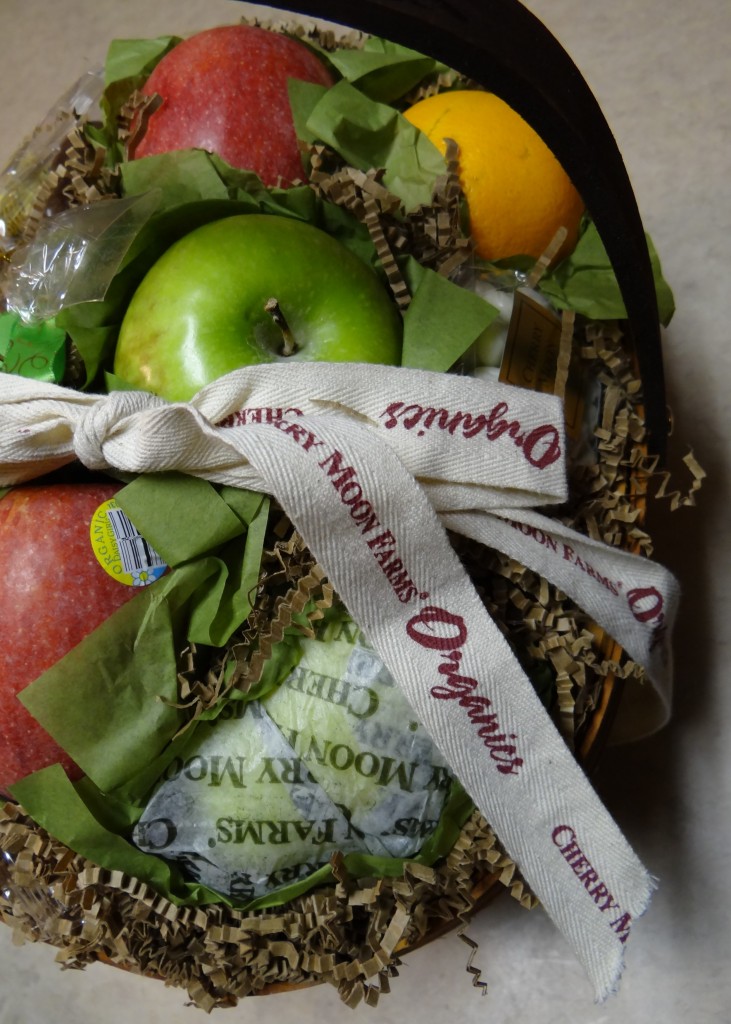 The food basket I chose to create my recycle project using the Organic Favorites Gift Basket basket as this is the Easter gift I'd love to receive every year! Chock full of fresh organic fruit, nuts and gourmet treats, it's the farm fresh goodness I'd love to see the Easter bunny leave for me.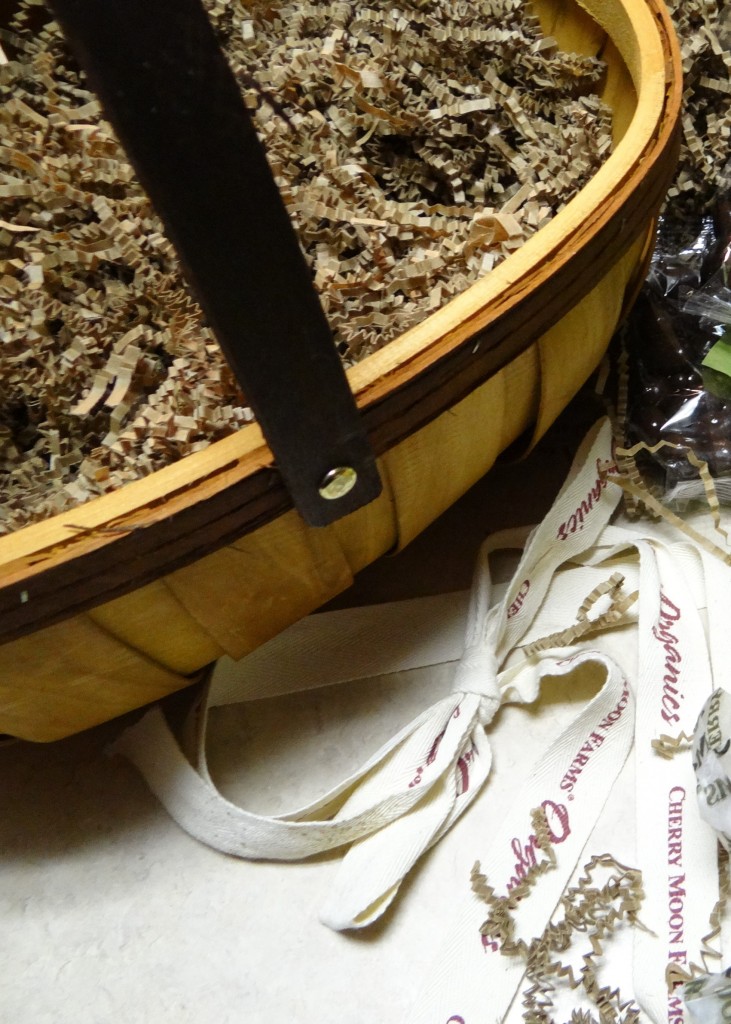 The rustic wood basket it's delivered in is perfect "as is" for my home decor and I think makes a beautiful fruit basket centerpiece for our table (as pictured below,)  but it's also a lovely blank slate for decorating.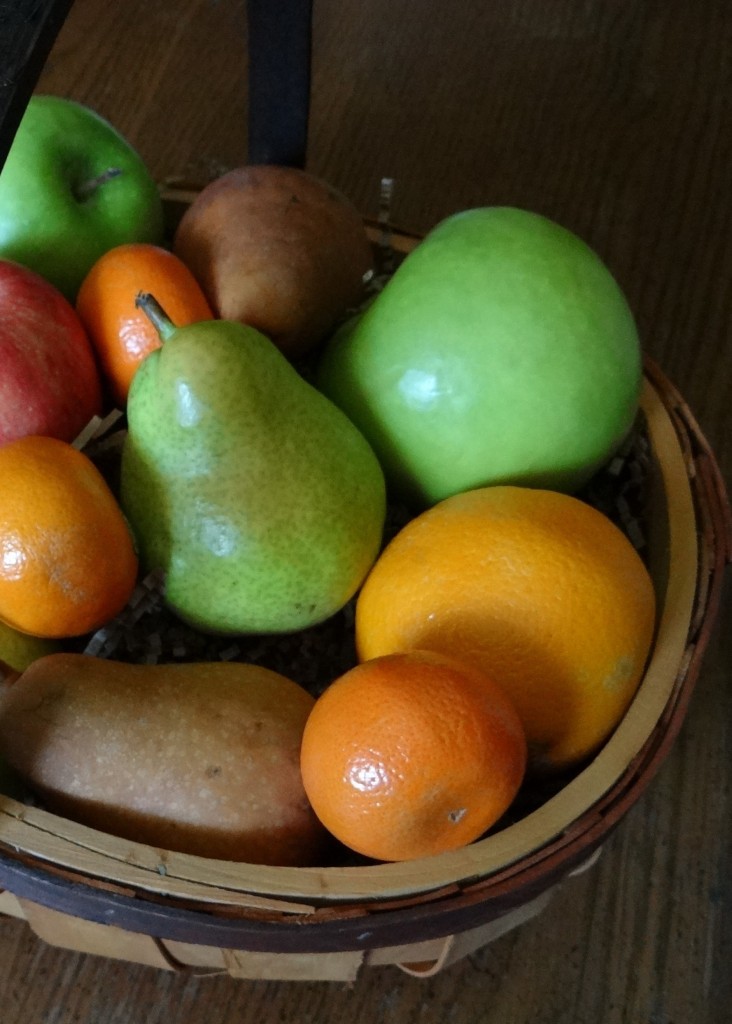 After emptying the contents, I kept most of the packing materials to use for my upcycle project, too.  I could have swapped in Easter grass, but I loved how the natural charm of the crinkled paper.  My master craft plan was to create an Easter centerpiece for our table that would contain fresh flowers from my garden to gift my guests with.  Mason jars would be the perfect vessels to contain the flowers in and would easily fit inside the basket.  I gathered together various ribbon and mason jars I already had in my home and on a whim when shopping, purchased a few bunches of Easter-themed suckers and a cute baby chick toy to tuck in. (You can find similar items for purchase at your local Dollar or department store.)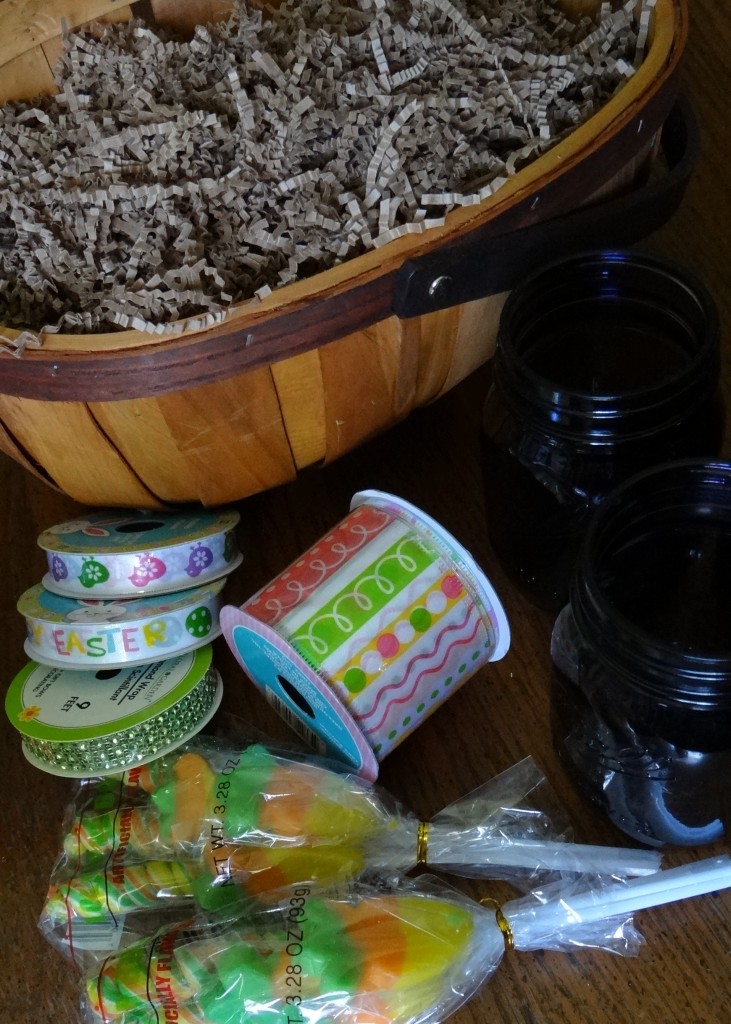 My full supply list: 
Wooden basket from the Organic Favorites Gift Basket
Easter-themed ribbon of various widths and prints
Pint-size mason jars (I used purple ones for an extra pop of color)
Easter-themed candy suckers
Baby Chick wind-up toy
Daffodils (from my garden)
Craft glue or double-sided craft tape
Scissors
As I already had the bulk of the items I needed on-hand, my total cost for this project was 3 dollars.  If I were to purchase all of the above items, I'd expect to pay around 12 to 15 dollars, still very inexpensive for a beautiful centerpiece that also functions as a gift for your friends and relatives!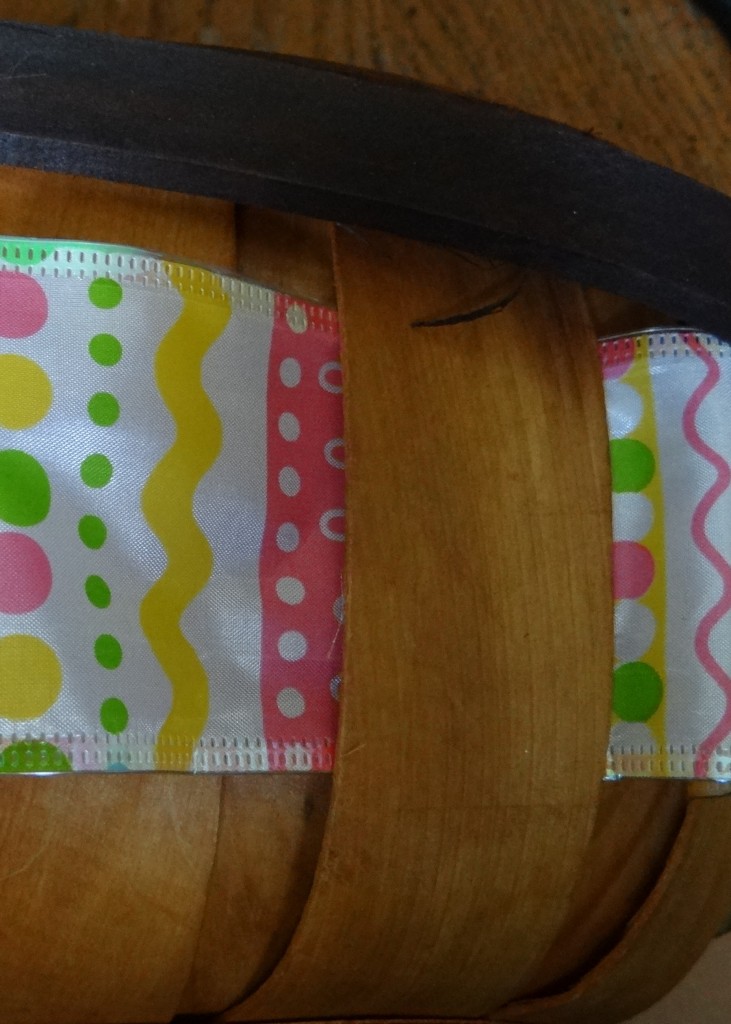 I decided to weave wide ribbon around the outside of the basket (as pictured above.)  This way I would be able to remove it after Easter and continue to use the basket as a year-round fruit basket or centerpiece option for our table.  For other holidays, I can simply weave a different pattern of ribbon through.  I left the ends of the ribbon tucked inside the basket (as pictured below,) again for easy removal.  You could certainly tie the ends or tack them down if you prefer to keep the basket as a seasonal piece.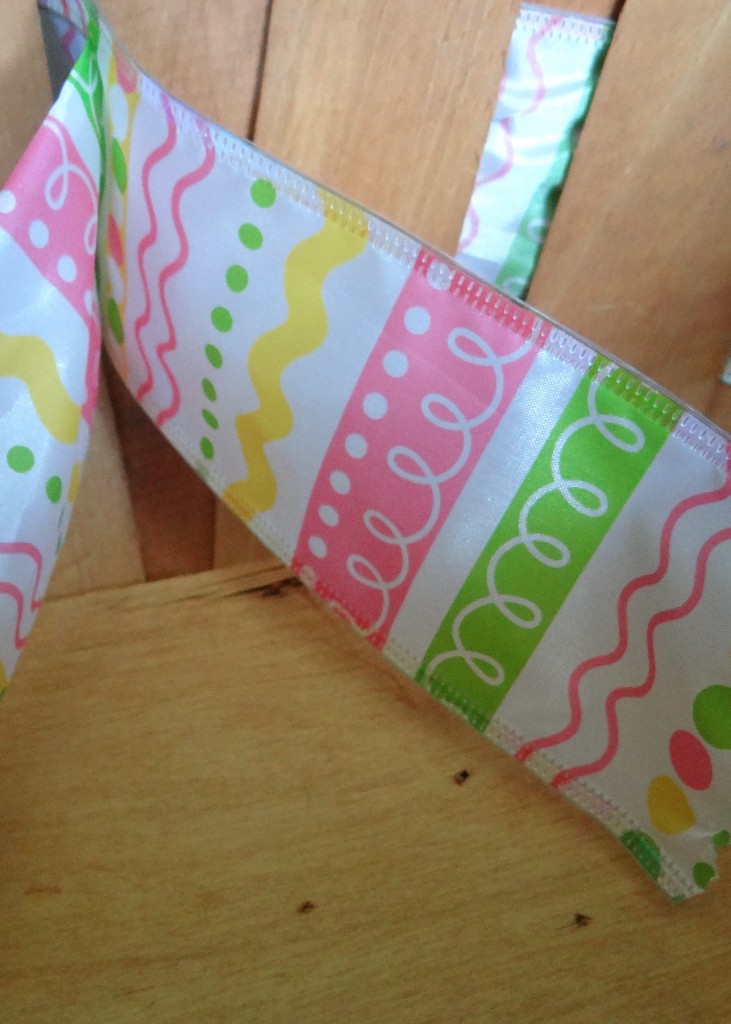 As I'm rather fond of adding a little bling, I decided to use a jeweled ribbon to line the top of the basket (see pictured below.)  I wanted to keep this as a permanent feature (as it matches my kitchen decor) so I tacked it in place with craft glue.  If I didn't want to keep this ribbon on the basket permanently, I would use double-sided craft tape to secure it.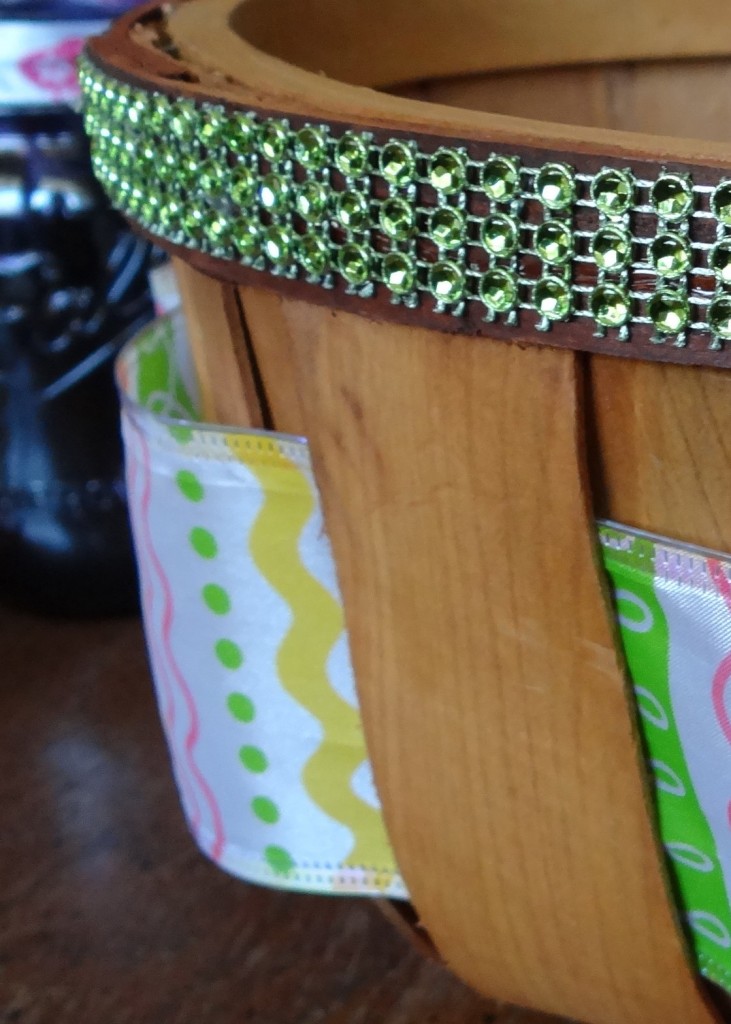 The next step was to tie ribbon on each of the mason jars (as illustrated in the picture below.)  I used 5 mason jars to match the number of guest I wish to gift them to at the end of our Easter celebration, but could have fit 6 in the basket.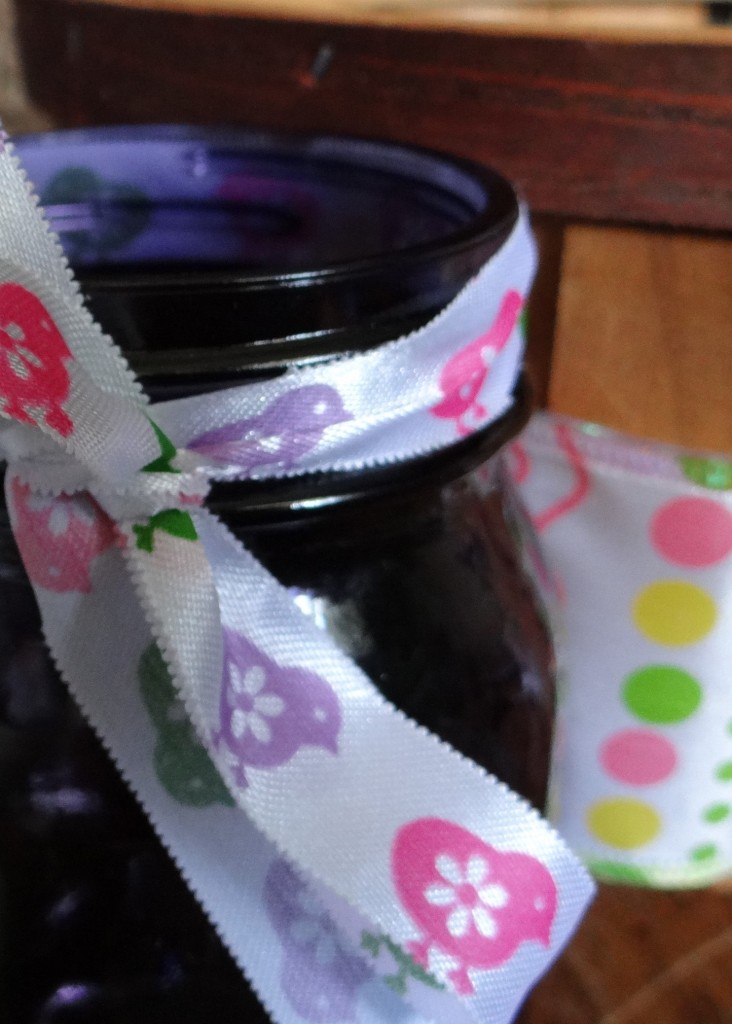 Once the jars had a ribbon bow tied on around the rims, my basket was ready to assemble.  I planned to use the crinkled paper to cushion the jars and secure them in place.  In the center of the basket I used an empty ribbon roll for the center mason jar to rest on.  This "lifts" the center jar which will give your centerpiece a bit more height in the center which creates an nice arc and an illustion of fullness when the flower arrangements are added.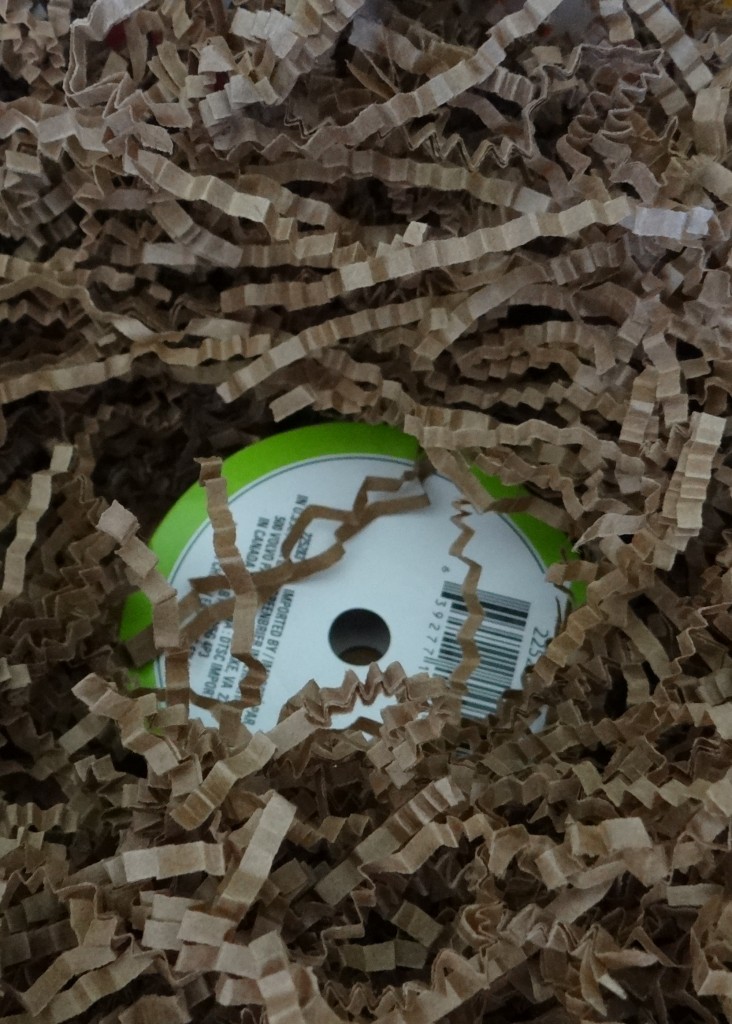 I placed each jar in the position I desired and used the crinkle paper to secure the jars (as pictured below) so they wouldn't shift around as I moved the centerpiece or if anyone accidentally bumped it during dinner.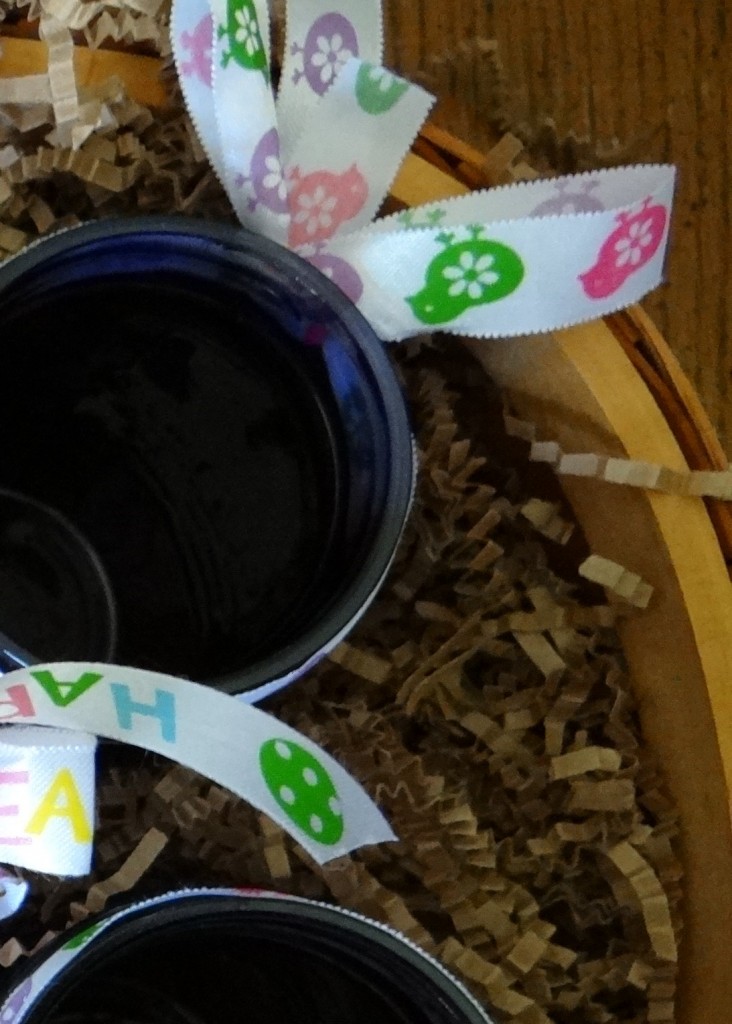 Once the jars were arranged in the basket, the last step was simply to fill them!  A quick trip to my yard delivered a lovely bunch of daffodils to fill the jars.  I also added two of the Easter-themed lollipops to each jar and then tucked my cute little baby chick toy in the front of the centerpiece.
TIP:  To keep you flowers in tip-top shape throughout your Easter dinner without having to fill the jars with water, wet a paper towel and wrap it around the base of the stems before placing the flower bunch into the mason jar.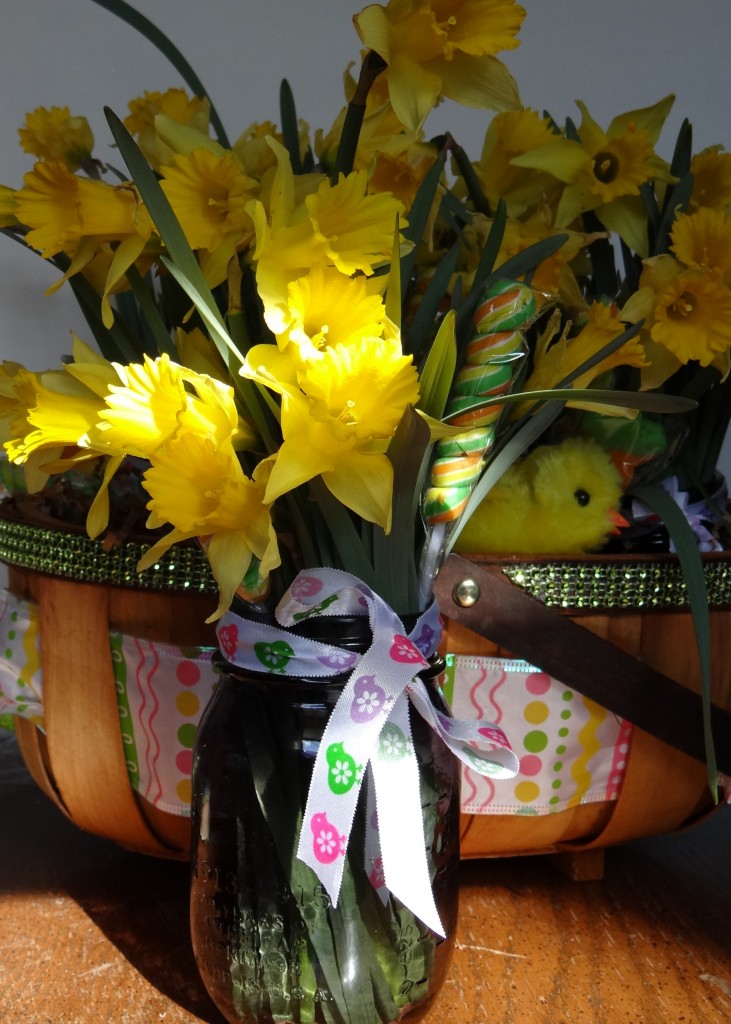 Viola!  With just a few simple steps and embellishments, I upcycled the gift basket into a lovely Easter centerpiece… that is also a gift that keeps giving as each guest will take home a mason jar full of fresh daffodils to enjoy!  (You could easily fill the mason jars with silk flowers, candies or even a plant for your guests to take home, too.)
Overall, I'm happy with the results of my Upcycled Easter basket project and I'm truly happy to be able to re-purpose the basket and reduce holiday waste!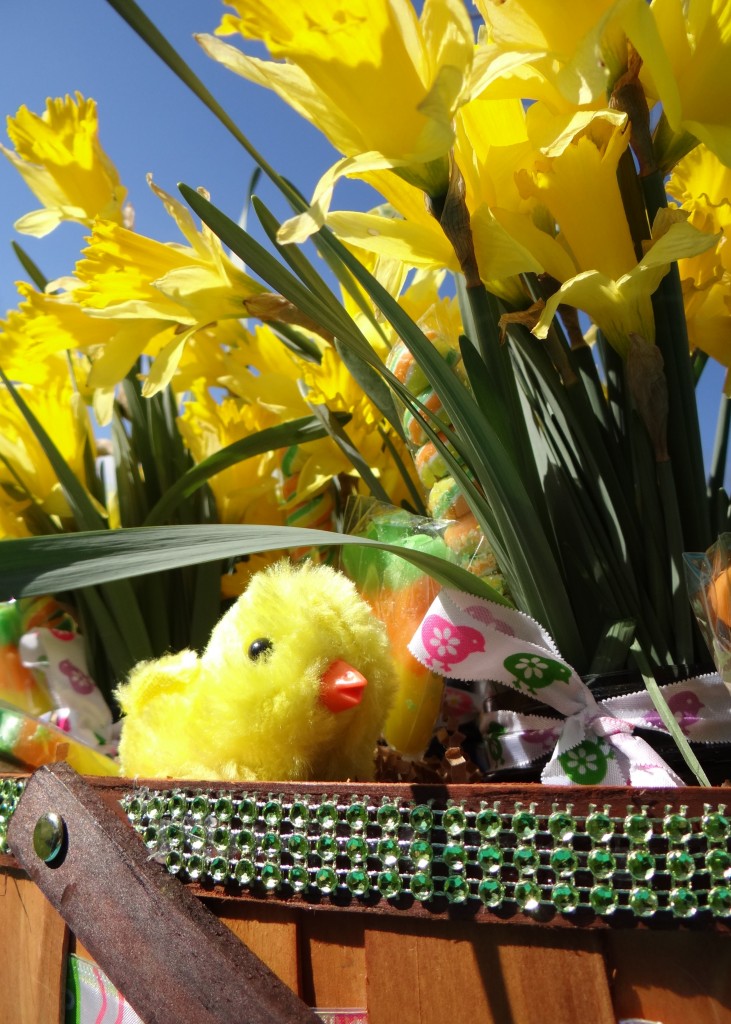 Do you have tips and tricks that help you reduce waste during the holidays?  How will you upcycle your Easter basket?