Valentine's Day is the perfect opportunity to express your affection for all your loved ones, including your pets!  Our cats and dogs (and chickens!) are more than just pets around, they are family and as such, we love including them in every holiday celebration.  They may not realize it's a holiday, but they'll certainly be thankful for the extra treats and TLC!  Thanks to our partnership with the pet-friendly folks at BabbleBoxx and Hartz, we have some terrific ideas for putting together a pampering (and practical) Valentine's Day care package for your family pets along with some tips on how to protect your pet's health during the holiday.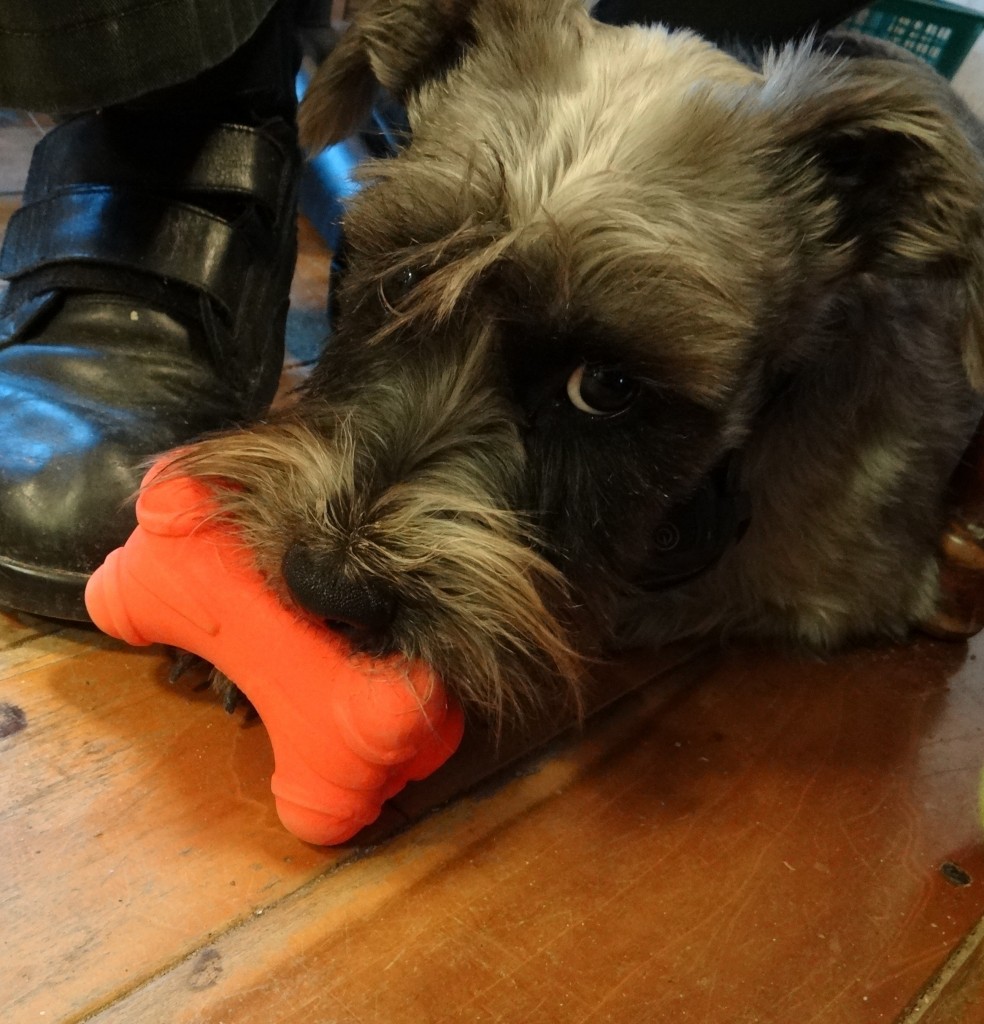 Ideas for a Perfect Pet Valentines Day Care Package
Do you have a special go-to treat for your dog or cat?  We do, too, but on holidays, I like to find new things for them to try and use it as an excuse to do a little extra pampering, paying attention to health and everyday needs.  Here are a few theme suggestions to get you started on putting together a care package for your special pooch or kitten.  We also love to put together extras for our neighbor's pets. It's fun to deliver a sprig of flowers to our neighbor and have an extra treat or two for their dogs and cats to show our love for all our extended family members on Valentine's Day.
Enjoy a fancy dinner date: Just as your special Valentine may treat you to a special dinner, it's fun to let your pet indulge a little, too by offering a little extra flavor to their mealtime or an extra-special treat like Delectables™ Stew Lickable Treat or Delectables™ Bisque Lickable Treat. Delectables are the 1st wet cat treat in the US, delivering a delicious combination of flavors cats crave. Featuring combos of chicken & tuna, tuna & whitefish, and tuna & shrimp, it's also available in senior 10 years+ formulas.
Encourage play time spontaneity: If you have a pooch with a sensitive stomach or just want to ensure your pet remains active to ensure optimum health, be sure your care package includes a great toy like the Hartz® Dura Play® Bone Dog Toy or the Hartz® Just for Cats® Twirl and Whirl™ Cat Toy.
Hartz Dura Play toys for dogs are natural latex, designed to be durable and chewable fun for your pup!  The one we tested out was a little too small for our large breeds but my neighbor's little pup was more than happy to enjoy it!  It held up very well to his teething and word is, it's now his new favorite.
Our precious little Ms. Puff cat received the Hartz Just for Cats Twirl and Whirl and is one content kitten!  She's not as attracted as most cats are to the catnip aspect, but immediately went to explore and sniff at the mouse when we set it down and has had hours of fun batting at the toy, entertaining her and my teens sons!
Protect their heart:  One of the ultimate gifts you can offer your pet in your care package are pampering products that help keep them protected from hazards or pests like Hartz® Ultraguard Rid Flea & Tick Shampoo for Dogs with Oatmeal.  As bonus, oatmeal helps soothe dry, irritated skin and the shampoo is a great way to primp your pet for a Valentine's Day walk around the neighborhood!
Enhance their (and your) home:  Is your pet in need of any essentials, a comfy new bed or perhaps do you need a little extra help with their care?  Refresh your dog or cat's home items by adding them into your car package.  A super handy product for both your puppy (or senior dog) you may not have considered yet are HARTZ® Home Protection™ Odor Eliminating Dog Pads.  With flash-dry protection and a variety of scents to choose from, they are a win-win-win leak protector that will help train your dog and help keep your home clean and fresh!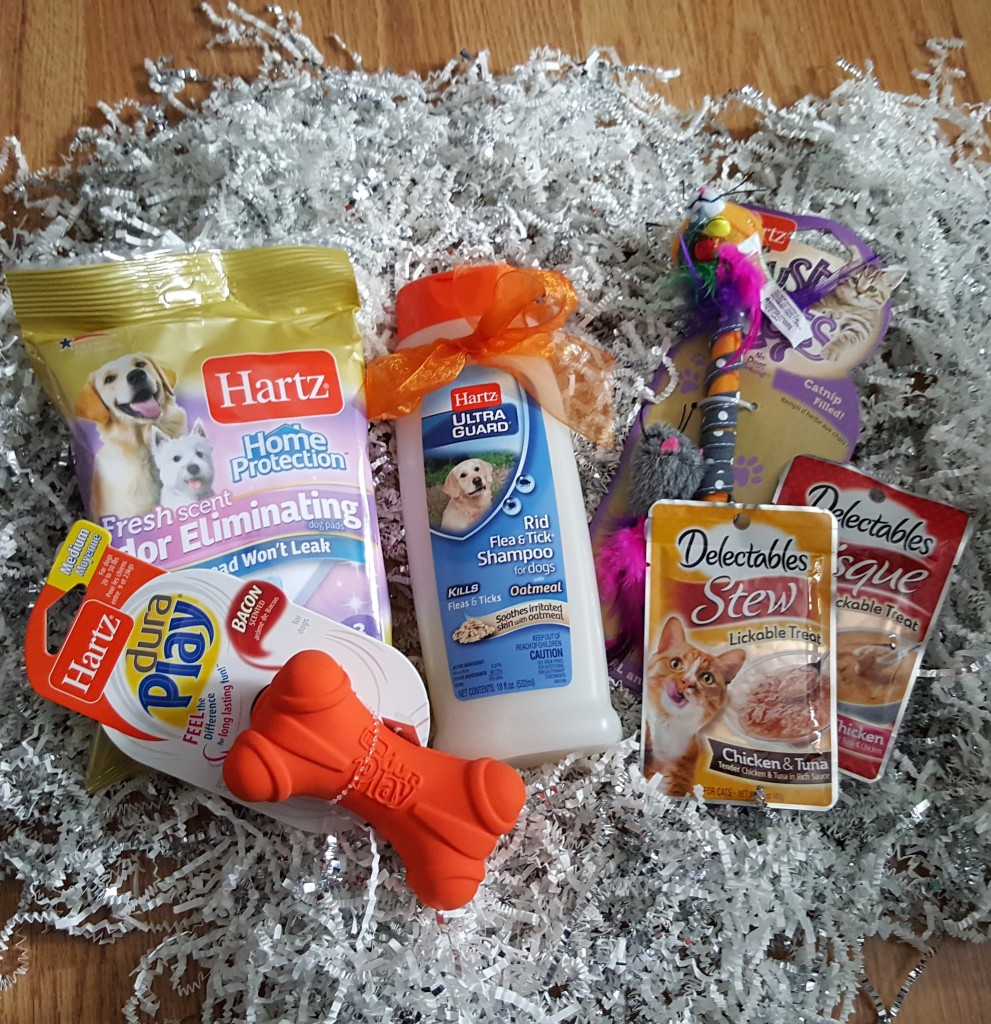 How to Avoid Unwanted Pet Hazards on Valentine's Day
While you are busy doting on your dogs and cats, you may also receive some special Valentines Day gifts from your loved ones like flowers or chocolates to enjoy, too.  It may even be tempting to put a few traditional Valentine's Day items, like roses, in your pet's care package to make it look cute.  What you may not know, is these gifts that bring you great joy at Valentine's Day could be detrimental to your pet's health.  Be sure to keep the following in mind to ensure everyone has a safe, healthy and happy Valentine's Day gift experience!
Chocolate is the obvious one, especially for dogs, but worth a reminder to mention!
Flowers and plants are a welcome gift in my home, I love nature's beauty!  Some are toxic to animals, though and just a small nibble of the leaves could cause nausea or a host of other problems.  If you have a curious pet, it's best to keep them in an restricted area the pet cannot easily gain access to.
Ribbons can be tempting to for cats to play with, but they may be a choking or intestinal hazard.  Keep them out of reach from curious pets.
Like ribbons, gift bags may also have strings that pose choking hazards.  If you are considering putting your pet's care package in a gift bag, be sure to remove and put it up immediately after gifting your pet the contents.
Tissue paper and confetti certainly make a gift pop with their beautiful appearance, but the materials may be problematic for your pets, particularly if there they contain glitter or foil.  Be sure to clean them up quickly and dispose of properly after opening your gifts.
Stuffed toys.  That super cute stuffed cupid or heart is hard to resist, but if it's not a pet-approved toy, the parts or materials could cause digestive problems.
A glass of champagne or a beautiful red wine on Valentine's Day is a lovely treat, but be sure to keep them away from your pets.  Alcohol is poison to cats and dogs.  If your attention is going to be diverted from your drink, be sure to put it up in a safe place away from your pet's reach.
Want a little extra help putting your Pet Valentine's Day Care package together?  Hartz has some fabulous product discounts right now, you'll find full details and printable coupons at http://www.hartz.com/Coupons.aspx
What Do You Gift Your Pet on Valentine's Day?  Do you have a special favorite treat or do you like to mix things up each year?