To say our cats are spoiled is probably an understatement. We certainly adore our feline friends and as farm owners, rely on them more than just for companionship.  They are protectors of our home and vital members of our family!  Which is why we love to shower them with love during the holidays and include them in our Christmas celebrations.   They each get a stocking by the tree and on Christmas morning, a special gift, too.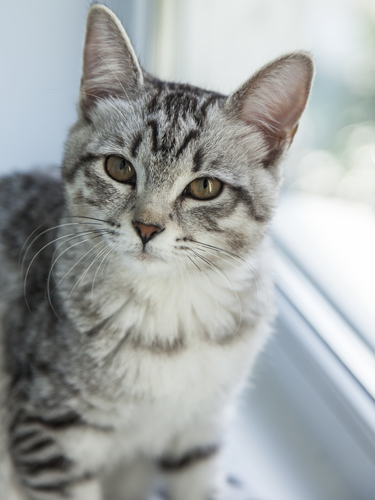 This year, we're excited to be reviewing the Cat-It Oasis Kit , and know that our cats are going to happy dance with joy when they receive this delightful gift, that will surely pamper them and enhance their lifestyle.  It's our top gift selection for cats this year and think it should be on every cat-lovers holiday shopping list!
Could your cat use a vacation?
How about its own luxurious oasis?
The Cat-It Oasis Kit  is the ultimate combination deal for our beloved kings and queens, (and a pretty good deal for their owners too!) The kit contains the following items:
Magic Blue Cartridge
This is a special cartridge designed to eliminate even the strongest litter box odors by retaining up to 80% of ammonia.
Flower Fountain
An adorable drinking solution that looks great and takes up little space. It's got 3 water flow settings to satisfy even the most picky drinker. (Only a cat could be picky about their water!)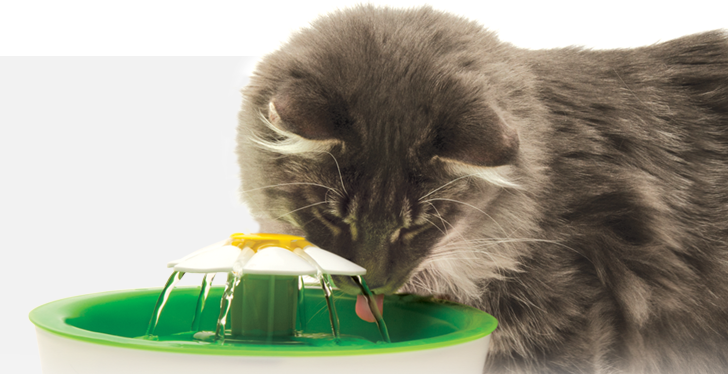 Multi Feeder
The CatIt Multi feeder is the perfect solution for people who work all the time and aren't able to be home to feed their cat on demand. You can fill the bowl with wet food and the "paw pit" with treats to be eaten throughout the day. The cat won't even know you're not home!
Senses 2.0 Wellness Center
The Wellness Center is a massage center for your cat. It includes several different brushes and ridges to give your cat a massage as well as grooming experience. It also includes a batch of dried catnip herbs to be sprinkled on top of the different features. The Wellness Center also has a gum stimulator. As your cat chews on the stimulator, it actually helps clean his teeth!
Senses 2.0 Super Circuit
The circuits are like little customizable tunnels that fit together and allow your cat to push a ball through. They're great entertainment for little hunters! These fit the Oasis perfectly, and can be added on to as well.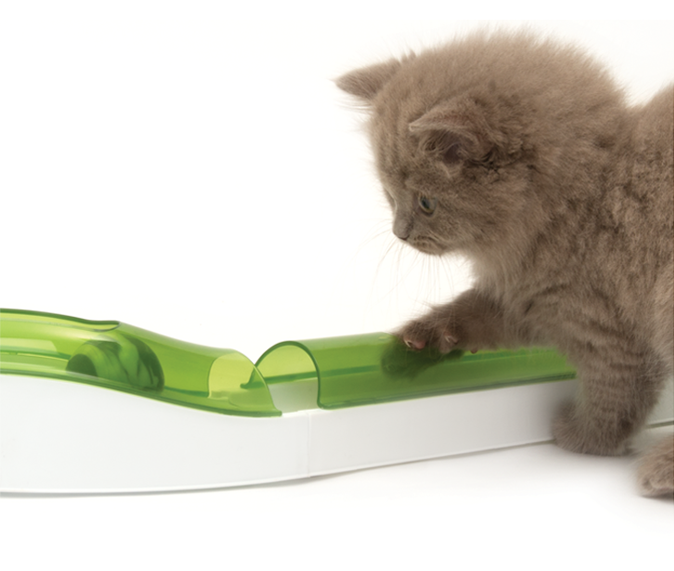 Senses 2.0 Grass Planter
The planter is especially designed to provide a place to grow your cat grass with ease. It features a grid to prevent digging, water level control, and a rubber mat.
Senses 2.0 Cat Grass Kit
The cat grass kit is the perfect addition to the planter above. It comes with 3 different sets of seeds and 3 sets of vermiculite to stimulate digestion and promote extra fiber intake.
Senses 2.0 Scratcher
We all know cats love their cardboard! This scratcher can be changed all around to provide new sensory stimulation simply by rearranging the cardboard disks.
Pure – Cat Portraits, Photography Book
This is more for the owner than the cat. Spend some time looking at these beautiful portraits of our furry friends and remember why you love them!
–
The CatIt Oasis Kit is the "purr-fect" starter set for someone with a new cat, and in addition makes a good gift option for cat lovers during the holidays and all year round.  This exceptional kit is designed to not only entertain your cat but to help keep them at their optimum health, too, and keeping your cats happy and healthy is truly priceless!  I can't wait until our cats open this gift on Christmas morning and will be sure to share photos on our social channels with you.
HOT TIP! For a limited time, the kit is offered a reduced price for the holidays, making it an exceptional bargain!  Check out  for more information or to purchase.