With the holiday season rearing it's head, many of us are thinking about what sort of gifts to give those hard-to-buy for people. For example, I have a few gourmet cooks in my family, and I'd love to give them some great products to try out, but unfortunately, gourmet food is pricey and I can't afford to give them all what I want to. I was pretty excited when I found Mary's Secret Ingredients, a subscription box for home cooks and foodies.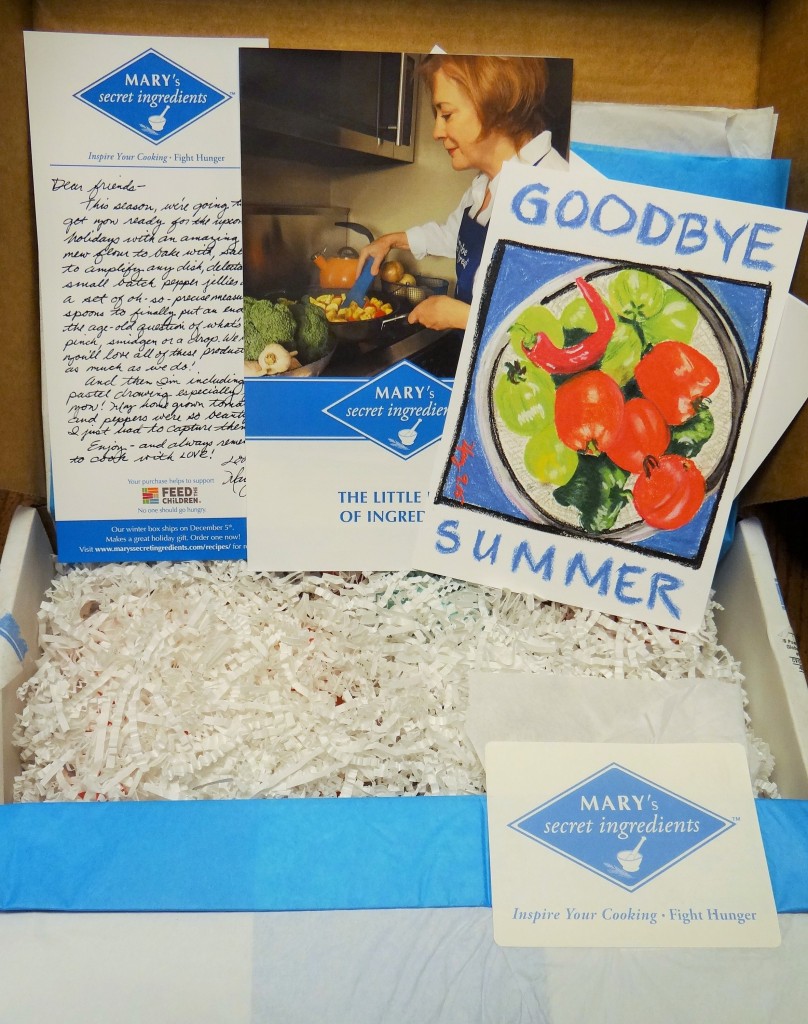 Each month, the boxes contain something different, but they're chock full of at least $30 in really cool products. Sometimes it's a new sauce, or it could be snacks, spices, and even the occasional kitchen tool to inspire your cooking. The box also comes with fun new recipes delivered via email to inspire you to use the new ingredients. The cost of the box is $25.95 and each box ships free.
You can order one to be shipped to yourself or anyone else in any season of the year, or just get the yearly subscription and have all four boxes sent when they become available. For example, if your mother-in-law's birthday is next Spring, you can order the Spring box now, and it will send to her in March and you don't have to think about it again. I really like that I can order them in advance. Especially this time of year, I get really busy. Automation is sometimes my best friend.
Another great reason to give the boxes as gifts is because they're somewhat exclusive. Each season, only a limited number of curated boxes are sold. So if you do decide to give your mother-in-law the Spring box for her birthday, chances are that none of her friends have given her the same thing. It's always nice to gain a little bit of extra brownie points in the in-law department! The boxes make unique and thoughtful gifts that anyone who loves food will enjoy.
Now all of this is surely impressive and I've given you plenty of reasons to immediately head over to Mary's and give subscription box gifts to everyone you know that loves to cook, but I want to give you my favorite reason of all, and that is that every single purchase helps support Feed the Children. I generally donate to charities throughout the year anyway, but I really like it when I buy something and I know that the company I buy from is giving back too. It's my belief that if everyone did their part, the world would be a better place. So by supporting companies that also support worthwhile charities, I'm helping to do that.
Do you know a foodie or home chef that would love to get a box of Mary's Secret Ingredients this holiday season?