Today we are celebrating Disney DESCENDANTS the new story of Disney classic characters now available on Disney DVD! Premiere movie night has just gotten more exciting with a little help from our friends at Disney who passed along these awesome activity sheets to share with you. Print them off to extend your family movie night fun!
And if you really want to go all out and host a fabulous DESCENDANTS movie night party, we have an awesome party package for your viewing parties below, too!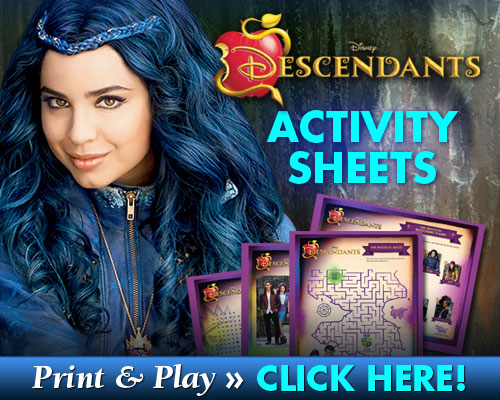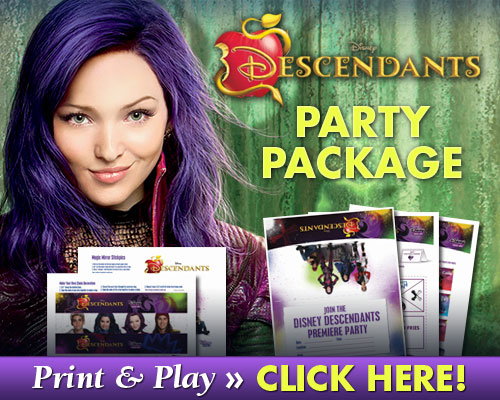 DEETS ON THE DVD: From the Emmy Award-winning director and choreographer Kenny Ortega ("High School Musical" franchise) comes this original contemporary story of classic Disney characters reinvented and the introduction of modern Disney lore. Enter this new epic universe of relatable tween characters on a journey of self-discovery. New on Disney DVD, and complete with never-before-seen bonus and a FREE bracelet!
ABOUT THE FILM: In a present day idyllic kingdom, the benevolent teenaged son of the King and Queen (Beast and Belle from Disney's iconic "Beauty and the Beast") is poised to take the throne. His first proclamation: offer a chance at redemption to the trouble-making offspring of Cruella de Vil, Maleficent the Evil Queen and Jafar who have been imprisoned on a forbidden island with all the other villains, sidekicks, evil step-mothers and step-sisters. These villainous descendants (Carlos, Mal, Evie and Jay, respectively) are allowed into the kingdom to attend prep school alongside the offspring of iconic Disney heroes, including Fairy Godmother, Sleeping Beauty, Rapunzel and Mulan. However, the evil teens face a dilemma. Should they follow in their nefarious parents' footsteps and help all the villains regain power or embrace their innate goodness and save the kingdom?