There are so many technical terms floating around and new ones seem to pop up every day.  It's hard to keep up!  It's even more difficult to keep up with my family's ever-changing and ever-growing tech needs.  Recently I was given the opportunity to be on the NetGear Ambassador Team to review some of their fabulous tech solutions.  The first product I opted to test out is something we are in dire need of, a wireless routers, specifically the NetGear Nighthawk X6 Tri-Band WiFi Router.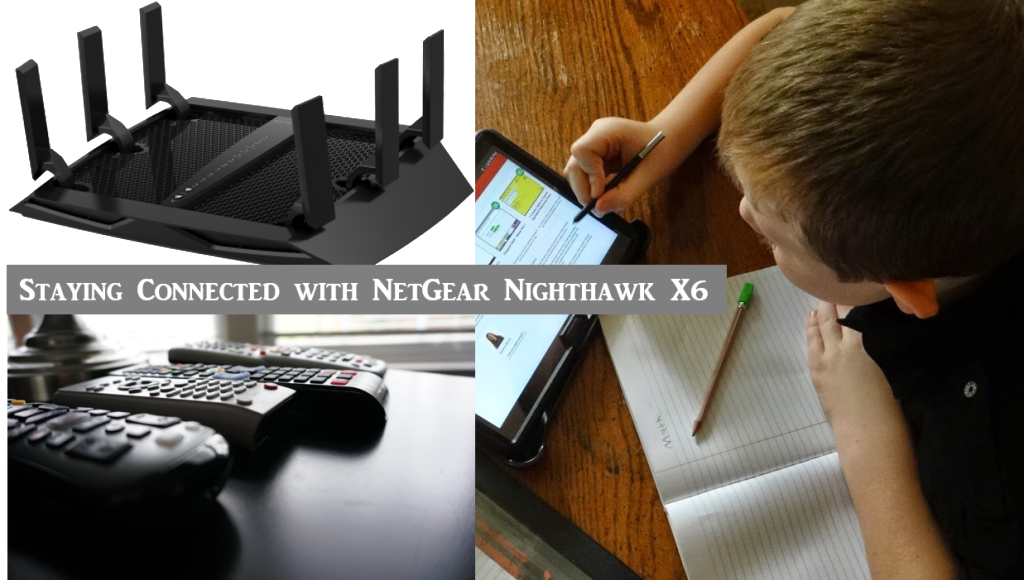 Are you familiar with routers?  Do you need one? The answer is that most people do. A wireless router connects your modem (usually the box the cable or DSL connects to when it comes into the house) to wireless devices, like laptops, gaming systems, tablets, and smartphones. The better your router, the better your signal, and depending on what you use it for, different routers will suit you better. Some have longer range, stronger security, and some are faster than others. I think that the NetGear Nighthawk is a pretty good mix of all of the above.
This router will give you up to 3.2Gbps, which is just about the fastest speed possible for a home network. With speed like that, you can stream videos, play games online, and do some online shopping at the same time with ease.  In our house we've generally had a struggle between using the computer and streaming live tv as our old router would bog the system down if we were using both simultaneously.  We no longer have this problem, which is great as I can keep working while my hubby watches his favorite show and the kids do their homework on their tablets. It's a win-win-win for everyone!
Because the Nighthawk has a dual core processor, you're much less likely to experience lag times. Unfortunately, we're all familiar with watching something online and then having the "buffering" screen come up. (Usually it happens in the best part of the show!)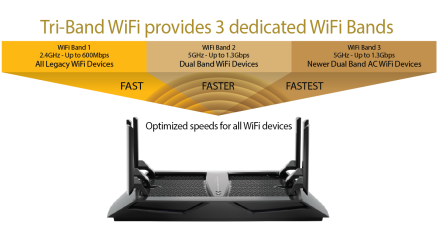 The Tri band WiFi ensures that you have more WiFi for more devices – so many times there is a problem when someone with a powerful phone is in the house "sucking up the WiFi". There is only so much signal to go around, but because the Nighthawk provides more signal, this isn't a problem. The Smart Connect intelligence selects the right WiFi for each device from three different bands, so the ones that need more power get it, and the ones that don't aren't wasting it.
As far as range goes, this one is very good. The six high performance antennas and amplifiers maximize the range so that you have no dead spots in your house. There's nothing more frustrating than having a mobile device that isn't really mobile because it only works in certain rooms of your house. Sure, you can use mobile data, but why would you want to incur extra charges when you don't have to? A strong router with a good range will save you money in the long run.
Another fantastic feature you'll find with the Netgear Nighthawk is that you can hook up your USB storage to the Readyshare USB 3.0 port and enjoy high speed access via WiFi. In more basic terms, you can play, view, and share your videos, music, and photos on your connected TVs, game consoles, or media players from it. Isn't that cool?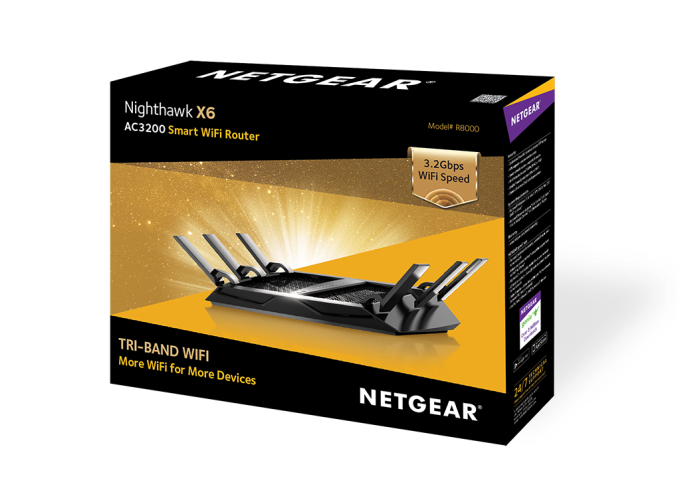 Do you do a lot of streaming? How could a great router make your life easier?
For more information on the NetGear Nighthawk X6 Tri-Band WiFi Router visit http://www.netgear.com/home/products/networking/wifi-routers/R8000.aspx