I can't believe we're halfway through the year and Father's Day is almost here. Have you figured out a gift for the father in your life yet? I know some dads are hard to buy for, and they always end up with the last minute gifts because when you ask them what they'd like for Father's Day, they give some silly answer like "A Lamborghini." Generally, however, that's simply not a viable option!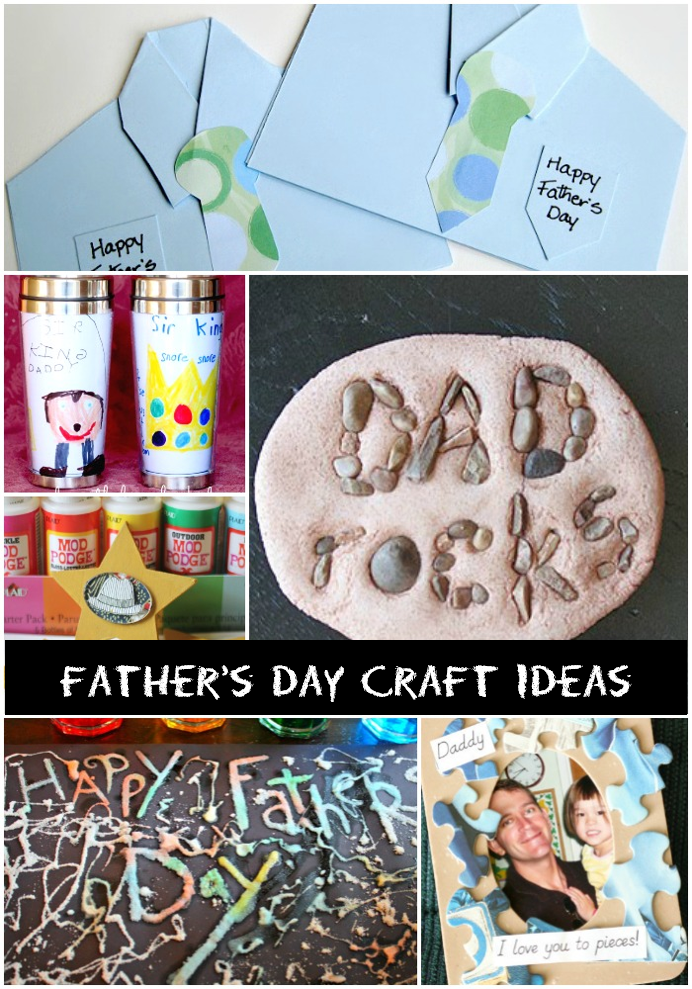 One idea for Father's Day is to make a special dinner. You could go all out and dress the kids up in little waiter/waitress outfits and make all of his favorite foods. Or you could all go out to dinner if that suits you as well. How about a family movie? Depending on what's playing locally, you could probably find something that would give Dad a really fun night out with all of his favorite people.
Better yet, since the purpose of Father's Day is to celebrate fatherhood, why not consider a homemade gift from the kids?  Take a look at this fantastic list of Father's Day gifts that kids can make.  There is something on there for every age group, and Mom will have a great time helping too!
1. Personalized Insulated Mugs
2. World's Greatest Dad Shadowbox
3. "Dad, You Nailed It" Sign
4. Comic Book DIY Coasters
5. Footprint Palm Tree
6. Pocket Square Notebook
7. Dad Rocks! Paperweight Father's Day Craft
8. Man Bouquet
9. Dad Rocks Jar
10. Father's Day Magnets
11. Easy Father's Day Frame
12. Dad Rocks Business Card Holder
13. Quick Father's Day Card
14. Salt Dough Father's Day Magnets
15. You are my Superhero Father's Day Gift
16. Salt Painting
17. Toddler DIY Personalized Gift for Dad
18. Father's Day Handprint Canvas
19. Paint Chip Tie Holder
20. DIY Personalized Piggy Bank
Do you have plans for Father's Day already or are you a last-minute kind of person?