It's time to wrap up Spring cleaning and that included inventor of our gardening items, which includes testing old seeds for germination viability. I created this Spring Cleaning and Poise Thin-Shape pads feature as part of a sponsored post for Socialstars #RecycleYourPeriodPad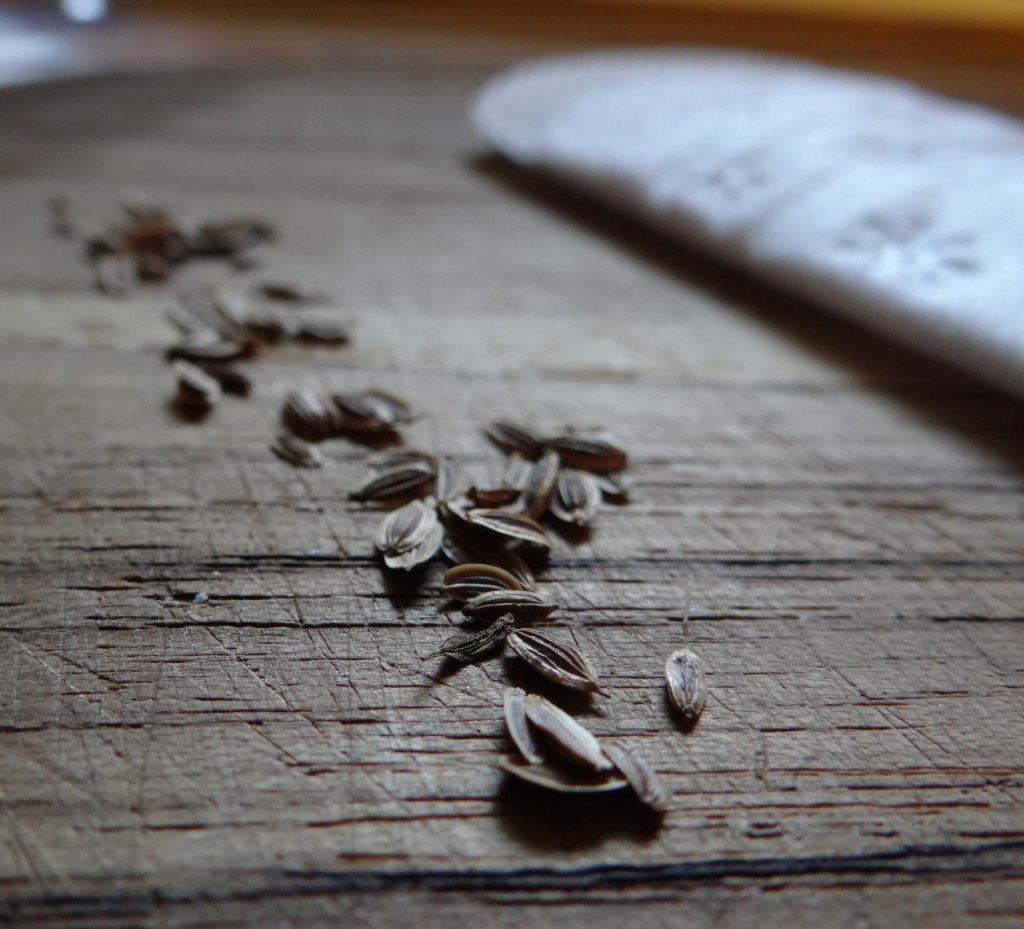 For me, Spring cleaning doesn't just mean organizing our closets and scrubbing every inch of our home, it's also the time I sort through my garden supplies.  It's a great time to get our tools ready for the summer ahead, straighten any clutter and sort through our inventory of seeds. Though I'm pretty good at labeling and dating seeds, there always seems to be at least one mystery package of vegetable seeds I find that I can't recall when I saved them or perhaps, when I got them (as we often swap heirloom seeds with our neighbors.)
When this happens, it's hard to know if the seeds are too old to germinate or if they will do well when planted.  Luckily, there's a very simple way to test old seeds for viability before you spend valuable time sowing them.  All you need is a few seeds, a plastic storage bag, water and a damp cloth.  In the past, I've used paper towels but I've just found something even better.  Read on…
I'm going to detour this conversation for a second to head over to Spring cleaning in bathroom.  Recently, I've been introduced to the new Poise Thin-Shape pads that helped me confidently deal with travel and LBL (light bladder leakage.)  In the past, I used standard period panti-liners and pads and they just don't handle LBL nearly as well as Poise products you.  You see, Poise has SAM (Super Absorbent Material) in the full line of Poise products, which are designed specifically for light bladder leakage (LBL) and stay 3x drier than period pads and liners.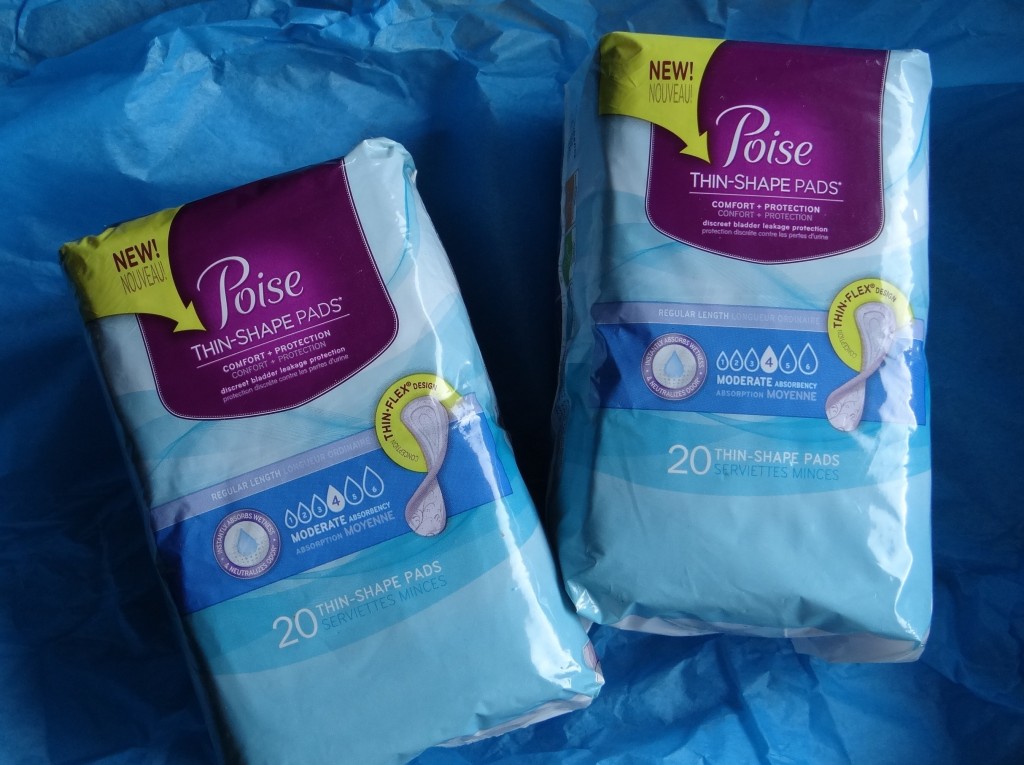 So this has left me with an abundance of unused standard liners cluttering my bathroom storage space. When challenged to find another use for them during Spring cleaning I had a total "ah-ha" moment! As liners are designed to hold moisture, yet keep the surface drier, they are the perfect absorbent material to use for testing old seed viability.  Paper towels often loose their moisture during testing and you have to re-wet them, with a standard panti-liner, this would not be a problem.  Honestly, I'm not sure why I didn't think of this before!
I think that sometimes we've just made some topics a little taboo for no good reason.  Like recycling unused feminine products or openly discussing LBL.  Personally, i believe, we should celebrate all aspects of our womanhood, and help each other openly with solutions for every-day, every-woman needs.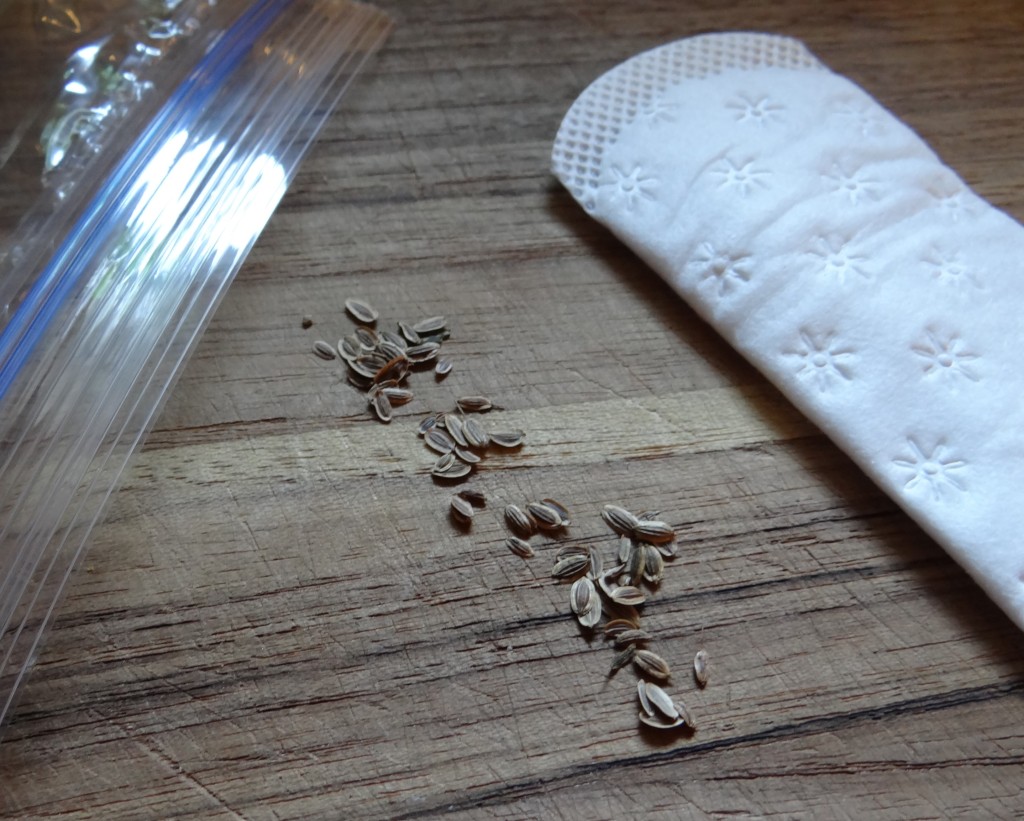 Okay… back to that seed viability thing…
Materials you'll need to test your old seeds for viability are:
10-12 seeds
small clear plastic storage bag with seal
1 unused period panti-liner
water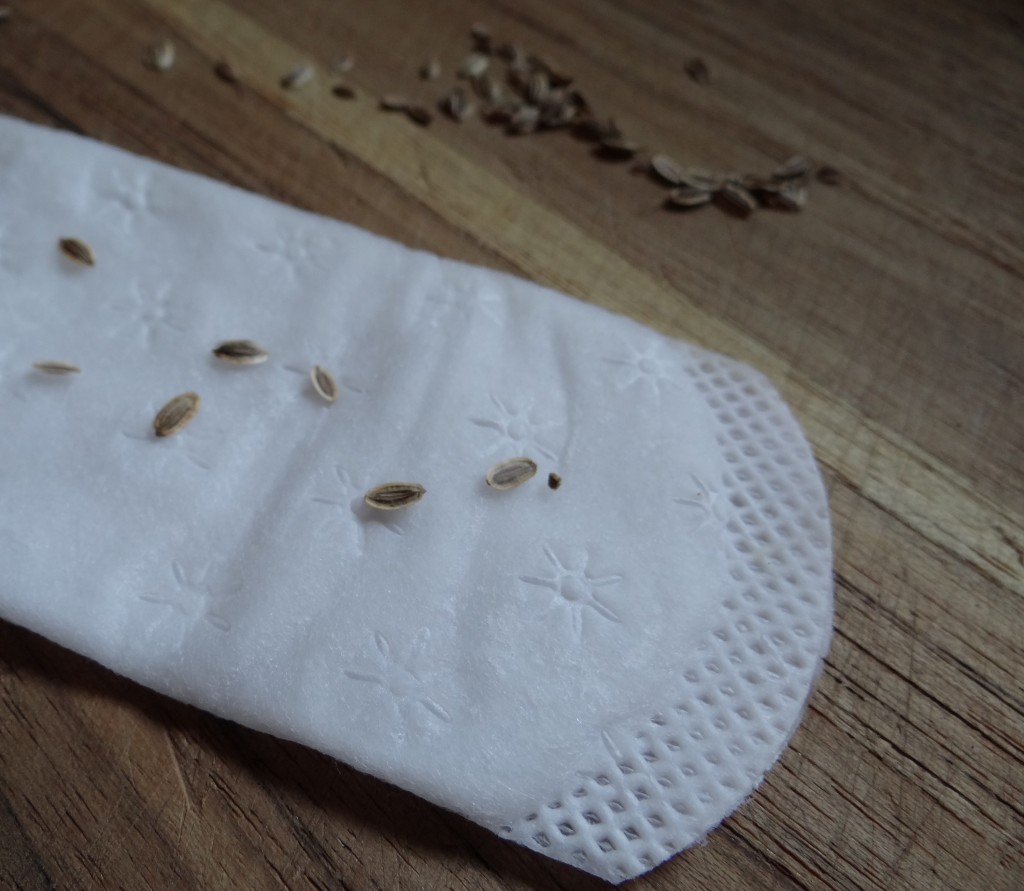 First wet the liner fully, then squeeze out any excess water.  The liner should be damp but not dripping water. spread seeds out along the top surface of the liner.  Fold liner in half so that seeds are sandwiched in the center of the liner.  Place liner inside plastic storage bag.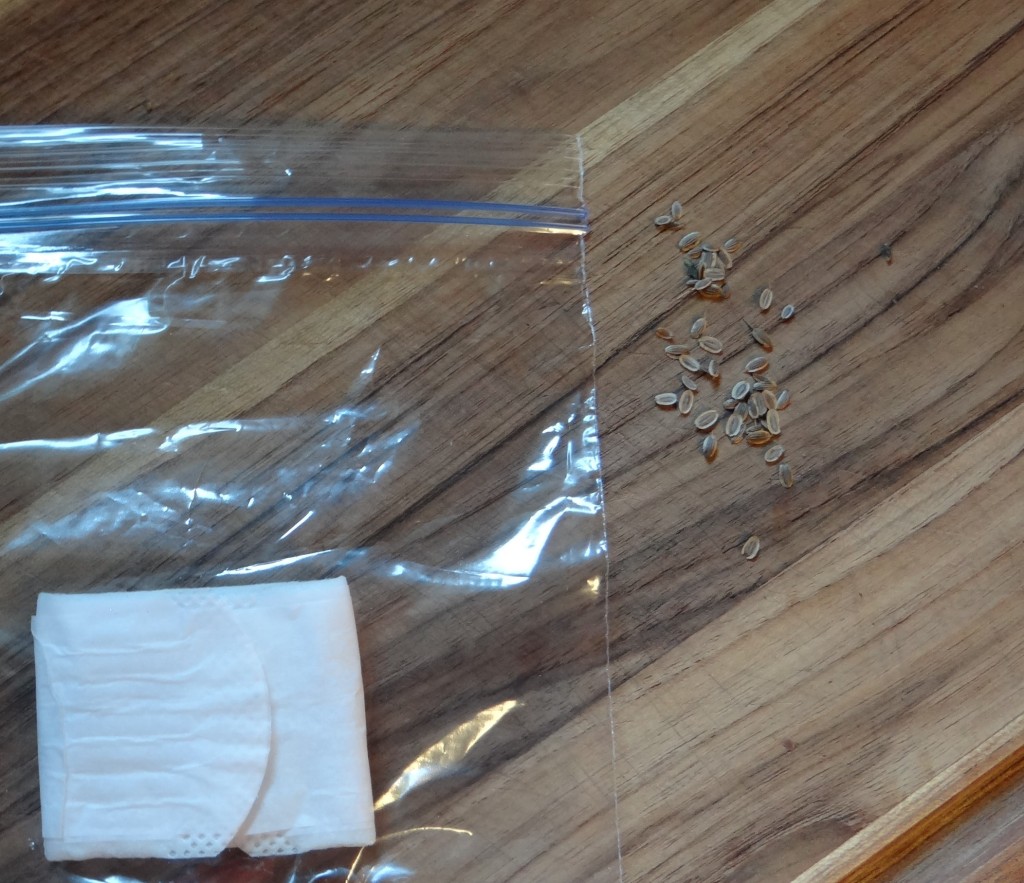 Place the bag in a dark, cool spot like a pantry shelf or the top of a refrigerator.  Leave for 2 weeks, then open and check seeds for germination.  (Note:  Some seeds, like beans, will sprout faster, you may want to check the seeds at the 1 week mark.) If most of the seeds have sprouted, you have a viable batch of seeds ready to sow!  The sprouted seeds may be transplanted into the ground or a container to continue growing.
If all goes according to plan, your seeds should begin sprouting, not unlike the seedlings pictured below.  At the two week mark for my seeds, you can see that only about one fourth of them were viable!  As they are herbes, I'll opt to go ahead and plant them, making sure to sure to plant them more densely and then thin them out, if necessary.  If these were vegetable seeds, I'd likely opt to start them indoors rather than sowing outside first due to the expected failure rate of the seedlings.  Once I had successfully coaxed the seeds that still had viability, I'd transplant them outside.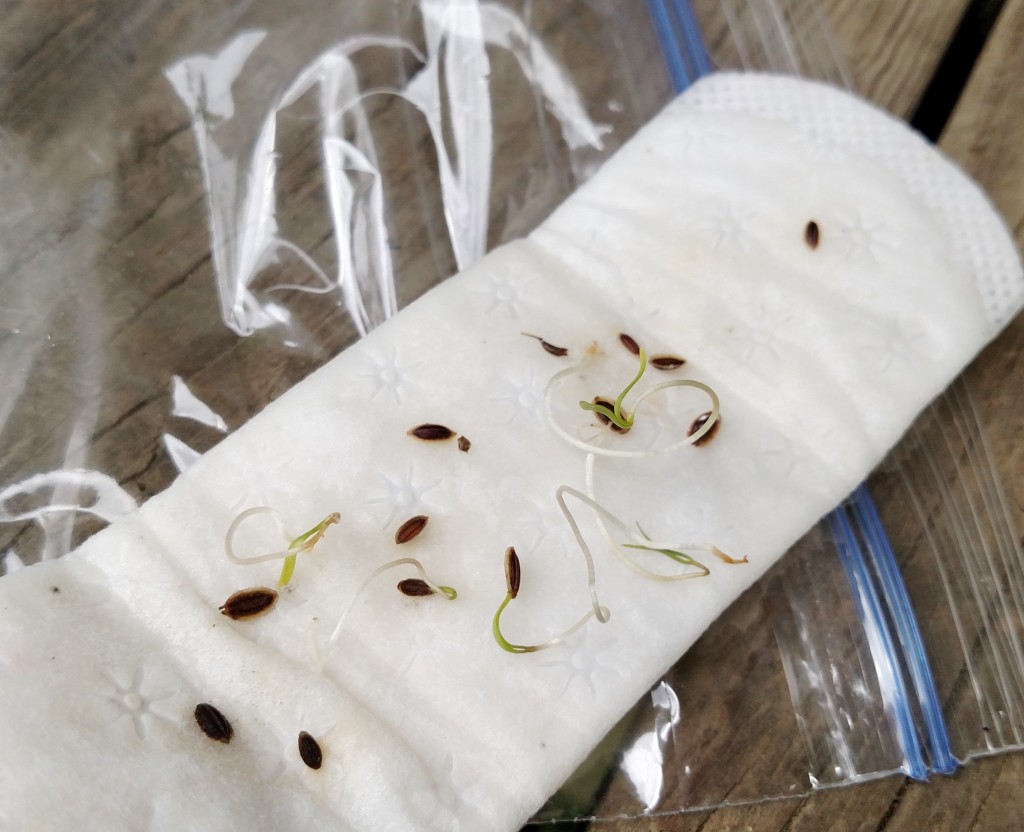 Do you Spring clean your garden supplies?  What tips and tricks do you have for ensuring a successful growing season? 
Want to learn more about Poise Thin-Pads?  You can find information and get a Free Sample, too at: https://www.poise.com/samples-and-offers/samples?sn=us_pads