Influenced primarily by my older brother, who, along with my father, were my first superheroes, I grew up reading comics, watching sci-fi, and playing Batman and Robin in elaborate cardboard box bat caves. Later, when I developed the awareness that the name Robin was unisex and that my sidekick role was really that of a young boy, I opted to declare my status as Wonder Woman. My brother promptly made me a set of gold poster-board cuffs and a crown… and I was on my way to becoming an amazing Amazon!
Then, one day my brother brought home a few random comics borrowed from a friend and among them was an issue of Journey Into Mystery featuring Thor.  While I still stayed true to my "Wonder Woman" persona, Thor became the comic book character that made me a little weak in the knees.  Not much has changed since then…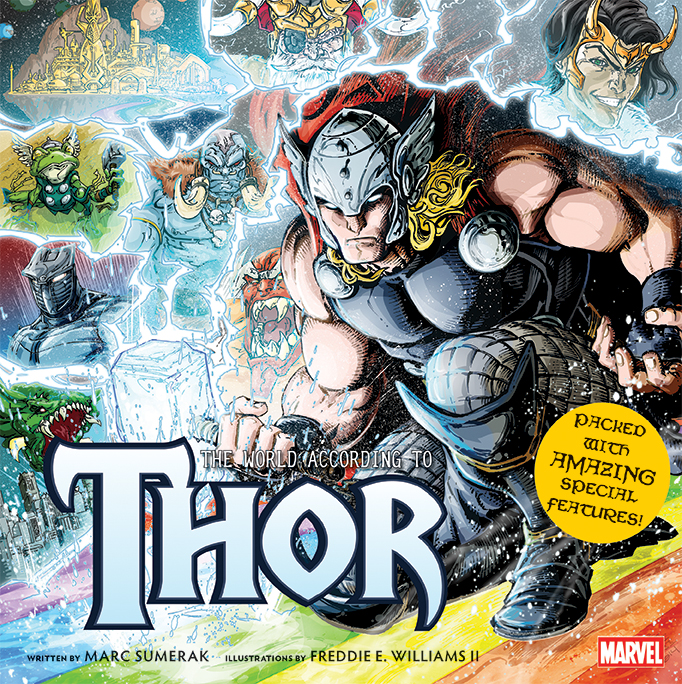 I make no pretense of being excited about the release of The World According To Thor – it's not for my sons, though they certainly enjoyed it, it's totally a book acquired for me.  A world according to Thor?  Now that an exciting story I'm all about reading! Of all the comic book characters and even on-screen portrayals, Thor remains my favorite character.  It may also have to do with my life-long interest in all forms of mythology, maybe my early introduction to such a skilled and interesting character with a complex family story, or maybe it has to do with the handsome hunk of a god we're dealing with – whatever the reason, I'm all for discovering more.  And The World According To Thor offered a unique glimpse of the realms, plenty of interesting tidbits to treasure and quite a few laughs, too (Loki's guest appearances in the book deliver some fine funnies.) 
If you stopped by to find out whether your young Avengers fan will enjoy reading this book, the answer is an unequivocal "yes!" My sons (12 and 14) snatched the book right up and read it from cover to cover, laughing and sharing plenty of "wow, I didn't know that" exchanges.  After reading they asked me several questions that lead to an exploration of Norse mythology and looking up some more fun facts about Thor and his kin in the Marvel Database.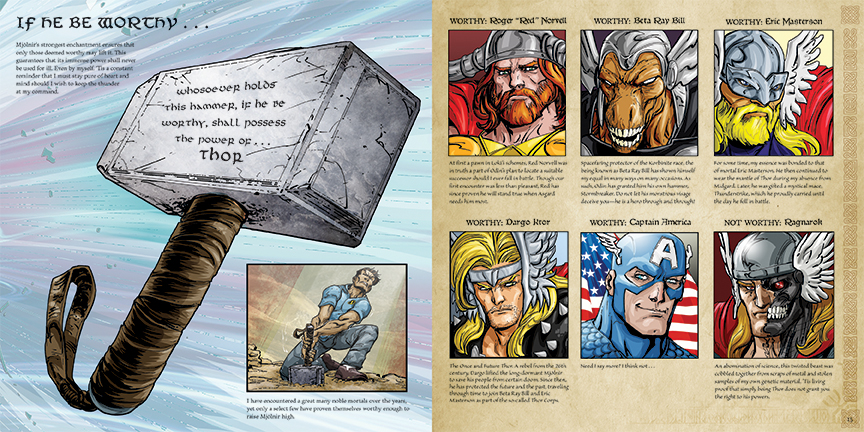 About the Book: Known by some as the God of Thunder and others as the Lightning-Giver, Thor, son of Odin, is one of the most powerful Super Heroes our world has ever seen. In this revelatory volume, Asgard's finest warrior takes us mortals on a unique journey into his incredible world, from the majestic, realm-traversing magic of Bifrost, the Rainbow Bridge, to the trails of dealing with his treacherous brother Loki. Also featuring a range of personal insights on everything from battling Frost Giants to the pitfalls of using Mjölnir to complete household tasks, this is a dimension-spanning thrill ride filled with secrets from all nine realms. The World According to Thor also comes with a range of amazing special features, including a pop-up Frog Thor, Loki's mischief list, and Odin's stamp collection.
This is a well-executed collectible book that would receive a spot of honor on any superhero-lover's bookshelf, young or old.  Timely and a little bit campy in its approach, it's everything you would expect to read and then-some about Thor.  It's a book you'll enjoy returning to regularly to remember a bit more about one of the realms or simply to enjoy the stunning illustrations and fun additions like Oden's stamp collection or Thor's love note.  Overall, double thumbs up for this gem of a book!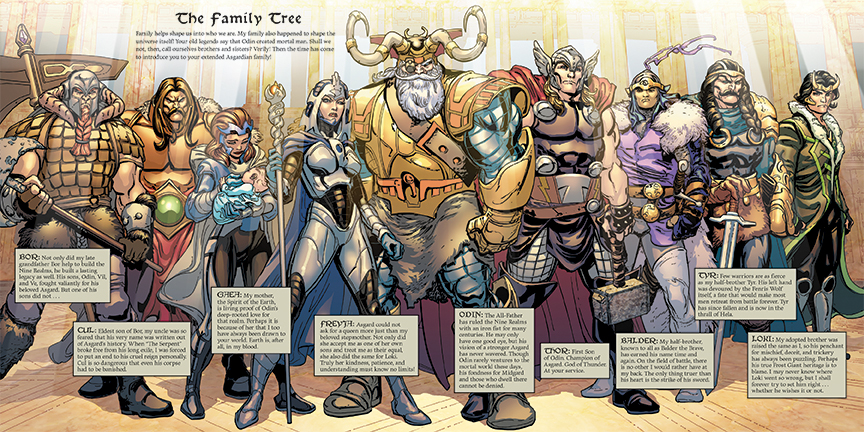 Thor may be a mighty god, but he's certainly not alone in the Marvel universe.  In fact our favorite snarky superhero has a few things to say in The World According To Iron Man, which is also a terrific read! (Detecting a bit of a pattern here, I expect we will soon see more "World According To" books with some more of our Marvel Avenger pals soon.)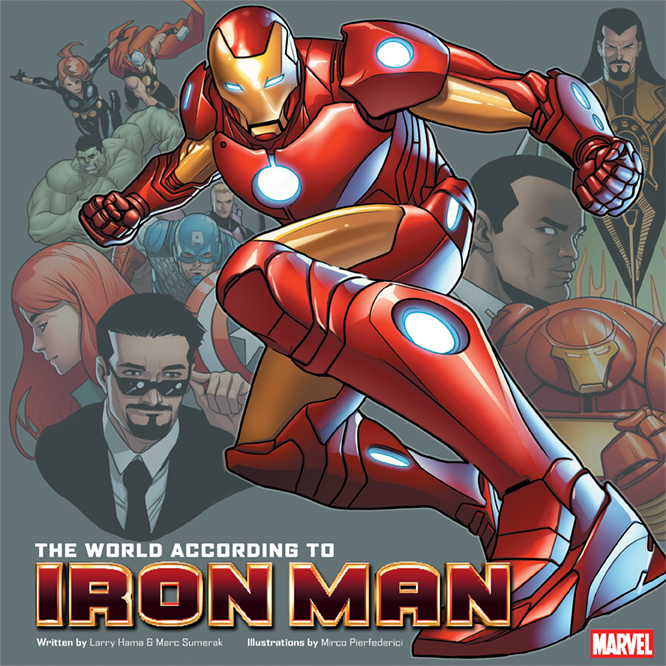 About the Book: Billionaire? Philanthropist? Super hero? Science nerd? Just who is Tony Stark, aka Iron Man? For the very first time, Tony takes a break from running Stark Industries and battling super villains to share his personal view of the world. From the art of witty banter, to armor construction, in-flight combat, and finding a really swanky restaurant after a long day fighting the Mandarin, the Armored Avenger opens up on a wealth of subjects as close to his heart as his Arc Reactor. Along with these fascinating insights, The World According to Iron Man also comes packed with amazing special features, including a Stark Industries share certificate, an invite to the Avengers New Year's Eve party, and pop-up Iron Man armor.
For more information on either or both titles visit http://www.insighteditions.com/