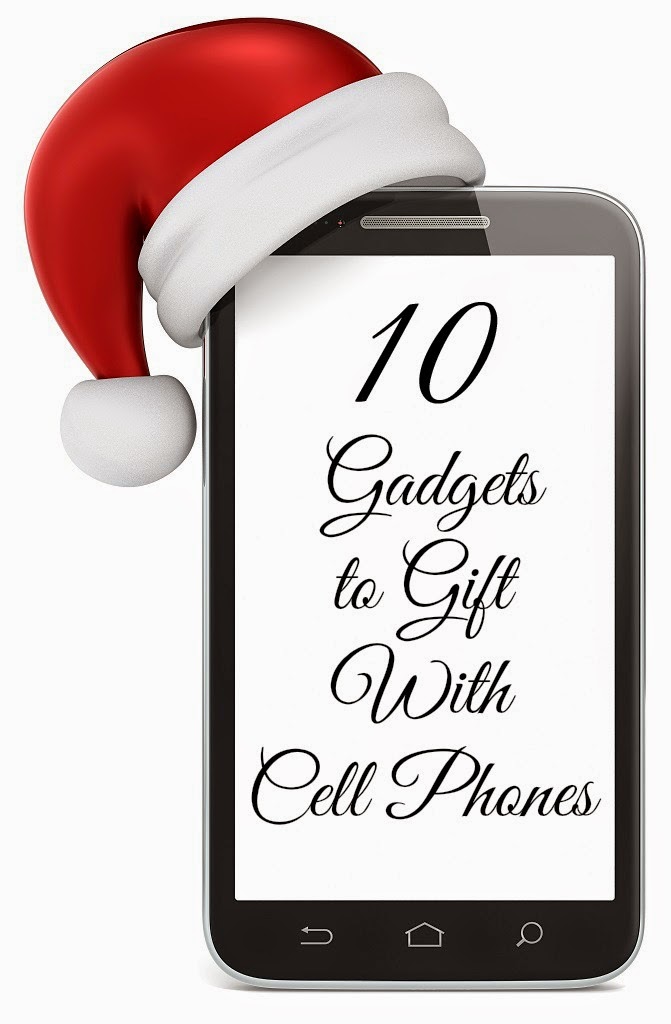 As a member of a pretty cool team of influencers, I get the inside scoop from Verizon and often have the chance to test out new cell phone services, hardware and gadgets.
During this time, I've learning that phone accessories are like apps – there are millions of them and they all do an amazing array of things!  It can be absolutely overwhelming to sort through the accessories to try to figure out which one is the best for you the person you're gifting.
To help ease the process, we're exploring a few of the most wished for phone accessories. We'll start with the basics and then move on to the really amazing ones to make sure you have the very best choices on your shopping list this year!
1. A phone case. Not all cases are created equal. A construction worker will want a much sturdier case than an office worker (unless you're an extremely clumsy office worker!). You can get them in rubber, silicone, hard plastic, and a few other materials, and in millions of different designs. Teenagers like a little more bling and some hot colors, adults like a little more sophisticated design, and some people prefer the wallet style cases that hold a phone, money, and credit cards.
2. Screen protectors are a must for every single phone. They're also a real pain in the neck to stick on. Your best bet is to buy a 2 or 3 pack in case of a mess up and need to start over. Be sure that when you're getting a screen protector that you are getting the right one for the phone. The wrong one could cover up camera lenses or microphones.
3. Smartwatch.  Maybe I'm aging myself a little, but remember Inspector Gadget talking into his smartwatch? Smartwatches are no longer a cool cartoon gadget – they're very real and they're awesome! In case you're not familiar with them, you can check out my Samsung Gear 2 Review. Smartwatches connect to your smartphone and give you notifications about email, social media, and text messages. And yes, they tell time too. Anyone on your Christmas list that's attached to their phone will love getting one of these.
4. Camera lenses. As much as smartphones are evolving, they still don't have the capability of a really good camera, but no one wants to be bothered to carry both a camera and their phone around. A photography buff would love a smartphone lens for Christmas so that they can take great pictures on the go.
5. A door unlocking/locking device. There are a couple of different versions of this, but you can get an accessory for your phone that will unlock and lock the door of your car as you walk toward and away from it with your phone in your hand, and you can get ones that work on the house doors too! Someone who is always losing keys or locking them in their car will adore this Christmas gift.
6. A crash sensor. This is a piece of equipment that mounts to your helmet and if there is an accident, it notifies the emergency contacts in your phone and sends signals via GPS of your coordinates. This is a perfect holiday gift for anyone involved in extreme sports or even someone who likes to ride horses on trails through the woods. Accidents happen. This device will make your loved ones a little bit safer.
7. A blood pressure monitor. If you've got someone who is monitoring their health on your shopping list, they'll appreciate the blood pressure monitoring devices. The devices monitor blood pressure throughout the day and send the information to the app on the phone so that a report can be given to the doctor.
8. A fish finder. Who would have thought that a smartphone could find fish? Fishermen will be thrilled to get a fish finder accessory for their phone for Christmas. It's a sonar device that detects how many fish are in the area, and the information is sent to the phone so your favorite fisherman can actually catch the one that keeps getting away.
9. A baby monitor. Certain baby monitors will send live streaming video of the baby to your phone. It's a great Christmas gift for new or expectant parents.
10. A smart home system. The camera sits in your home and you can watch what is going on live via your smartphone. Some of them have two way audio so you can even talk into it to tell the dog to get off the couch. Other versions turn lights on and off, monitor ambient temperature, and have panoramic view and alarms in case of a break in. They also make great nanny cams. Anyone who travels would especially love to get this gift.
Bonus tip: Shop around. You can often find a very good phone accessory significantly cheaper somewhere other than the place that sells phones. If you're willing to forego the convenience of getting everything in one place, you're more likely to score a deal.