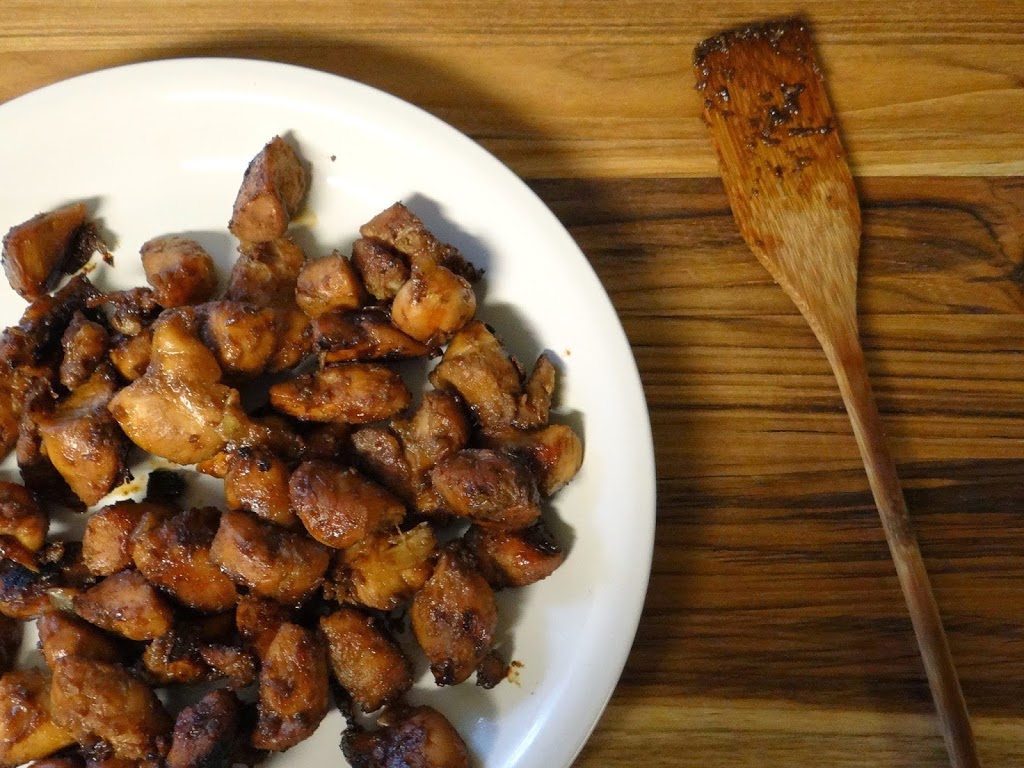 Thanks to Fagor, we're discovering how quick, easy and energy-efficient induction cooking can be!
Bourbon Street Chicken naturally has it's roots steeped in Louisiana history, but is also a wildly popular dish that's often found on buffets at several popular restaurants my family likes to enjoy.  We certainly love enjoying this flavorful dish but all the extra calories that accompany it in the buffet line are not quite as desirable!
I set out to tweak and adapt a home skillet recipe that captures the same intensity of flavor and I have to say, rivals the best of the best we've ever had dining out. Of course, using fresh ingredients and our favorite Kentucky Bourbon Whiskey certainly steps things up a bit!

Traditionally I've prepared this dish with the aid of a cast iron skillet, but when I discovered the Fagor 2X Induction Set would cook it in a fraction of the time while conserving energy, I was sold on giving it a try.  The results were superior and I'll definitely be keeping this unit in my arsenal of kitchen tools.
A sustainable friend, the Fagor 2X Induction Set utilizes 90% of the energy produced compared to 50% used by other cooking methods. The cooktop recognizes the base of the cookware and directly heats only the diameter of the pot, saving you energy and money. The set comes with an induction ready aluminum skillet that's non-stick but PFOA-free.
Bourbon Street Chicken Recipe

Ingredients:
2 lbs chicken breast, cut into chunks
1/2 C soy sauce
1/2 C brown sugar
1 teaspoon fresh garlic, minced
1 Tbsp fresh onion, minced
1/4 C Kentucky Bourbon Whiskey
Traditional Bourbon Street Chicken uses thigh or leg meat (dark meat) from the chicken.  I prefer to use chicken breast (white meat) as it's a leaner version, but feel free to swap in your preference.
Directions: 
In a small mixing bowl, add soy sauce, brown sugar, garlic, onion and bourbon.  Whisk gently until mixture is fully combined.
In a marinating container or a large mixing bowl, add chicken.  Pour marinade over chicken.  Use a spoon to gently mix the chicken with the marinade until all pieces are coated with marinade.  Cover and refrigerate for 4 hours (or ideally overnight.)  Stir gently twice during the marinading process.
When chicken is marinated, remove from refrigerator and pre-heat skillet.
You can use a regular or cast iron skillet over a medium heat.  If you are using the Fagor 2X Induction Set, I suggest beginning at a heat of 300.
Add a layer of chicken to the skillet.  Pour a 1/8 cup of marinade into the skillet around the chicken.  This will help create a caramelized effect as the alcohol and soy sauce evaporate, helping to brown the chicken.  The side effect of this is an amazing smell in your kitchen while cooking that will draw everyone in the vicinity to find out what delicious things you are whipping up!
Use a wooden spatula to continuously move and turn the chicken as it's cooking.  With the Fagor 2X Induction Set, the chicken cooked really quickly, so be sure to keep a thermometer on hand to test the internal temperature of the pieces.
When chicken is fully cooked, remove chicken and scrape any pan juices and brown bits into a bowl with the chicken.  Repeat the process with the second batch of chicken pieces, remembering to add another 1/8 cup of marinade to the batch prior to cooking it.
If the chicken begins to cook too rapidly or exhibits any signs of browning too quickly (meaning you are afraid the pieces will begin to burn before they are cooked) reduce the heat of your skillet.
When you are finished with the second batch, you should have a very flavorful dish of Bourbon Street Chicken waiting to be enjoyed!  Serve with a side of rice or noodles.  It's also great for wraps and salads.
With the Fagor 2X Induction Set, I cut my time for cooking this recipe nearly in half from what I'd normally spend making in a regular skillet on the stove-top.  Plus I used my energy resources wisely and enjoyed one of the neatest features – the automatic shut off.  When the cookware is removed from the unit, it automatically shuts off.
Clean up was a breeze.  The food residue on the aluminum skillet rinsed right off and required just a little bit of soap and water to clean up.  The glass surface base is equally easily to quickly clean off.
I also found the Fagor 2X Induction Set to be super handy for my canning needs.  When making applesauce last week, I used it to keep the applesauce warmed at a safe temperature while filling jars for processing.  This unit is going to be a real asset for everyday cooking, preservation and for holiday meals, too, when I need an extra burner on the stove (because I find I always do!)
There's no real drawback to the Fagor 2X Induction Set other than you do have to cookware with a metal base that touches the surface of the unit in order to use induction cooking methods.  No worries, though, as Fagor provides a skillet with this set, users are are ready to roll straight out of the package.
For more information on Fagor 2X Induction Set, visit http://www.fagoramerica.com/appliances/small_appliances/portable_induction/670041860_2x_induction_set