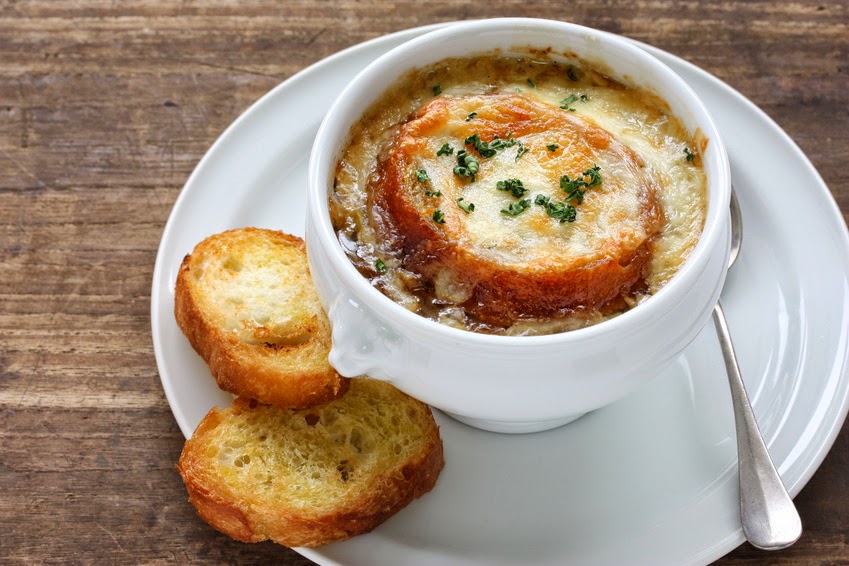 If you need another reason to add onion to your diet (we offered you 10 earlier this summer,) French onion soup is certainly it!  This popular, hearty broth is a fabulous starter for a fine meal or easily enjoyed on its own for lunch or a light dinner.  

Thanks to our friends at DreamWorks Pictures, this Foodie Friday, we have a recipe direct from the pages of Le Cordon Bleu Cuisine Foundations for your culinary enjoyment.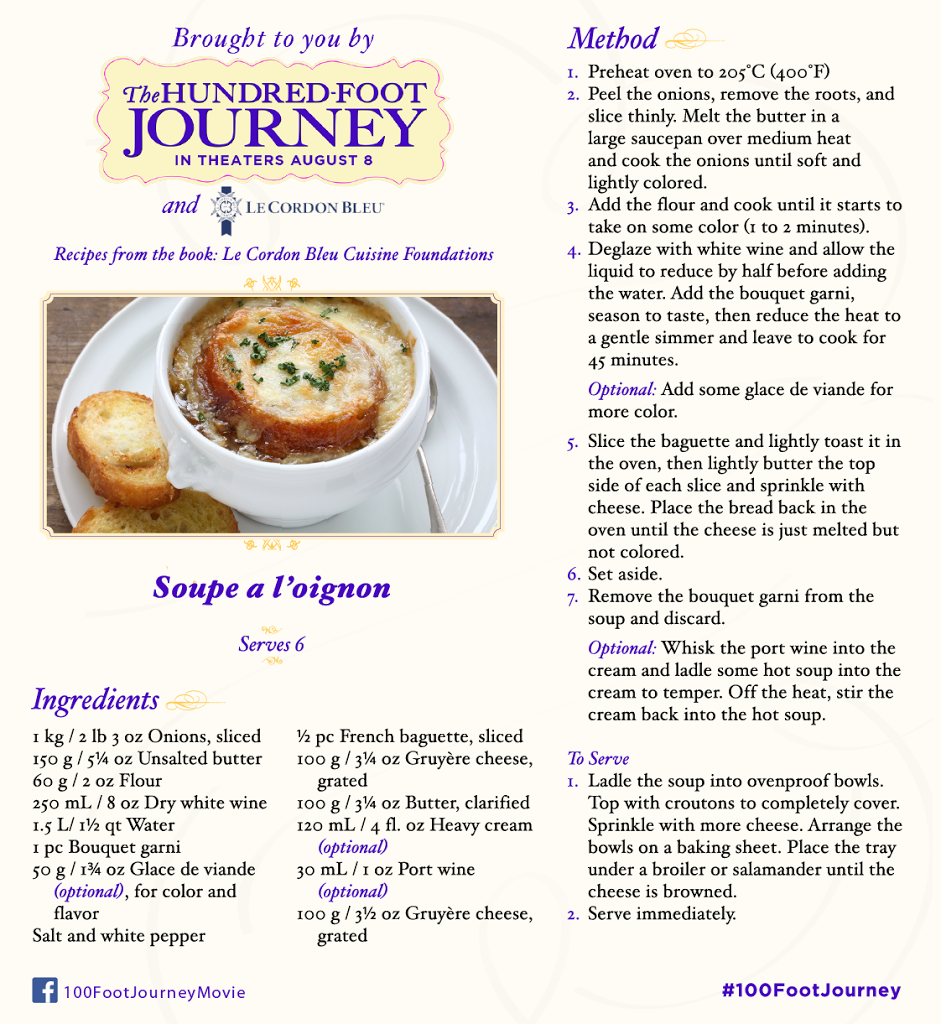 If you missed our previous #FoodieFriday recipe shares, you'll find them here:
Quiche Lorraine https://www.ruralmom.com/2014/06/quiche-lorraine-recipe-100footjourney.html
Omelette Aux Fine Herbes https://www.ruralmom.com/2014/06/omelette-aux-fine-herbes-recipe.html
Beef Bourguinon a la Hassan https://www.ruralmom.com/2014/05/beef-bourguinon-a-la-Hassan-Recipe.html
Gratin dauphinois https://www.ruralmom.com/2014/06/gratin-dauphinois-recipe-100footjourney.html
Picnic Foods: Curry Hot Dog & More https://www.ruralmom.com/2014/07/picnic-dishes-currie-hot-dog-more.html


About the Film: 
In "The Hundred-Foot Journey," Hassan Kadam (Manish Dayal) is a culinary ingénue with the gastronomic equivalent of perfect pitch. Displaced from their native India, the Kadam family, led by Papa (Om Puri), settles in the quaint village of Saint-Antonin-Noble-Val in the south of France. Filled with charm, it is both picturesque and elegant – the ideal place to settle down and open an Indian restaurant, the Maison Mumbai. That is, until the chilly chef proprietress of Le Saule Pleureur, a Michelin starred, classical French restaurant run by Madame Mallory (Academy Award®-winner Helen Mirren), gets wind of it. Her icy protests against the new Indian restaurant a hundred feet from her own escalate to all out war between the two establishments – until Hassan's passion for French haute cuisine and for Mme. Mallory's enchanting sous chef, Marguerite (Charlotte Le Bon), combine with his mysteriously delicious talent to weave magic between their two cultures and imbue Saint-Antonin with the flavors of life that even Mme. Mallory cannot ignore. At first Mme. Mallory's culinary rival, she eventually recognizes Hassan's gift as a chef and takes him under her wing.
Directed by Lasse Hallström, and starring Academy Award-winner Helen Mirren, "The Hundred-Foot Journey" is produced by Steven Spielberg, Oprah Winfrey and Juliet Blake. The executive producers are Caroline Hewitt and Carla Gardini. The screenplay is written by Steven Knight, based on the novel "The Hundred-Foot Journey" by Richard C. Morais.
Like THE HUNDRED FOOT JOURNEY on Facebook: 

http://facebook.com/100footjourneymovie 



Follow THE HUNDRED FOOT JOURNEY on Twitter: 

https://twitter.com/the100ftJourney 



Instagram: 

http://instagram.com/thehundredfootjourney 



Pinterest: 

http://pinterest.com/100FtJourney 

THE HUNDRED-FOOT JOURNEY arrives in theaters everywhere on August 8th!