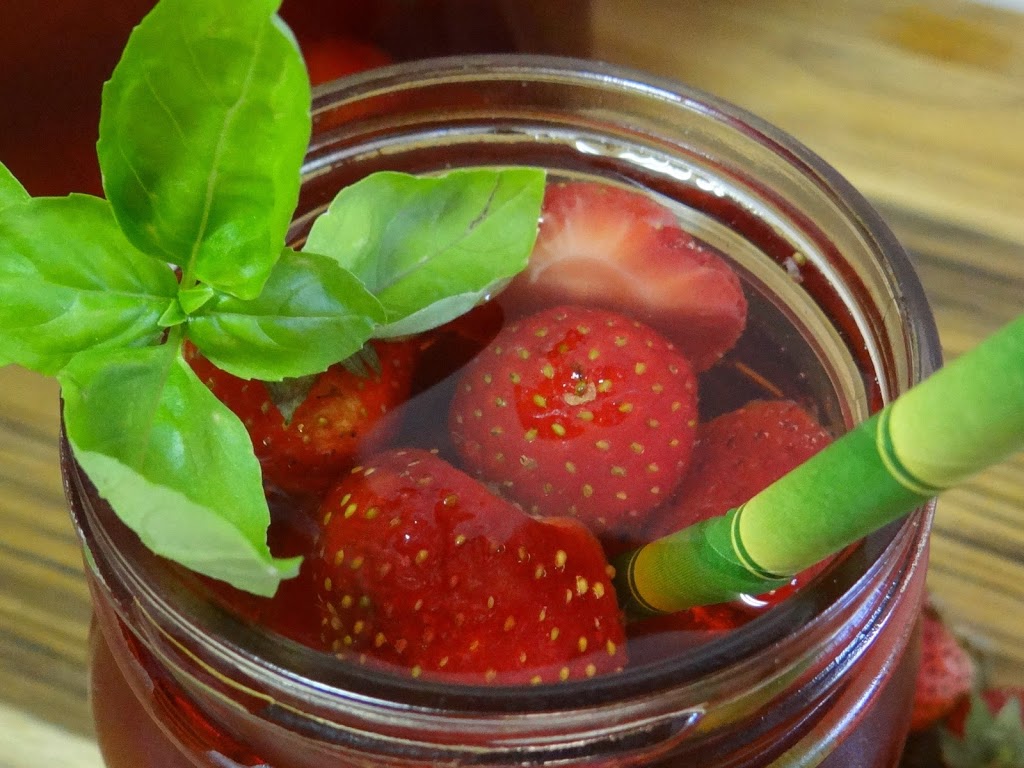 It's summertime!  Which not only means we have full days of sunshine, swimming and relaxation, it also means two of my favorite crops are in full production – strawberries and basil.
Strawberry pies, shortcakes and jam are also in full production along with pesto and Caprese salads.  While these two ingredients can stand fully on their own merits, I've also found that when they are paired up, they create a crazy-good flavorful blend that will knock your summer tastebuds out of the garden park!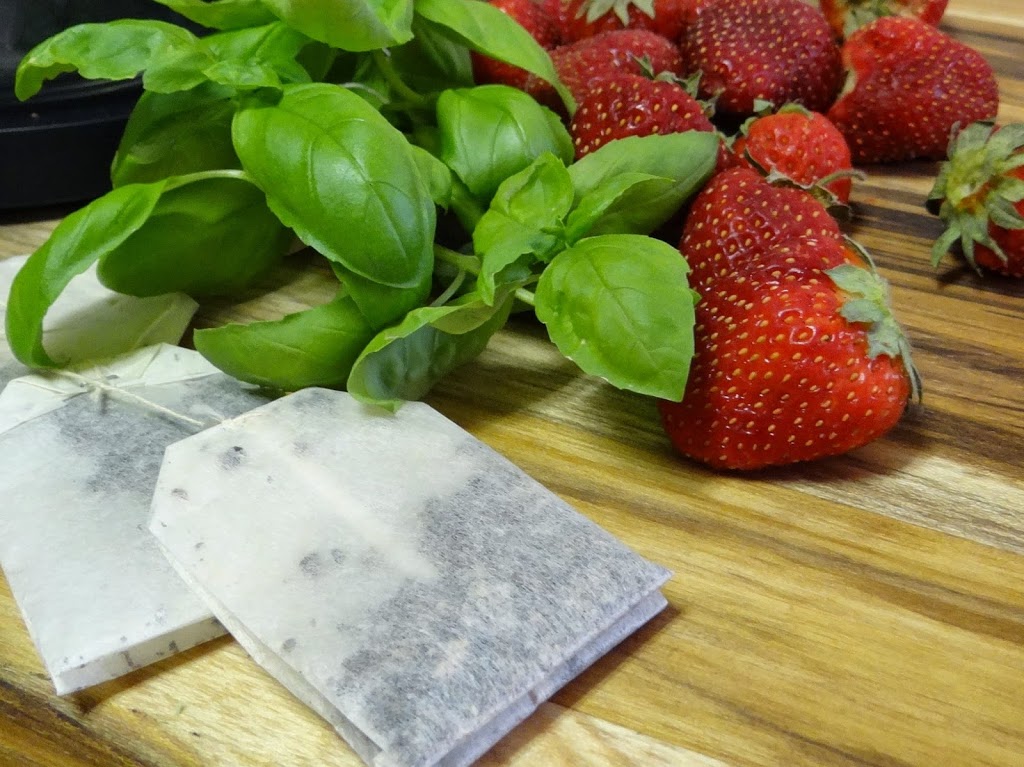 One of the most delightful places to bring these two delicious flavors together is in a cool refreshing tea and lucky me, the Capresso Iced Tea Maker I recently received to review has a recipe booklet which includes a terrific recipe for making Strawberry Basil Iced Tea (along with a wide variety of other great taste combinations.)   
The new Capresso Iced Tea Maker is a fully customizable iced tea brewer.  You can use loose tea or tea bags, adjust your brew from regular to extra strong, and enjoy the refreshing results within minutes.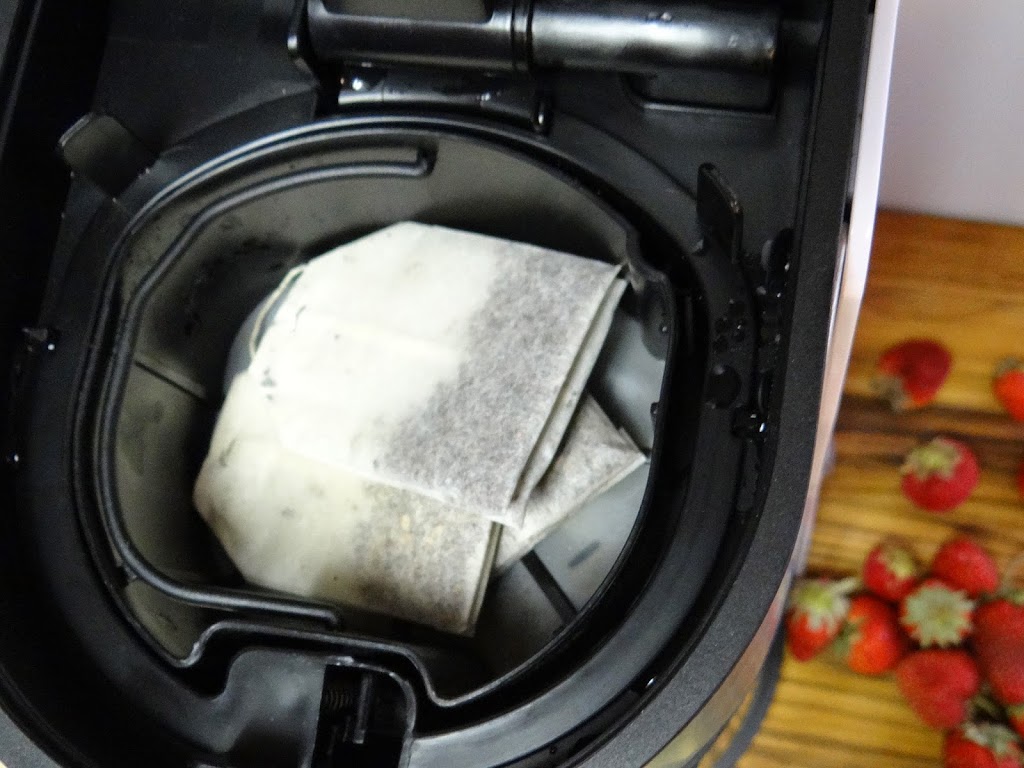 To create Strawberry Basil Iced Tea, I simply gathered up some strawberries and basil from my garden and selected my tea.  The recipe called for black tea, but I decided I wanted a little extra strawberry kick, so I used 1 strawberry tea bag for every 3 black tea bags I added.
The tea bags (or loose tea) fit easily in the brewing basket of the Capresso Iced Tea Maker.  When you are finished brewing, the basket lifts out for super easy clean-up.
Note:  A few days later on my second round, I tried a Coconut Oolong loose tea which produced an entirely different flavor profile that was equally pleasing. Don't be afraid to experiment a little with tea selections that you feel will pair well with strawberry and basil, each one will deliver a unique result.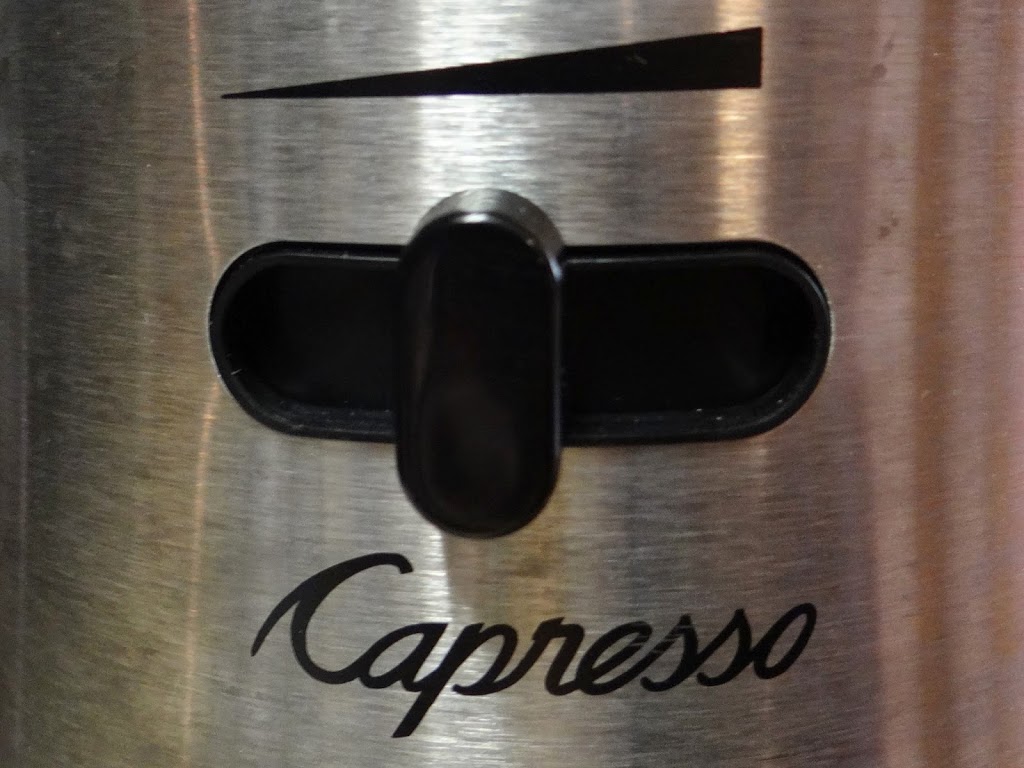 I generally like a strong tea, but I set the Capresso Tea Maker to a moderate setting so that the flavors of the fresh fruit and herbs would shine through.  The level on the Capresso is easy to operate and quickly moves from the regular to extra-strong with the slide of the lever.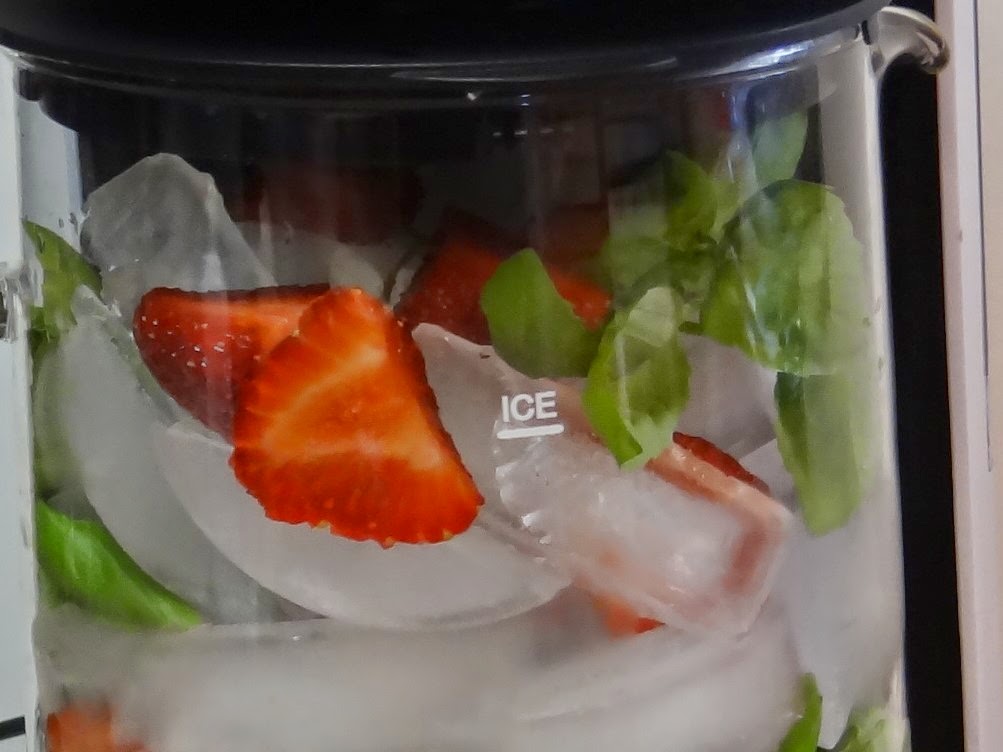 The next step was to fill the 80-ounce pitcher with sliced strawberries, basil sprigs and ice to the "Ice" fill line.  Clear markings on the Capresso Iced Tea Maker made set up a breeze.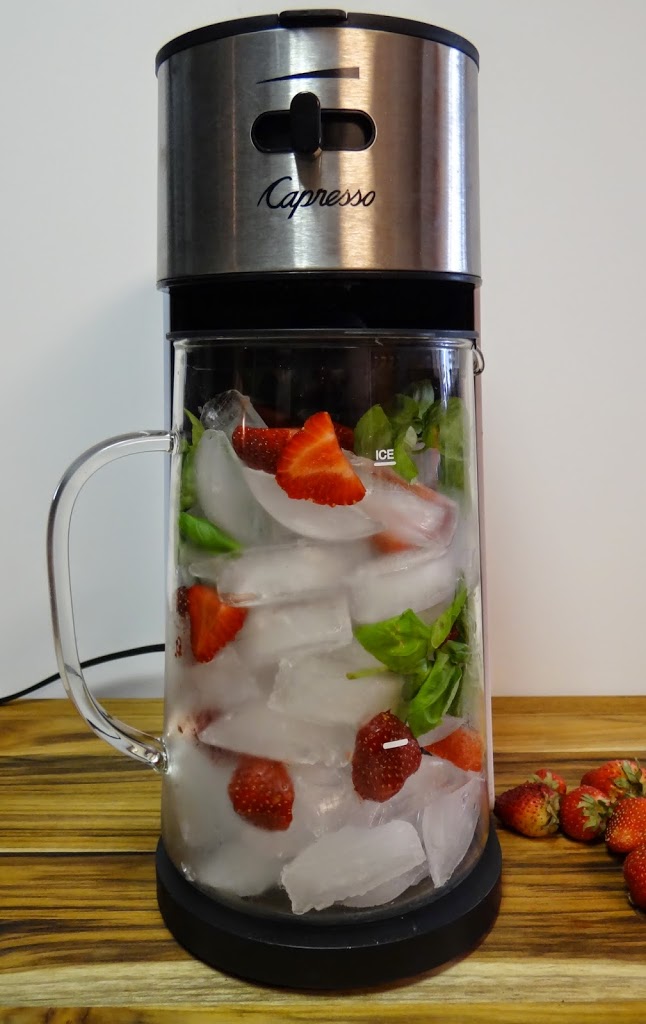 With my ingredients prepped and the unit ready to brew, I only needed to complete one last step (which I probably should have completed first!) to fill the water tank with fresh, cold water.  For the best possible brew, I used filtered water and filled it to the clearly marked "Max" line.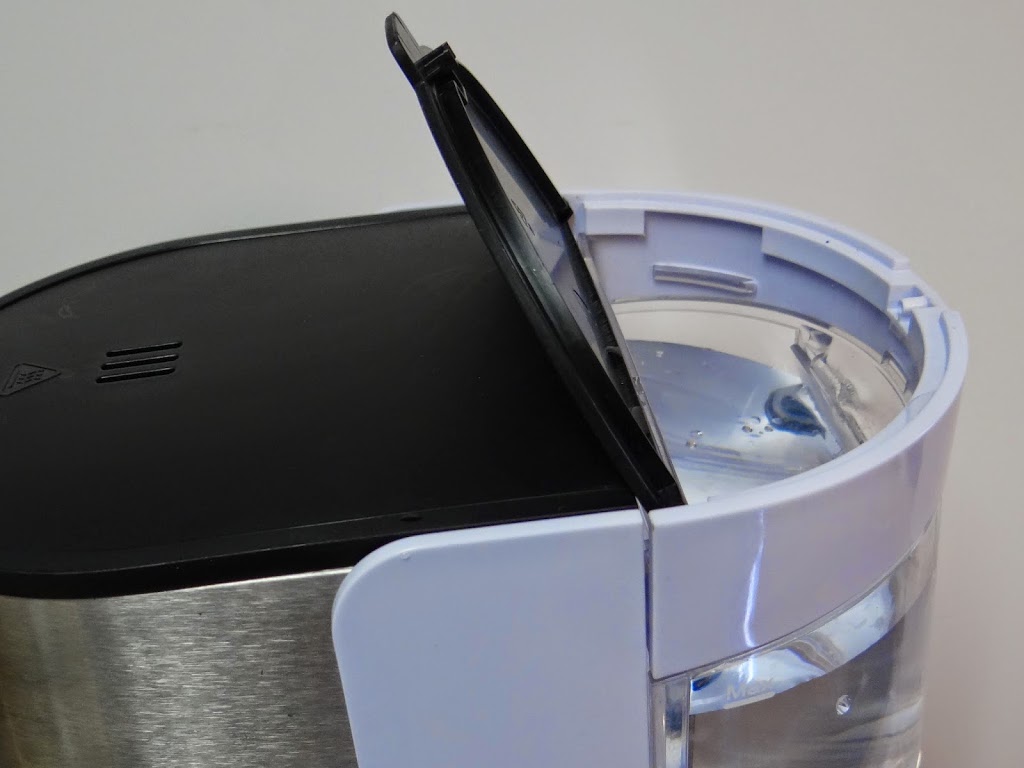 Prior to brewing you can also add sugar or sweeteners, too, or other flavorings you may enjoy prior to brewing.
Once you have your ingredients and liquids in place, plug the power cord into an electrical outlet, press the "On" button and kick back as they machine cycles through the brewing stage.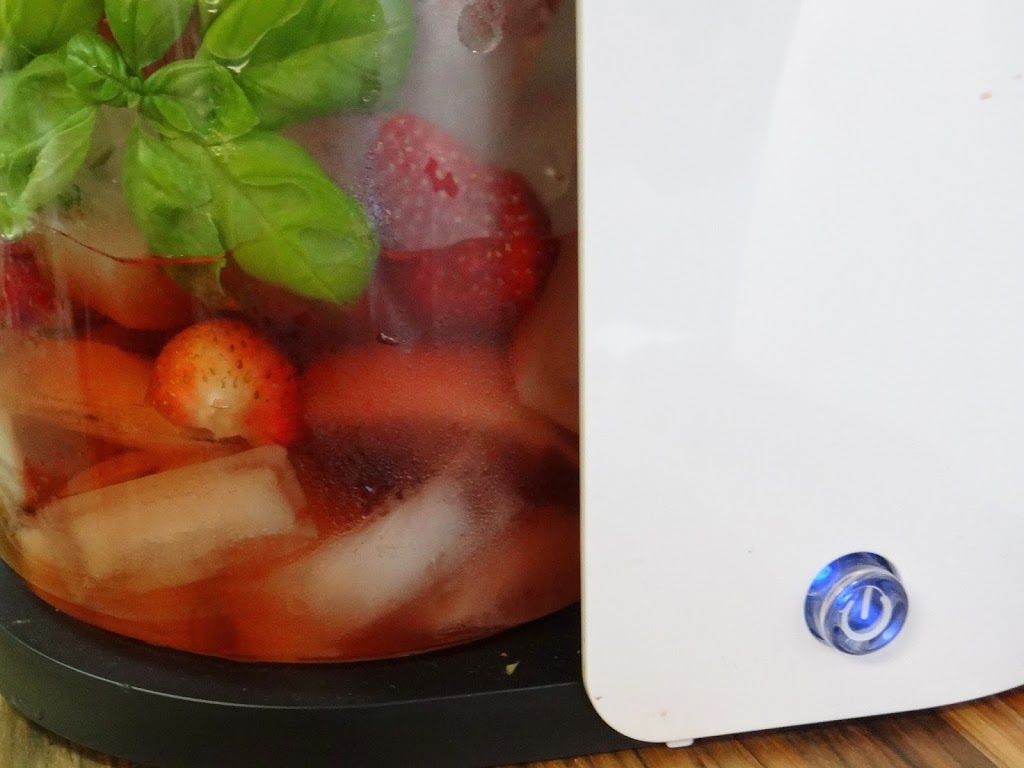 The blue light of the "On" button indicates that the machine is in the brewing process.  When the light goes out, the brewing phase is complete.
That's it!  Lickety-split, you'll have freshly brewed Strawberry Basil Iced Tea (or any other flavor of iced tea you desire to make) waiting for you to sip in the shade and enjoy the fabulous flavor-infusion of your garden favorites all summer long.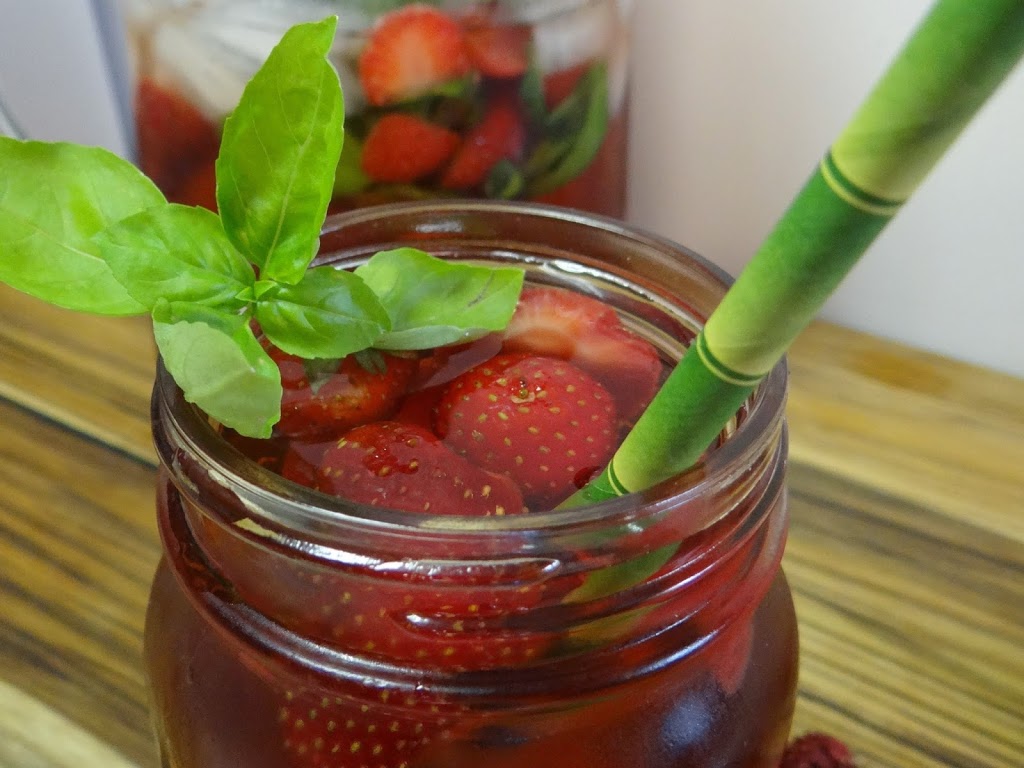 After brewing, you unplug the Capresso Iced Tea Maker, allow it to cool down and can quickly clean all of the detachable parts with hot, soapy water.  The pitcher, pitcher lid and brew basket are all dishwasher safe, too.  Get a little spill on the unit, no worries, a damp cloth will easily wipe away any residue.
There are very few products that I fail to find a hitch with and this is one of them.  Everything about the brewer from it's quality performance, perfection in brewing and fast brew time to it's low profile, minimalist design and quick and easy clean-up.  It's one appliance you'll definitely put to great use for tea brewing again and again, and again!
Strawberry and Basil Iced Tea is my current kick.  I think Blackberry Hibiscus Iced Tea will be next up.  What tea sensations will you be brewing this summer?
For more information on the Capresso Iced Tea Maker, visit http://www.surlatable.com/product/PRO-1515808/Capresso+Iced+Tea+Maker