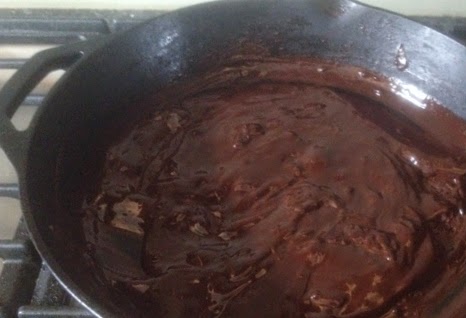 Cast iron is generally my preferred choice of cookware for meal time, but it's also quite handy to use for whipping up a tasty dessert.  Chocolate brownies are a fovorite go-to, they turn out chewy with a nice crust around the edges thanks to the cast iron skillet.  Give it a try, you'll love the delicious results and the ease of preparation!
Kitchen Notes:
This recipe is based on using a 12" pre-seasoned cast iron skillet. If you are using a
smaller skillet, you may need to adjust the cooking temperature to 325 and extend the cooking time to account for the extra thickness in the batter.
1 cup butter (2 sticks)
½ cup unsweetened cocoa
1 cup light brown sugar, firmly packed
1 cup sugar
3 eggs
1 teaspoon vanilla extract
¾ cup flour
½ teaspoon salt
powdered sugar, for dusting (optional)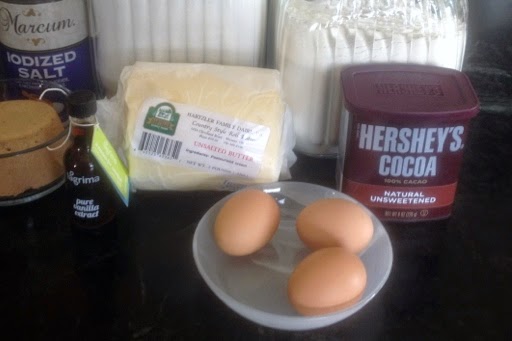 Directions:
Preheat oven to 350˚
Add butter and unsweetened cocoa to a 12" cast iron skillet. Heat over low heat until
butter is completely melted. Stir occasionally until the cocoa is incorporated into the
melted butter.
Remove skillet from heat and add both sugars. Stir until thoroughly combined.
In a medium bowl, beat eggs and vanilla with a fork before adding to the skillet. Add
flour and salt and stir into batter until no trace of flour remains. Use a rubber spatula
to remove excess batter from around the edges of the pan and to even out the thickness of
the batter throughout.
Place skillet in oven and bake for 40 – 45 minutes or until a toothpick inserted in the
center comes out clean. Remove from oven and let cool completely.
Dust top with a light coating of powdered sugar.  Serve alone or warmed with vanilla bean ice cream.