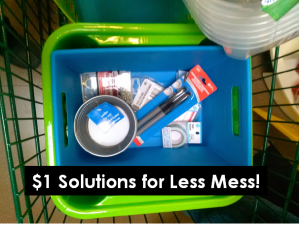 With a little help from Dollar Tree, we're cleaning up the clutter in my sons' room! #spon
What's the one room in your home where you just want to close the door and not look? If you're in my home, it's definitely my sons' bedroom! This mystery-pit is the catch-all for toys, games, clothes, school work, musical instruments, and everything else that my children collect and accumulate throughout the week.
Maneuvering around Lego landmines and stinky sock piles certainly makes keeping my sons' room like a never-ending battle. I've learned though, putting a solid organization plan in place is the best method of attack and the key to teaching them some healthy room habits.
With a few simple items picked up at our local Dollar Tree store and a systematic approach to the clutter, my daily chore load has gotten lighter and the bombs have cleared out of the building block minefield.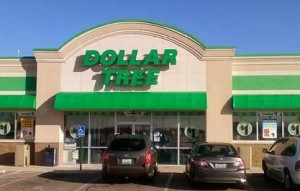 Our local Dollar Tree store
The three key areas I approached are toys, clothing and homework.  All hot spots for organization trouble in our home and all contributors to my sons' chaos in their room.
Toys 
If there is one thing kids have more of any other item, it's toys. Preventing your home from turning into one big toy box sometimes feels like a full-time job, but it doesn't have to be. You can even get the kids to help keep their stuff picked up, if you make it easy and fun for them.
For the build blocks bomb zone we have, I had large containers set up for them, but noticed it was the small pieces I seemed to keep stepping on!  Getting at the root of the problem, it turns out the kids were having to dig through the bigger containers and either pushing pieces out in the process or simply leaving the small part lying around.
A few shoe-size boxes from Dollar Tree with label for the pieces provided a quick and inexpensive solution! ($6 for 4 boxes, labels and markers.)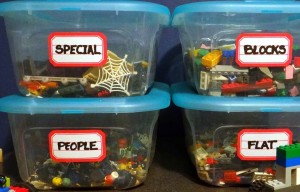 Use clear storage containers to help clean-up and organize small toy pieces.
I used clear boxes with clear lids, so the boys can easily identify what is in each box and it helps them to easily sort them, too.
For larger toys, pretty baskets or colorful plastic bins make it easy for kids to keep their toys put away, and even help you teach them valuable skills and habits along the way. You can make a nighttime routine of picking up all the toys and putting them in the appropriate basket just before bed. If more than one child shares a room, or if you have a lot of toys (and who doesn't?) you might have different colored containers for each child or for various types of toys. At Dollar Tree, I found all kinds of plastic bin shapes, sizes and colors to handle toy storage.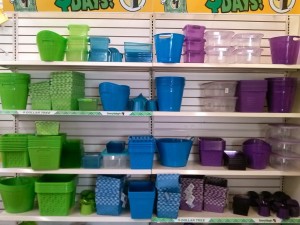 Color code containers to easily identify what's inside and where they belong
I chose square green containers to place around my sons' room for them to easily place toys when they are finished with them.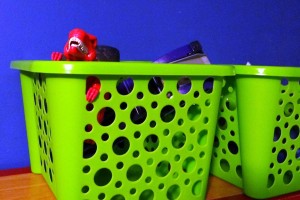 Use baskets to help keep bigger toys organized
These containers are the perfect size and shape for toy storage but also for books, clothing items and evening small gaming systems.  At $1 each, they will soon find their way into all parts of my home!
Movies and Video Games
Video games and movies are another toy-related hassle for us around our television sets.  Generally I find them lying around on the desk or floor.  For an easy solution, I grabbed a few rectangular bins to make them easy to put away, yet still be browsed through or selected easily.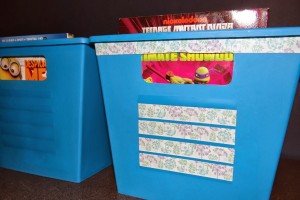 Rectangular baskets are perfect for storing video games and movies
To "dress" the boxes up a bit our family room area, I purchased adhesive paper craft tape from Dollar Tree to add design interest and to provide the ability to label the boxes later on.  I'm planning to categorize them by interest or game type and will write each on the label for ease of finding and storing.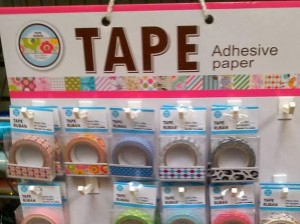 Use adhesive paper craft tape for decorating and labeling storage containers
Clothing
Overflowing dresser drawers and jam-packed closets not only contribute to clutter, but they make getting ready for school in the morning a real challenge. Keeping all that clothing organized might seem impossible, but a simple schedule can turn a day-long job into a quick task.
While your kids are younger and growing rapidly, it can help to evaluate each piece of clothing every time you fold laundry. This might mean simply asking yourself if the item still fits. If it does, it goes back in the drawer, if not, donate it. In addition, check for stains, tears, and other damage that can't be hidden or fixed, and toss those items that are no longer wearable.
For older kids, you won't have to do this with each load of laundry, but you should do it at the end of every season. When you put away the summer clothes as you prepare for back to school, look at each item and ask yourself if it will still be wearable in the spring. Make a donation pile for those items that won't be useable. If you can use the items for younger children later, then sort them by size and store in clearly labeled bins, ready to pull out when they're needed.
A clothing-related clutter problem we had every morning in my sons' room was finding items they emptied out of their pockets the night before scattered around the room.  Not only did it cause a mess, but it also slows us down each morning when we have to scramble to find the keys, money or flash drive that went missing.
With $5 worth of products from Dollar Tree – a picture hanging kit and 4 jumbo clip cups – I've made this problem dissappear…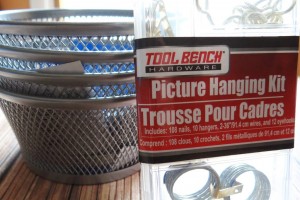 Think "outside the box" to find new ways to use common items
… by setting up a simple wall station for catching pocket stash!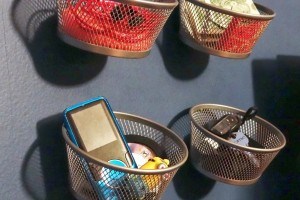 Create a designated area to store important every-day items
This station corrals all the important small items that always seem to wind up in their pockets, making it super easy to store at the end of the day and find in the morning.
The cups are hung right next to their bed over the night stand and a small waste basket (to catch the gum wrappers and other garbage they empty out of their pockets.)  This visually reminds them each night and day.  It's also been a laundry lifesaver as I no longer have to worry as much that I'll miss something they left in their pockets and accidentally wash it.
Homework and Other School Supplies
Is there anything worse than scrambling to get ready for school and not being able to find that math homework that's due today? Well if you make it a habit to keep school supplies and homework organized, you'll rarely have to worry about missing the bus.
Start with a designated place where all homework is stored. This might be an "in" basket on a desk, or a small box or basket on a shelf, but the point is, when your child comes home from school, everything he or she brings with him goes there. During homework time, he'll know exactly where to look for the necessary books and papers, and when he leaves for school the next day, he'll know just what he needs to take along.
We set up a simple basket, purchased from Dollar Tree, with notebooks, paper and other supplies on their desk top, with space next to it to put their backpacks.  Now I don't have to hear "Mom, I need a pencil" because they know where to find and store everything homework related.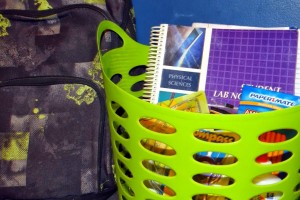 A designated homework center is key for keeping student organized
Keeping kids organized can seem like an uphill climb, but by setting up some easy-to-follow, colorful, fun systems and by enlisting their help, you'll not only have a much more organized home, but you'll also have far less stress. Plus, you'll be teaching your children how to live a clutter-free life, and that will serve them well over the years.
I spent under $20 to find solutions for keeping my kids' room clutter free, which easily saved me countless hours of cleaning and has helped make our lives a lot less stressful.  Definitely a win!
If you have items on hand that can be re-purposed for any of these solutions, terrific!  If not, you'll find all of these items and more at your local Dollar Tree.  To find a Dollar Tree location near you, visit http://www.dollartree.com  Many of the items featured can also be found for purchase on the Dollar Tree website, as well.