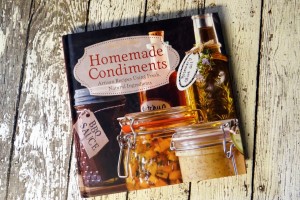 On the fourth day of book gifting, Rural Mom suggests: Homemade Condiments: Artisan Recipes Using Fresh, Natural Ingredients
The fourth pick in the 12 Days of Book Gifting Suggestions is certainly a unique and fun title I simply knew Rural Mom readers would love.  This crazy-cool book sets my sustainable heart a-flutter with easy-to-follow recipes and fabulous illustrations to inspire your classic and gourmet twists on all of your favorite condiments.  Enhance your kitchen and your table with fresh compliments for every meal!

You'll be making your own ketchups, mustards, salad dressings, ice cream toppings and more in no time with Homemade Condiments, the latest cookbook from Jessica Harlan. This beautifully illustrated hardcover book includes 100 recipes for all-natural condiments, each with easy-to-understand instructions and multiple serving suggestions. You'll learn how to select ingredients, preserve some of your creations, and even how to attractively package them for gifts.
For more information, visit http://www.amazon.com/Homemade-Condiments-Artisan-Recipes-Ingredients/dp/1612432239
Looking for more ideas? Check out our complete list: