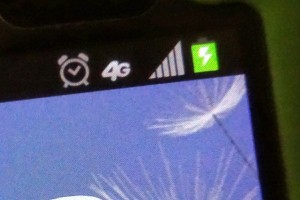 It's been a fantasy of ours to have cell phone service in the country. Thanks to sample product received from Wilson Electronics, we're making it a reality…
Big blue skies, field aplenty, wide open spaces and nature on your doorstep – living in a remote rural area has spectacular advantages, but reliable cell phone service certainly isn't one of them.
At the base of the Appalachian Mountain range, our home is in a valley pocket where cell phone service is completely blacked out.  We've often joked about how we can ride our ATV's up the mountain and get cell service (which is true!) but sadly, over the years as the cell phone towers increased in number and magnitude, the signal still never reached our home.
Until now.
Thanks to Wilson Electronics DB Pro Cellular Signal Booster, I have 4G 5 bar service in my home and even outside on the porch.  Happy, happy cell phone signal days around these parts!
Who would have thought one little kit could make such an amazing difference in how we utilize our cell phones in the country?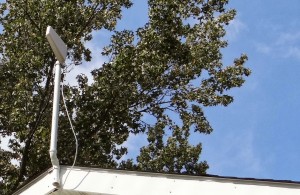 For the past few weeks, since installation, we've used both AT&T and Walmart Family Mobile services without a hitch throughout our home.  No dropped calls, text messages zip right through and internet surfing runs lickety-split.
The DB Pro cellular signal booster is Wilson's dual-band (800 &1900 MHz) wireless amplifier for use in homes, offices and other buildings. The DB Pro significantly improves voice and data performance for multiple cell phones and data cards simultaneously, and works with all major North American cell phone carriers, which include both Cellular (824-894 MHz) and PCS (1850-1990 MHz) carrier frequency bands.
Installation of the unit is super easy.  If you are the least bit handy or have a handy man around, it's truly a simple and should you encounter a hitch, the customer service support is exceptional.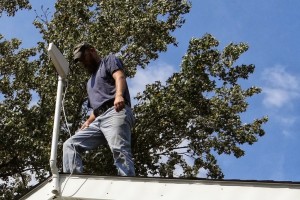 My handy guy installed all the components of our Wilson DB pro with no problems. 
If you aren't comfortable installing the system yourself, no worries, Wilson can help you find a service professional in your area (additional labor fees will apply.)  
This 65 dB in-building booster combines high performance with ease of installation, and can be used with an outside Omni-directional gain antenna with multiple mounting options that eliminates researching cell tower locations and antenna orientation.
Check out this short instructional video to see how it works and how simple it is to connect up a DB Pro in your home or office.
I feel like we've finally crawled out from under the cell phone rock into the age of glorious golden age of cellular communications.  We're only a decade behind the rest of the world… but hey, this is big buzz around our barnyard!
Because before we certainly would never see this sight in our home: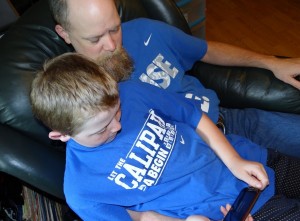 Lounging with dad searching for game Apps… thanks to our Wilson DB Pro! 
When I think about all of the cell phone service I paid for that went unused as we were only able to utilize our cellular devices on-the-go, it pains me.  Now we're running at maximum and not wasting a dime.
Having the DB Pro also offers up another savings avenue.  We finally have the option to cancel our expensive land line or drop down to the bare minimum of a calling plan.  If you live in a rural location with a phone company that has a monopoly on pricing, you'll totally understand my overwhelming joy that we finally have this choice.
While the Wilson Electronic's DB Pro has worked wonders for cell phone service connection in our home, there's a whole wide world products available in their mobile solutions line.  You can find the full array at http://www.wilsonelectronics.com/ (the direct link to the DB Pro is
The Wilson Electronics DB Pro is available at retail and online store locations including Best Buy and Amazon.  Check here for information retail locations near you: