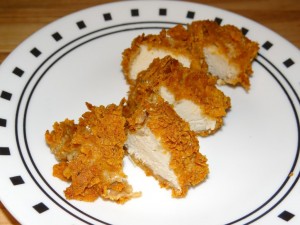 Updating your favorite recipes to a healthier version is not always an easy task.  Some things are simple swaps such as exchanging whole wheat flour for white flour or almond milk for milk, but others are more difficult.
One favorite, in particular, that has posed a challenge are my sons favorite ranch chip-crusted chicken strips.  I had yet to find a flavorful enough chip to substitute… that is until I was introduced to Green Giant Garden Ranch Roasted Veggie Tortilla Chips.  Good golly, these chips are bursting with irresistible yum factor!  When they say "giant" flavor on the label, they're not exaggerating.
And with a reasonable calorie count and low fat profile, they fit the bill nicely.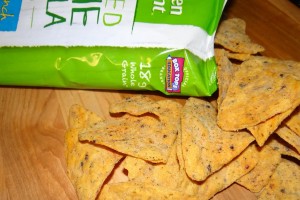 Along with the Garden Ranch, I sampled Green Giant Barbecue Multigrain Sweet Potato Chips and instantly fell in love.  The subtle, sweet and smoky barbecue flavor is highly addictive.
This got me to thinking…  I knew I'd enjoy the barbecue chips in the chicken strip recipe, I wonder if my sons would?  And so, the idea for the Sweet Potato Barbecue versus Vegetable Ranch Chicken Strips bake off was spawned!  (Intuition told me the boys would still gravitate towards their favorite ranch style, but it gave me a good excuse to bake the barbecue flavor for my enjoyment, too!)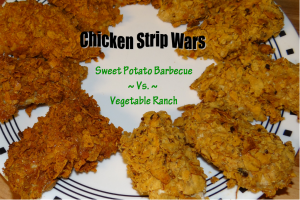 Making baked chip chicken strips couldn't be easier.  It's merely a 6 step process.  The recipe below is for the ranch style strips, but you can easily swap out the ranch chips for the barbecue or any of the other Green Giant chips such as Zesty Cheddar Roasted Veggie Tortilla Chips.
Garden Ranch Style Chicken Strips
Preheat oven to 400 degrees Farenheit.
1 – Cut 2 boneless chicken breasts into 3 inch strips.
2 – Crush 1 bag of Green Giant Garden Ranch Roasted Veggie Tortilla Chips, pour into a bowl.
3 – In a second bowl, beat two eggs.
4 – In a third bowl, pour a layer of whole wheat flour (hint: I use whole wheat pastry flour as it's a bit thinner texture that adheres very well.)
5 – Dredge chicken strips in flour, then egg wash, then roll in crushed tortilla chips.
6 – Layer chicken strips in a pre-greased baking pan.  Bake at 400 for 20-25 minutes (or until chicken has reached standard safe minimum cooking temperature.)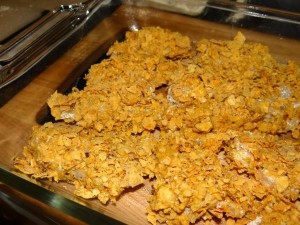 Verdict?  Both flavors were delicious!
My favorite, as I suspected it would be, is the barbecue sweet potato chip style.  The flavors of the chip play a brilliant backdrop to the chicken and would be perfect to enjoy with some country beans and a fresh potato salad.
My sons thoughts?
I think this sums it up: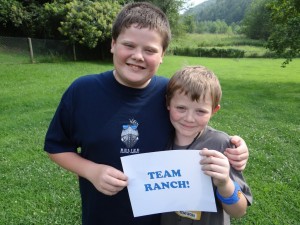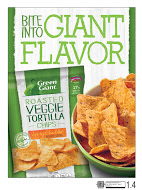 Have you tried Green Giant Veggie Snacks yet?  What's your favorite style?
For more information, visit Green Giant's Facebook Page
I was selected for this opportunity as a member of Clever Girls Collective and the content and opinions expressed here are all my own.