It's easy take the tried-and-true approach during your New Orleans family vacation time by lining up travel activities that include all your kid's favorites such as pizza parlors, mini-golf, theme parks and zoos.  You'll come back home with great photographs and joyful vacation moments.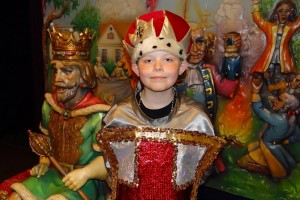 If you'd like to step away from ordinary and create extraordinary New Orleans vacation memories – you know, the ones you talk about for years and years to come because they were so special, it pays to investigate the area you are visiting a little deeper to find the extraordinary activities featured.
The five adventures featured are ones you won't be able to experience in your own neck o' the woods (or at least not in the same way,) they're the ones that will have you pulling out the photo albums again and again to share with family and friends and to remind yourself of the amazing time you had there.  Enhance your New Orleans family travel with any one (or all) of these exceptional attractions: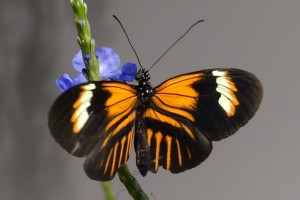 Audubon Butterfly Garden and Insectarium. Located on Canal Street in the French Quarter, the Audubon Butterfly Garden and Insectarium offers up-close-and-personal adventures with our insect friends.  If the thought makes your skin crawl a bit, push those thoughts out of your head and step inside because the exhibits will certainly have you looking at bugs in a refreshingly friendly way.  I had the chance to visit the Insectarium during a press trip and though I'm still not a huge fan of bugs, I stepped away for this experience with a new-found appreciation… and had no squeamish moments inside.
This is a terrific rainy day activity as you can easily spend the entire day exploring.  Specialty areas include the Tiny Termite Cafe which offers one-of-a-kind seating with "living" tables and a range of tasty treats, the Butterflies in Flight exhibit where you can walk among 100's of butterflies in free-flight, and a very interesting Bug Appetit demonstration class.
Find more information at http://www.auduboninstitute.org/visit/insectarium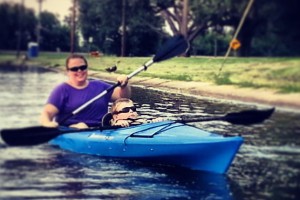 Kayakitiyat Tours. Experience New Orleans with a truly unique kayak ride down a historic waterway.  It's the perfect way to start the morning with an energizing activity or to end the day with a pleasant view of historic homes and nature reserves.  Our family set out on the Bayou St. John where we found delights of West-Indies-style architecture of the late 1700's to Frank Lloyd Wright inspired homes along with plenty of natural splendors.  An incredible two-hour journey that left us with rich insights.
Each tour is designed to accommodate first-time to advanced kayakers.  Entertaining guides offer historical and cultural information along the journey and allow you to set the pace for experiencing the "hidden" sights and community of New Orleans that few travelers ever have the opportunity to observe.
For more information, visit http://kayakitiyat.com/
Mardi Gras World.  It's perpetually Mardi Gras time in New Orleans as workers are busy creating the next season's floats from the moment the last celebration ends to the time the next one begins- and the Mardi Gras World is where the action happens.
Super easy to get to as free Mardi Gras Museum shuttles are available throughout the city, you can experience some of the magic by roaming around the foyer, the gift shop and the cafe where exhibits and costumes are free to view, but if you truly want to immerse yourself in the experience, purchasing a ticket for the tour offers a in-depth, hands-on glimpse into the world of Mardi Gras parades and floats. Plenty of photo opps and a memorable, educational experience complete with sampling of Kings Cake!
For more information, visit http://www.mardigrasworld.com/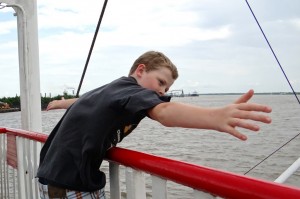 Steamboat Natchez.  There are only two true steamboats left in operation in the U.S. and the Steamboat Natchez is one of them, making this perhaps a once-in-a-lifetime opportunity to cruise on board.  A lovely breeze, a terrific view of New Orleans, smooth jazz music and historical notes from the captain offer a nice respite from a hot day or a wonderful spot to end the day on a high note.
Dining options, drinks and snacks are available along with a variety of seating options to soak in the ambiance of the steamboat or the sights of New Orleans.  Children will have fun watching the steamboat wheel and the deck hands in action during launching and docking of the ship.  My sons particularly loved visiting the engine room, too, which is open throughout the cruise.For more information, visit http://www.steamboatnatchez.com/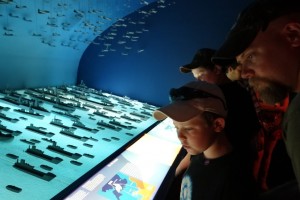 WWII Museum. It's surprising how many people do not know the WWII Museum exists, let alone has three buildings and a restaurant chock full of WWII memorabilia.  Suitable for patrons of all ages, (though those under 4 may not get as much from the experience,) this is an educational hot-spot well worth planning to spend an entire day exploring.
Start with the "Beyond All Boundaries" movie narrated by Tom Hanks, then, take your time exploring all of the museum buildings. Each offers a unique experience with a variety of interactive exhibits. Save the Boeing Center as one of your last stops. This incredible feature houses WWII-era aircraft that can be viewed from below or above from balcony platforms and several other impressive exhibits and be sure to sign up at guest services for a tour of the WWII vintage PT-305 torpedo boat.
For more information, visit http://www.nationalww2museum.org/
Disclosure:  Though this is an editorial based on experiences during a press trip, I still feel it's prudent to disclose that I received discounted or complimentary access to some exhibits. I'm under zero obligation to share information and voluntarily chose to as I feel these location are high quality family travel attractions in New Orleans.