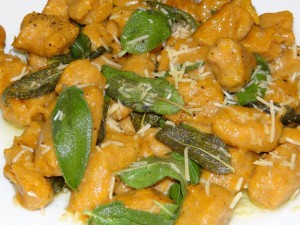 Recently, I had the pleasure of visiting the HUNGRY Channel kitchen to explore some terrific gluten free dishes with chef Alex Thomopoulos, along with the folks from the HUNGRY Channel and Wholly Guacamole.
Alex learned early in her career as a chef that she had Celiac Disease. Naturally, this turned her cooking world topsy-turvy, but instead of focusing on what she could not eat, she chose to celebrate the never-ending list of ingredients she can enjoy by creating delicious, approachable and comforting gluten free recipes.
One of the super tasty gluten free dishes we made is Sweet Potato Gnocchi with Sage Brown Butter Sauce, a perfect meal for the times you're craving a savory Italian dish.
The complete recipe can be found on Alex's website http://alextcooks.com/recipes/gluten-free-sweet-potato-gnocchi-with-sage-maple-brown-butter-sauce/ and/or you can watch Alex create the dish in the video below:
Hope you enjoy this dish as much as I do!