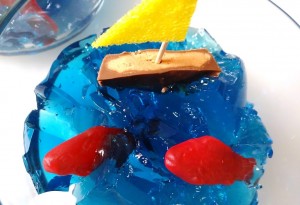 Deep Blue Sea Snack
There are plenty of fish in the ocean, but did you know that half of the air that we breathe comes from this "blue lung" of the planet?
Our symbiotic relationship with the ocean doesn't stop there, in fact it starts with the ocean and the microorganisms called "stromatolites" from which all life descended from.  We certainly have a deep connection!
I recently learned these fun facts and had a memorable family movie night this week with PLANET OCEAN.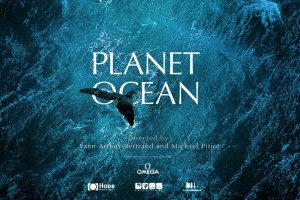 To set the mood for viewing the documentary, I created a simple "Deep Blue Sea Snack" (pictured above) using blue gelatin, Swedish fish candies, and Reese's Peanut Butter Cups.  The peanut butter cups were halved and I used a toothpick with a foam flag to make mini ships.
Both PLANET OCEAN and the fun snack were a super hit with my sons who are asking if we can have a repeat this week.  I plan to make it our Earth Day viewing activity along with a special recycling project.
Narrated by Josh Duhamel, the spectacular PLANET OCEAN dives into the mysteries of the deep blue and explores our connection to earth's largest resource.  The film strives to be a reminder of the bond between humans and nature and does a splendid job of providing riveting, quality entertainment in the process.
A favorite part of the film for my sons was the exploration coral reefs and relationship between anemones and clown fish (… as you've probably guessed, one of their favorite animated superstars happens to be a clown fish.)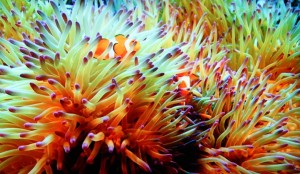 Filmed in familiar and extreme locations, the film reveals all ocean life, even the creatures dwelling in the depths that man rarely sees.  The film also focuses on how man has become a super-predator through pollution of our waters, over-fishing, depletion of resources, and global warming.  An absolute eye opener!
PLANET OCEAN strives to change the way people look at the ocean and understand the need for creating a more sustainable future.  For my family, both hit home.  We will never look at water the same way, nor seafood, nor our planet.  We have also decided to find ways to be stewards in protecting this vital resource and will seek to find ways to help make a difference.
If you are looking for an Earth Day (or any day) activity that offers a comprehensive understanding of earth's ocean and hope for a sustainable future, then I encourage you to pick up a copy of PLANET OCEAN.
PLANET OCEAN is available on Blu-Ray and DVD via Amazon and other electronic media retailers.
Take a peek at this spectacular film in the preview below:

Special thanks to Universal for providing a review copy of PLANET OCEAN to help facilitate this important conversation.  All thoughts and opinions are that of Rural Mom.