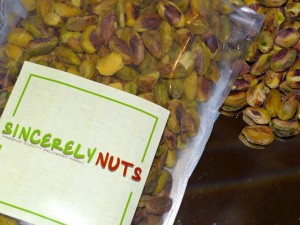 As I made my way to the register, a sea of blues, greens, pinks and polka dots surrounded me.  Bows and straps and flouncey-skirted lycra all lined up, awaiting their moment in the sun.  Suddenly it became painfully clear that swimsuit season was here and just as suddenly the calorie-laden chips in my shopping cart no longer looked as attractive.
Admittedly, I'm a snacker.
This is isn't a habit that will easily break nor be conjoled to hide away until the hot summer days are gone once more.  Believe me, I've tried to eliminate my snack habits and continuously find that I'm a consummate grazer.
Not the best position to be in if you want to get bathing suit ready.
So, when I found out SincerlyNuts suggested a way to kick chips to the curb and indulge in a heart-healthy alternative of nutrient packed pistachios… well, I'm all in!
SincerelyNuts offers and incredible variety of flavors to satisfy snack cravings including roasted, salted, jalapeno, garlic, chili lemon, hickory, and salt & pepper pistachios. And if you want to go completely o' natural, there are even unsalted, delicious roasted pistachios meats.
With 6 grams of protein, 3 grams of dietary fibe (about 12% of the daily value per serving,) per serving and 100mg of omega-3s per ounce, pistachios are an ideal snack for every-day enjoyment… and a smart choice if you are gearing up for some fun in the summer sun!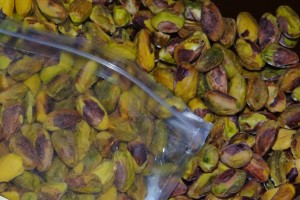 SincerelyNuts wants to help Rural Moms snack smarter by offering 10% off with a minimum purchase of $40 or more. Simply use coupon code WW10 (expires April 26th.) 

Now that I have the snacking thing down, I just might have to take a trip back to the bathing suit section and snag one while the selection is good!

Our thanks to SincerelyNuts for providing samples to help facilitate this conversation.  All thoughts and opinions are that of Rural Mom.