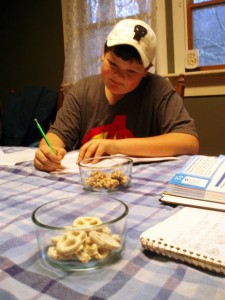 Having an afternoon snack that helps fuel their brain power is rewarding in so many ways!
Hip-pity-hop Easter is on the way… and you know what generally means: a boatload of candy will be arriving in baskets everywhere!
Allowing my children to indulge a little is okay and I do purchase candy for the holidays, but I'm always looking for ways to more incorporate healthy snacks into their diets.  Ones that may taste like indulgent treats to them, but have natural ingredients and wholesome properties that I can feel good about giving them.
The problem is, it's difficult to navigate the food aisles to find the best products, especially because in my neck o' the woods, we don't have a very selection or a health food/ organic store to turn to.
So, I often turn to the internet to order, but again, it's a bit frustrating to navigate and figure out what snacks my children might like, will taste good, and so and so on…
When I first heard about NatureBox, I was interested in their products for myself and for our family outings as I'm constantly looking for on-the-go snacks for camping, boating, hiking and sporting events.
NatureBox thinks "out of the box" by hand-selecting nutritionist approved delicious natural snacks, sourced from local growers and independent food suppliers across the United States.  Their goal is to maximize your taste experience while you feel great about the wholesome snacks you are eating or feeding to your family.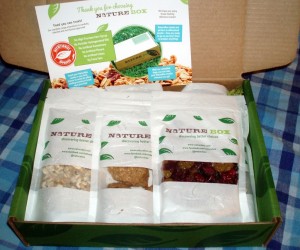 The Easter NatureBox is fully packed with 7 delicious snacks.
It didn't occur to me though, on the onset, that NatureBox would make holiday treats a super cinch until I saw their special Easter NatureBox.  Chock full with seven full-size treats designed to help fill Easter baskets with incredible, natural goodness!
All Natural Yogurt Pretzels, Wild Berry Bunch, Peanut Butter Nom-Noms, Blue Berry Almond Treats, Cashew Power Clusters, Whole Wheat Raspberry Figgy Bars, and Sunshine Chips will enhance your joyful Easter morning because your little one's will be thrilled with their big bags of treats.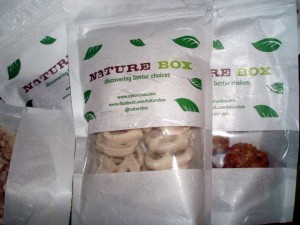 Yogurt Covered Pretzel and Peanut Butter Nom-Noms were two mega-hits in our house.
Don't celebrate Easter?  No worries, this is a fabulous snack box to have on hand for any time.  Not wanting to wait to sample and share, I let my sons have the snacks during homework time and they were a sure-fire hit!  They (ages 10 and 12) enjoyed trying new snacks and were surprised how much they loved all of them.
My oldest son told me he'd trade in having candy bars if I'd get him some more Peanut Butter Nom-noms… um, yep, I'm certainly agreeable to that!  Though, I know the reality is he won't likely give up the candy bars forever, it's good to know I have something far healthier to entice him with now.
My youngest thinks the Yogurt Covered Pretzels, Wild Berry Bunch and Sunshine Chips are "awesome" (his word,) and that's very awesome to me because he's generally a picky eater and the one who normally requests candy.
Not to be left out, mom certainly had to have a bite and wow- the Whole Wheat Raspberry Fig Bars are the freshest, best tasting fig bars I've ever had.  Ideal for a tea time treat!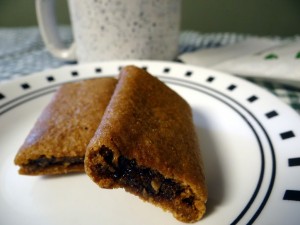 Whole Wheat Raspberry Fig Bars are a seriously luxurious treat!
NatureBox is a monthly service that takes the guess-work out of healthy snacking.
For every box delivered to its customers, NatureBox makes a donation to Feeding America, the nation's leading anti-hunger organization. In its first year of operation, NatureBox donated 50,000 meals to help feed the millions of Americans who go hungry every day. More can be found at www.naturebox.com.
Thanks to NatureBox for providing samples to facilitate this conversation.  All thoughts are solely that of Rural Mom.