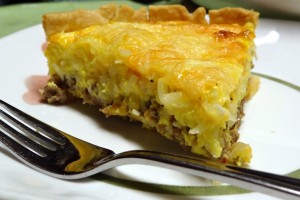 As a farm owner who strives to incorporate as many sustainable living practices as practical, we've opted to raise chickens for fresh, organic eggs.  However, particularly in the the spring time when the Easter bunny is expected along with a houseful of guests, we find a need to supplement our egg supply…. and Eggland's Best eggs always offer us an excellent, high quality alternative for egg dyeing and holiday meals.
Inspired by a Breakfast Pizza with Hash Browns and Sausage recipe I found on the Eggland's Best website (http://egglandsbest.com,) I decided to whip together a few for our weekly Sunday brunch to see how it would turn out, in hopes of using for our Easter weekend celebrations.  I couldn't be more pleased with the results (as are my boys who have requested that I add this as a regular go-to meal on their favorites list.)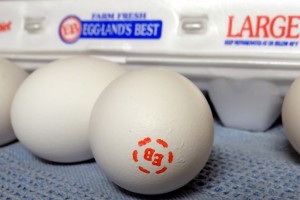 Like any good recipe, the trick is to start with quality ingredients.  Eggland's Best eggs stand in a category of their own.  If you know a bit about eggs (which, naturally I do,) you can immediately see the quality which is emphasized by the bright "EB" approval stamped on each one.  A little carton reading will also reveal some interesting information such as in contrast to the average supermarket egg, Eggland's Best eggs contain double the amount of omega-3's and 25% less saturated fat.  Attributes that make me a lot more comfortable serving up "store" bought eggs at meal time.
For the recipe I'll be sharing in a moment, I would normally make the pie crust by hand, use sausage from our local market and so on… but I wanted to keep things a bit simpler so that this was incredibly easy to replicate with terrific results for you to enjoy this spring holiday season.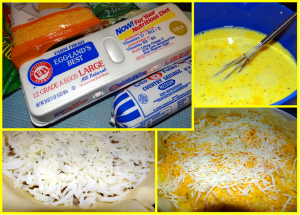 Ingredients:  
6 Eggland's Best Eggs
9-inch Pie Crust (frozen or fresh, I used a pre-made refrigerator dough) 
1 pound of Sausage (mild or hot, depending on preference) 
1 cup of Hash Browns (frozen/thawed or fresh)
1/4 cup Milk
1/2 cup Mild Cheddar Cheese, shredded
1/8 cup Parmesan Cheese, finely shredded
Pepper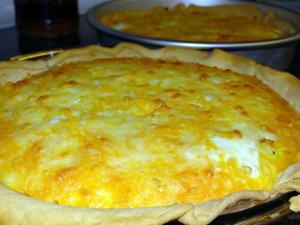 Directions: 
Preheat oven to 375 degrees.  Using a skillet, brown sausage according to package directions, crumbling into small pieces as you are cooking.  Drain grease.
Form crust, shaping gently into a pie dish (or if frozen, simply pull out pie tin with formed crust.) Spread cooked sausage in a layer over pie crust bottom.  Layer hash browns over sausage.  Layer cheddar cheese over hash browns.
Using a small mixing bowl, whisk together eggs, milk and a dash of pepper (to taste, heavy if you like it, light if you want a subtle flavor) until blended and slightly frothy.  Pour egg mixture over cheddar cheese layer evenly.  Layer Parmesan cheese on top evenly.
Bake for 30 minutes until lightly browned. Use a toothpick or butter knife to ensure center is cooked before removing from oven.  If fully cooked, the toothpick or knife will be clean when removed from center. Serve and enjoy!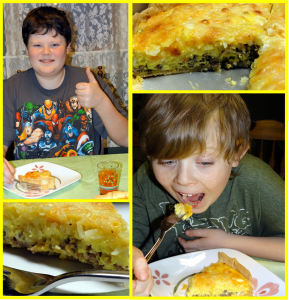 No matter what way you slice it, the best approval is the thumbs up and smiles from your hungry bunch!