We're delighted to share cookbook author and blogger, Melissa Joulwan's paleo and gluten-free recipe creation "Pumpkin Gingerbread Cake With Maple-Vanilla Frosting."  This amazing recipe creation is sure to please even the sugariest of sweet tooths without sacrificing the waistline.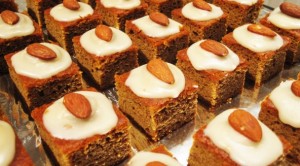 Pumpkin Gingerbread Cake With Maple-Vanilla Frosting
Ingredients: 
Cake: 1 cup pumpkin puree (NOT pumpkin pie filling)
1 cup Justin's Maple Almond Butter (If you don't want to buy maple almond butter, use plain + 1 tablespoon maple syrup.) 
1/4 cup honey
2 large eggs
1 1/2 teaspoon baking powder
1/2 teaspoon baking soda
1 teaspoon vanilla extract
1 teaspoon ground ginger
1/4 teaspoon nutmeg
1/4 teaspoon cloves
1 teaspoon cinnamon
1/4 teaspoon cardamom
1/2 teaspoon lemon zest
Frosting: 1/3 cup coconut butter
1/2 cup coconut oil
1/2 tablespoon honey
1 tablespoon maple syrup
1 teaspoon pure vanilla extract
Optional: Pecan halves or whole almonds for garnish
Directions: 
1. Preheat oven to 350F.
2. Make the cake. In a medium sized bowl, combine all the cake ingredients and mix thoroughly to combine. Pour into an 8×8 oven-safe baking dish. Bake until completely cooked through, about 30 minutes.
3. Make the frosting. Place the coconut butter and coconut oil in a microwave-safe dish and heat until softened, but not melted. The length of time you need to nuke it will depend on the temperature in your house, so start with 30-second increments and repeat until you get the right consistency. Place the coconut butter and oil in a large mixing bowl, then add the honey, maple syrup, and vanilla extract. Beat until fluffy with a standing or hand mixer. If you don't have a mixer, go at it with a whisk… and good luck to you!
4. Assemble! Allow the cake to cool completely. Completely. For real. When you're sure it's cooler than Mr. Mike Ness in Red Square in February, you may cut it into 9 or 16 squares. Dollop a spoonful of frosting onto each square and top with a nut. Do not snarf your cake yet – save it for Thanksgiving dinner!
5. Chill out. When all squares are frosted, cover lightly with plastic wrap and refrigerate. The frosting will firm up in the fridge and the texture transforms into a confection. Serve the cake squares chilled or at room temperature.