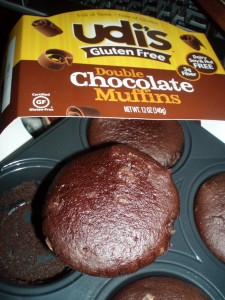 Hard to believe these are gluten free!
Yesterday I started on a journey that is long overdue.  I've been incorporating more and more gluten free items into my diet, but haven't taken the plunge into living a completely gluten-free lifestyle until now.
While I do not (thankfully) suffer from Celiac Disease, my doc and I have little doubt that I have issues with gluten sensitivity which can cause all kinds of havoc with my body including major uncomfortable bloating and other digestive discomforts.  It may or may not have anything to do with my general fatigue (I have Hashimoto Thyroiditis which also causes my energy levels to vary) but I'm always willing to give most anything a go to see if helps!
I have noticed that since I've gravitated away from foods with gluten, my overall general health and digestive system have been happier, so that's reason enough, actually, to go full scale.  When Udi's suggested a 14 day challenge, I jumped on the chance to participate.
My big concern is whether I can complete the challenge effectively while maintaining a reasonable range of dietary choices and truly avoid gluten in my diet.  Because it turns out that gluten is everywhere, even in foods I didn't suspect like sausage, chocolate, soy sauce, pickles, lunch meat, and instant coffee!  Getting through the next 14 days is going to mean a lot of label reading and navigation of food choices.
I also need to watch calorie and sugar intake as I am striving for healthy practices with those two areas as well to improve my health and ideally loose weight.  Gluten free doesn't mean calorie and sugar free.  Though I will be sampling some muffins and brownies, I certainly do not wish to make these staples in my diet, but rather a nice, luxurious treat from time to time.  Which is a nice thought because I've currently been avoiding all baked goods.

Lucky for me, there are food choices like Udi's Gluten Free products that are certified gluten free.  And there are terrific resources like UdisGlutenFree.com and CeliacCentral.org that are chock full of handy information and guides to help me make good choices and navigate the gluten free world.
Do you think that you may be gluten sensitive?
If you have fatigue, GI distress, unexplained weight loss/gain, infertility, inability to concentrate, or tingling/numbness in legs, you may be contending with Celiac Disease or a Gluten Intolerance.  Be sure to open up a dialogue with your doctor if you have concerns.
If you've been considering or already embarking on a gluten free diet, join me in the 14 day challenge, or follow along as I'll be reporting my finds a few times along the way.
If you are interested in sampling Udi's Gluten Free foods, check out their $1 off coupon offer at http://shop.udisglutenfree.com/special-offers
Some of the products that will be accompanying me on my 14 day gluten free journey.
Disclosure:  I received product and information from Udi's for review purposes.  All thoughts and opinions are solely that of Rural Mom.  I am choosing to participate in the 14 day Gluten Free Challenge for personal health reasons, I am not receiving compensation for my time or communications.