Fall is here and I'm always excited about the fresh flavors and scents of the season, particularly pumpkins!  Throughout October, I'll be sharing some of my very favorite farm fresh fall recipes for your Rural Table, starting with this savory pumpkin chowder.  Perfect for a crisp autumn eve.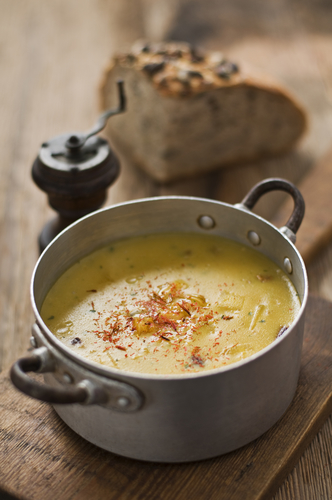 Pumpkin Corn Chowder
 Ingredients: 
3 Tbsp extra virgin olive oil
2 leeks, cleaned and chopped
3 garlic cloves, finely chopped
2 medium bell peppers, chopped
2 1/4 lb. cooking pumpkin peeled, seeded, and cut into 1/2 inch pieces
1 1/2 tsp chopped fresh marjoram
1/4 tsp crushed red pepper
2 bay leaves
1/4 tsp salt
1/4 tsp ground black pepper
1 1/4 cup fresh or frozen corn kernels
6 cups vegetable broth
Instructions:
Put olive oil in a large soup pot or Dutch oven over medium heat. Add the leeks and cook until tender, about 4 or 5 minutes, stirring often.
Add the garlic and cook for 1 minute more, stirring constantly.
Reduce the heat to medium-low, then stir in the green peppers, and cook until the peppers begin to soften, about 7 or 8 minutes. Now add the rest of the ingredients, turn the heat to low and simmer until the pumpkin is tender, about 20 to 30 minutes.
Make sure the soup doesn't boil, just slowly simmers. Remove the bay leaves and serve hot. Will serve 4.
Enjoy!