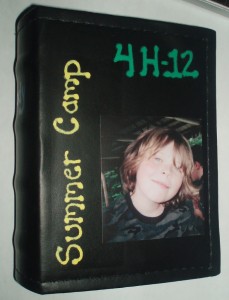 This year, my rural boys attended a short 4H camp and though it was tough to let them go, I know it's an experience they'll treasure forever. They learned a lot, experienced a ton of new activities, and formed some new friendship bonds.
Before they went, I purchased a few disposable cameras to help them capture the memories. While they were gone, I found some sturdy $3 photo books at Walmart and with the help of my Elmer's Painters Paint Markers, created a fun memory keeper for them (pictured.)
As you can see, this was a simple process, I just painted on the words and them had them choose a picture of themselves to feature on the front, which we attached with glue. Easy-peasy craft inspired by their trip, so the fun they had would continue!
Whether your children attend an overnight, day camp, or simple participate in any fun-filled activities this summer, you can help preserve their memories in any number of creative ways: scrapbooks, journals, picture frames, memory boxes, and so on… that can easily be embellished or many, created from scratch.