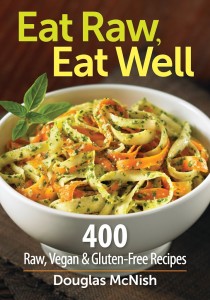 As a Rural Mom, when you hear the words "raw food," you likely think of the first pickings of the season enjoyed in the garden. Or is that just me that cannot resist a bite or two of blackberries or fresh tomatoes from the vine?
You might also conjure up images of thinly sliced carrot and celery sticks aka "rabbit food."
Chef Douglas McNish once thought the same thing before he discovered an entire world of raw food from hearty breakfasts to decadent desserts. The recipes in Eat Raw, Eat Well: 400 Raw, Vegan and Gluten-Free Recipes
 reflect Doug's talent and commitment to raw cuisine.
Doug shared a special treat for Rural Mom readers, his wonderful recipe for Morning Energy Bars (pg. 35 in Eat Raw, Eat Well: 400 Raw, Vegan and Gluten-Free Recipes
) – enjoy!
Morning Energy Bars
These bars are the perfect way to start your day, as they contain proteins, healthy fats and carbohydrates and an abundance of micronutrients such as calcium, magnesium and potassium.
Ingredients:
2 cups chopped pitted dates 500 mL
2 tbsp raw cacao powder (see Tips) 30 mL
3 tbsp raw agave nectar (see Tips) 45 mL
2 tbsp water 30 mL
1⁄4 cup raw cashews 60 mL
1⁄4 cup walnuts 60 mL
1⁄4 cup raw whole almonds 60 mL
3 tbsp raw shelled hemp seeds 45 mL
2 tsp sesame seeds 10 mL
Pinch fine sea salt Pinch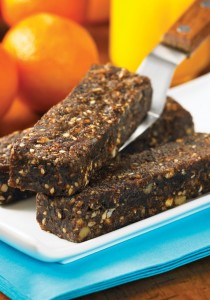 1. In a food processor fitted with the metal blade, process dates, cacao powder, agave nectar and water until smooth. Add cashews, walnuts, almonds, hemp seeds, sesame seeds and salt. Process until the ingredients come together to form a sticky mass, stopping the motor once and scraping down the sides of the work bowl.
2. Transfer to a cutting board. Using your hands, press out the mixture until it is 1 inch (2.5 cm) thick and shape into a square about 6 inches (15 cm) long. Cut into 9 bars, each approximately 3 inches (7.5 cm) long and 1 inch (2.5 cm) wide. Place on a platter or baking sheet lined with parchment paper and refrigerate for one hour to set. Serve immediately or cover and refrigerate for up to 2 weeks.
Variations
Various kinds of nuts and seeds can be substituted in the same quantities. For example, you may substitute chia seeds for the sesame seeds. If you have Brazil nuts on hand, try substituting them for the cashews. By experimenting, you may find a combination that suits you to a tee.
Tips
There are numerous varieties of dates, but Medjool are my favorite. Although they are generally more expensive, they are larger, softer and ideal for using in raw food recipes.
Cacao powder is powdered raw chocolate. Is it similar to cocoa powder but tastes even better, with a deeper, richer flavor. Cacao powder is available in well-stocked supermarkets, natural foods stores and online. If you are transitioning to a raw foods diet or can't find it, substitute an equal quantity of good-quality cocoa powder. When purchasing agave nectar, be sure to look for products labeled "raw." Most of the agave nectar on the market has been heated to a high temperature and does not qualify as raw food. If you have concerns, ask your purveyor.
Excerpted from Eat Raw, Eat Well: 400 Raw, Vegan and Gluten-Free Recipes

by Douglas McNish © 2012 Robert Rose Inc. www.robertrose.ca Reprinted with permission. 
All rights reserved. Photo credit: Colin Erricson/www.robertrose.ca