We sat on the bleachers under the twinkling stars anxiously awaiting the Animal Kingdom Rivers of Light water show to begin.  What unfolded was pure magic, Disney style!
Animal Kingdom is a popular destination for Disney lovers, and one of the reasons is because the shows there are so fabulous. As an attendee of the Disney Social Media Moms Celebration, I had the chance to preview the Rivers of Light Show at Animal Kingdom prior to it's opening day.  My conclusion?  This spectacular tribute really is the perfect way to end your day at Animal Kingdom.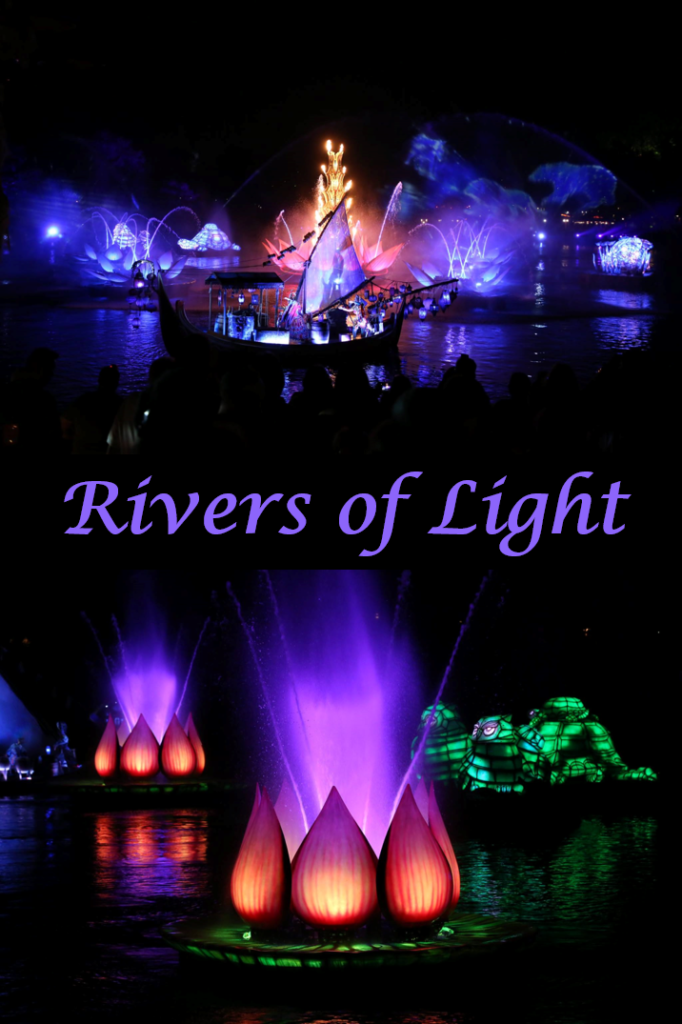 Rivers of Light is a nighttime scene filled with special effects, music and animal folklore. Because it celebrates the beauty of all living things, it's the ultimate experience for a nature lover. I've never experienced anything quite like it before, and it is definitely something I'll remember forever!
Like all great Disney adventures, there's a dining package available! Included in the package is a meal from either the Tusker House Restaurant –  a buffet overflowing with African flavors, or Tiffins, where you'll get a more formal meal with appetizer, entrée, and dessert. Package prices vary depending on the number of people in your party and your chosen restaurant.
After you've spent time treating yourselves to an unforgettable meal, you'll head over to the show at the lagoon as the sun goes down. Times vary throughout the year, so be sure to check in advance. Here's a quick rundown. A lot goes on in 15 minutes!
As the sky gets darker, the water begins to light up and the melodies of nature surround you. Then the procession across the water begins. The show's live performers never speak a word, but they don't need to. They very effectively communicate the story atop floating set pieces across the lagoon. It's so well-done that you don't even realize they never spoke until after the show is already over.
There are lanterns and lasers that mimic fireflies and fairies all around and you're swept up into the enchanting and ever changing sights and sounds of the performance. It's truly mesmerizing. The display ends with a grand finale that really resonates with any nature lover, and it's so phenomenal that it might just make a changed person out of someone who isn't. You truly leave the show with your spirits lifted and a renewed connection to nature.
After the show, you can either retire for the evening or head back into Animal Kingdom for some more fun! There is still a lot that goes on after sundown in Animal Kingdom, like Carnivale or the Tree of Life Awakenings. The magic truly never ends.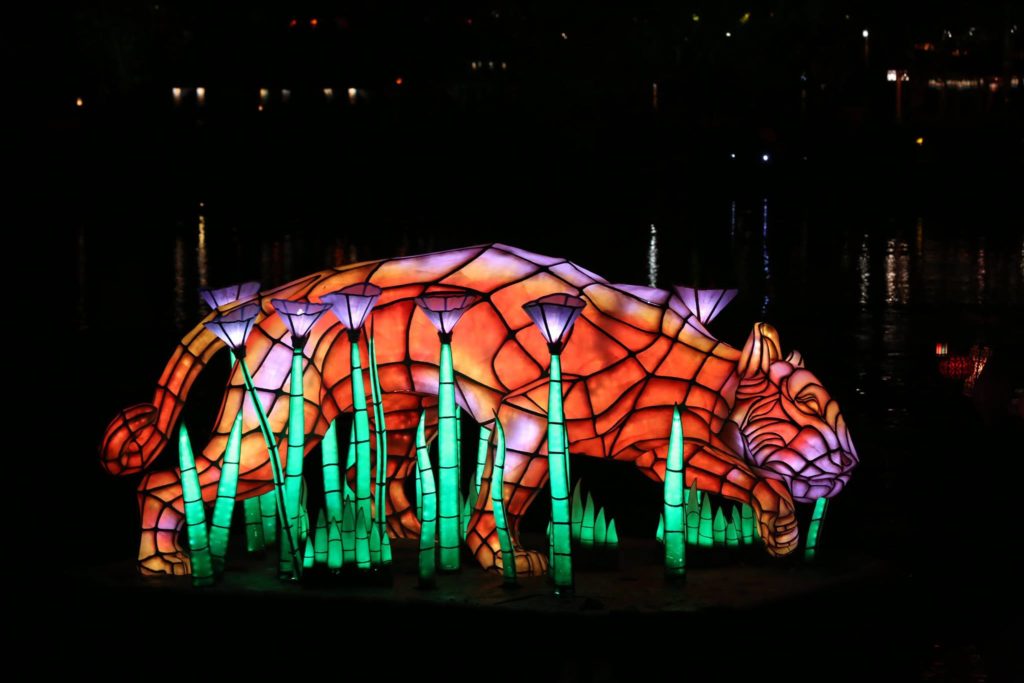 Note: The Rivers of Light show is definitely a must-see experience. It's very popular, so the park suggests that you make reservations in advance for both the show and the dining package.