It's no secret that I'm an animal lover. What I don't love is animal messes in my house. Muddy paw prints, hairballs floating about the house like tumbleweeds, the occasional puddle of who knows what…let's just say that some days the animals around here are lucky they're so cute!
In light of this, I was happy to test out bObsweep PetHair Robotic Vacuum Cleaner and Mop. Let me just start by saying that I love a robotic vacuum. I'm often short on time and it's nice to have something to do a little bit of the work for me. This vacuum takes on the toughest pet hair problem – even in the shedding season. It sweeps it up so well you'd barely know there were pets in the home. (Until someone starts barking anyway!)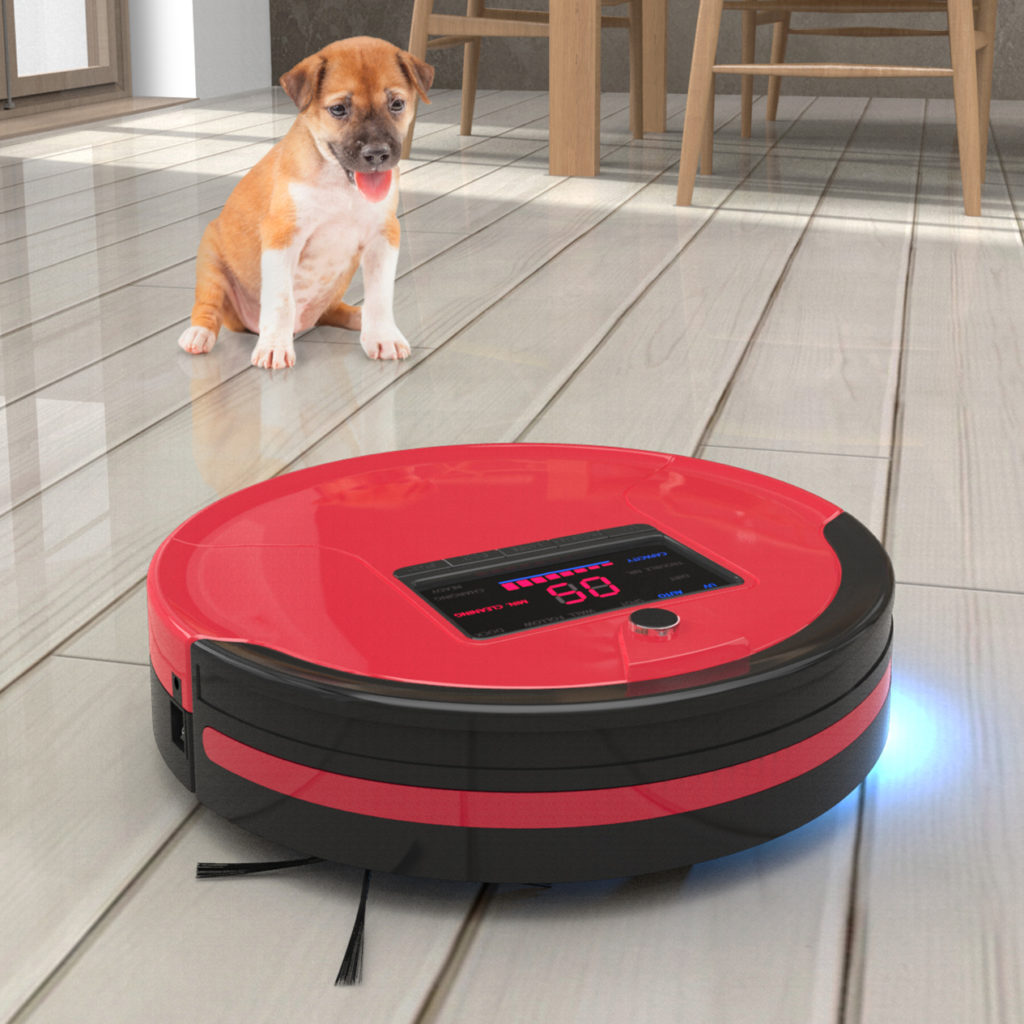 Speaking of barking, bObsweep is really quiet for a vacuum. The animals aren't afraid of it at all, unlike a traditional vacuum which they sometimes see as a threat. It's nice and low to the ground and moves where they do, so they don't see a towering monster coming at them. If you've ever had a dog attack your vacuum, you know what I'm talking about. Choosing between a clean house and a happy pet shouldn't be a decision you have to make.
The machine is also self-adjusting, and will adjust itself to get the best clean on hardwood floors as well as carpets. It can climb ledges up to 1.5 cm, which is generally the height of the difference between moldings, carpets, and linoleum or hardwood floors. It's got 28 sensors and infrared technology to keep it from falling off ledges or banging into things. All you have to do is sit back and relax and let bOb do his job!
Using the detachable microfiber cloth, bOb is able to mop as he vacuums. He also has the ability to sanitize with a special UV light. The HEPA filter traps all of the allergens that often come with pet dander. bOb is so advanced that he will clean until he needs to recharge, and then bring himself back to his charging station for a refill! He'd make a great addition to the home of any pet lover.
The dust bin is huge and only needs to be emptied about every six times bOb cleans – so about once a week. The battery lasts approximately a year, and then you just buy a new one. No need to buy an entirely new vacuum. There is a one-year warranty as well.
Here's something I really, really love about bOb. He's RoHS certified. That means that the machine contains no lead, mercury, cadmium, hexavalent chromium, polybrominated biphenyls and polybrominated diphenyl ethers. (Loose translation – toxic stuff.)That's a certification not required in most of the US, and it proves that the company cares about people, animals, and the environment as much as I do.
So far, bOb and I have a great relationship. He cleans without tiring and I have more time to spend loving my pets. That's something we all appreciate!