'Tis the season for giving!  'Tis the season for joy! As a Hasbro Kindness Ambassador, this year I've partnered with Hasbro on the mission to help spread the joy forward with the Joy Maker Challenge.  It's a fantastic program to encourage our youth to get involved with volunteer opportunities.  Learn how to help your child to spread joy this holiday season and beyond… read on!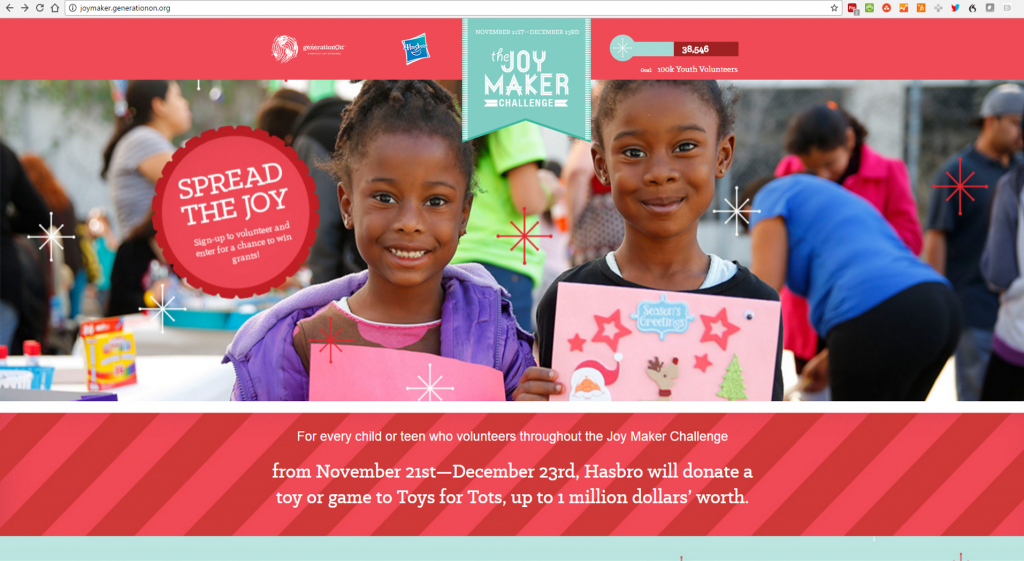 What is The Joy Maker Challenge?
Hasbro and generationOn, the youth division of Point of Light, have partnered for the seventh annual Joy Maker Challenge.  This campaign encourages youth ages 5-18 to spread joy to people in need during the holidays through volunteer service.
From November 21 – December 23, teens, teachers, youth development professionals and families can sign up, search for local volunteer projects or share their stories for The Joy Maker Challenge through the campaign website (generationOn.org/joymaker)
Joyful Incentives of The Joy Maker Challenge
When your child participates in the Joy Maker Challenge, they are not only helping their community with their project, they'll be helping children in need receive toys during the holiday season.  For every kid and teen who volunteers throughout The Joy Maker Challenge, Hasbro will donate a toy or game to Toys for Tots (up to $1 million worth!)
When you "Share Your Story" after completing a Joy Maker Challenge activity or volunteer service, your child will be entered to win a grant.  Four grand prize winners will be selected at the end of the campaign to win a $500 grant, while 20 additional participants will be awarded $250 grants each!
While the spirit of kindness and joy are certainly the best motivators of all, these two incentives certainly add a lot of icing to the joy making cake!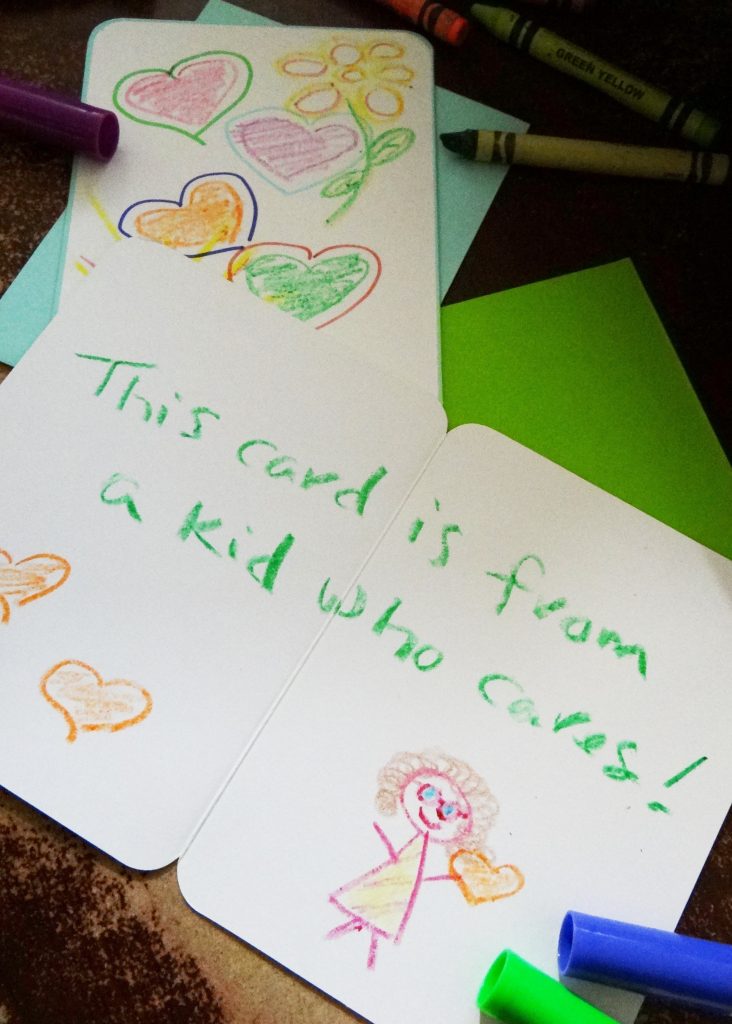 What Kinds of Projects Can My Child do for The Joy Maker Challenge?
There are many ways to help your child to spread joy with the Joy Maker Challenge.  You can have them participate with you in volunteer opportunities or activites you may already have scheduled.  If you need ideas, you can visit the campaign website (generationOn.org/joymaker) where you'll find service project ideas in your area, downloadable planning tool kits and project guides, developed by generationOn, to help youth learn about and spread joy to those in need.
For example, simple projects like the "Caring Cards" (below) are great way to get young children involved with an easy hands-on project.  This is something I plan to do with my granddaughter when she visits for the holidays.
My teens and I have tapped into the Joy Maker Challenge volunteer opportunities in our area to participate in and found two that we were not aware of before where our talents would be a huge asset.  We are all very excited about this discovery! We've also decided to start a donation jar where we collect spare change throughout the year so that next year we can use the funds to sponsor a local charity.
BE FEARLESS BE KIND, Join The Joy Maker Challenge Today!
The Joy Maker Challenge is part of BE FEARLESS BE KIND, Hasbro's new signature philanthropic initiative designed to inspire and empower kids to have the empathy, compassion and courage to stand up for others and be inclusive throughout their lives (you can find out more about the BE FEARLESS BE KIND program HERE.)
Since the Joy Maker Challenge campaign's inaugural year in 2010, more than 960,000 total acts of service have been completed, with 6 million dollars' worth of toys donated to Toys for Tots by Hasbro.  That's a whole lot of wonderful kindness and joy that helps to make our communities better, kinder places to be.  You can help carry this tradition on and help your children to make an even bigger difference in the world.
As of today, there are 38,546 youth volunteers registered with The Joy Maker Challenge.  The goal is 100 thousand.  We can do this!  It's easy to be part of the solution and to spread joy.  Many of the projects take very little time at all, but they will have a great big impact.
How will you help your child spread to spread joy this holiday season?
Will you join us in The Joy Maker Challenge this year?