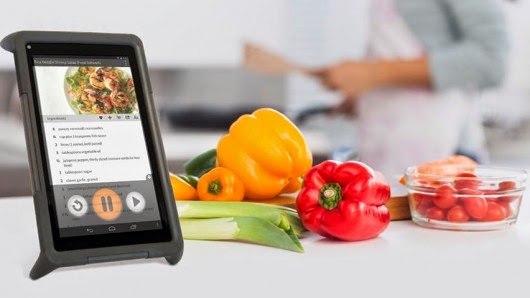 We all know what a tablet can do – it can play apps, music, store documents…etc. Tablets are useful in so many ways, and that's why most people own one. But what if there was a tablet that could also help you out in the kitchen?
The Key Ingredient Recipe Tablet is just that – an innovative kitchen helper that brings the best of technology bundled in a protective case to help you with all your recipe needs!  We've had the chance to test one out in the Rural Mom Kitchen and truly enjoyed the results.

It's not just recipe storage, because any tablet can hold cookbooks. The Key Ingredient Recipe Tablet is specifically designed to make your life easier in the kitchen.
The case is made of silicone, so if you drop it, it won't be easily damaged. This obviously doesn't mean that you can throw it against the wall if you get mad that you burned your chicken… but, it will withstand an average fall. It's also heat resistant, so you can leave it next to your stove as you're cooking rather than running across the room to find the next ingredient on the list. The case also wipes easily, so cleaning up the inevitable spills and splatters is a breeze. The stand is also a nice feature – you can just glance over at the screen as you stir.
You don't have to stay near the oven while your favorite new casserole recipe is cooking either – the tablet comes installed with a timer. Feel free to do laundry, watch videos, or browse more recipes while you wait for it to be done.
Believe it or not, it gets even better. The next thing this amazing gadget does is talk to you. So if you happen to be wrist deep in meatloaf or have raw chicken all over your hands, it will read you instructions and ingredients. The days of washing your hands to turn a page are long gone.
The tablet gives you the ability to browse over 2 million – yes, 2 million – recipes on , and you can collect and organize them easily any way you want by creating your own cookbooks. For example, you could have one for entrees, one for sides, and one for desserts, or you could even be more specific and do one for chicken, one for beef, and one for potato recipes.
The tablet will also give you a grocery list. Your efficiency boosts as you input the recipes you'd like to make for the week and the tablet generates a grocery list for you. The only thing that would make it easier is if you could get it to do the shopping and the dishes too!
This tablet makes a super gift for your favorite chef, and it's something you'll definitely want on your own wish list this year.
Do you use traditional cookbooks or store your recipes on an electronic device?