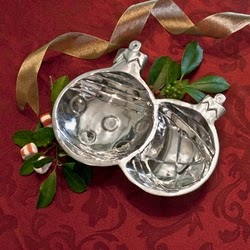 Beatriz Ball is the name behind some really beautiful metal ware. Each piece is made entirely by hand by a very specific process – molten aluminum is poured into sand molds, and then when the piece cools, it undergoes four different levels of polishing. What the consumer ends up with is a gorgeous, unique piece that resists tarnish, is eco-friendly, and easy to care for.
I was asked to review the Vento trays. When you think of the word tray, a rectangular serving tray comes to mind. While the trays do come in the usual rectangular shape, there are also heart shaped trays, square trays, oval, and round trays. Each piece is more unique than the last. The selection is extraordinary.
I especially like the heart shaped trays – they're the sort of thing you can keep on a coffee table all year round, and change the décor with the seasons. For example, at Christmas time, you could put some ornaments on there for a very pretty effect, or use it to corral candy canes. In the fall, you could put pinecones and gourds on display, and in the winter, you could display winter berries or candles. There really is no limit to what you could put on the trays. They're decorative and useful.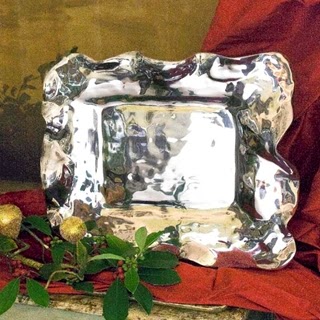 The larger trays are great for entertaining – you could carry drinks on them or use them to serve hors d'oeuvres or little desserts. They'd make just about anything you put on them look more enticing. If you don't do much entertaining, the tray comes in handy for lots of other things too. For example, you could place one next to your entry door to catch keys and things as you walk in.
The Beatriz Ball website has a huge selection of metal ware for all of your entertaining needs. There are pieces elegant enough for weddings or formal New Year's Eve gatherings, pieces that are simple but special enough to enhance your fall décor, picture frames, hostess gifts, casseroles, and everything in between. The site is very user friendly and has categories featuring gifts for her, gifts for him, gifts under $50, and outdoor entertaining, among other things, so your shopping experience will be enjoyable. The only problem you might have is that you'll want to buy everything! It's all so nice. To make things even easier, they will gift wrap for you! Take a look at the Vento collection this season. You'll want to put it on your own holiday wish list!
Do you use serving trays? What is your favorite piece of metalware?