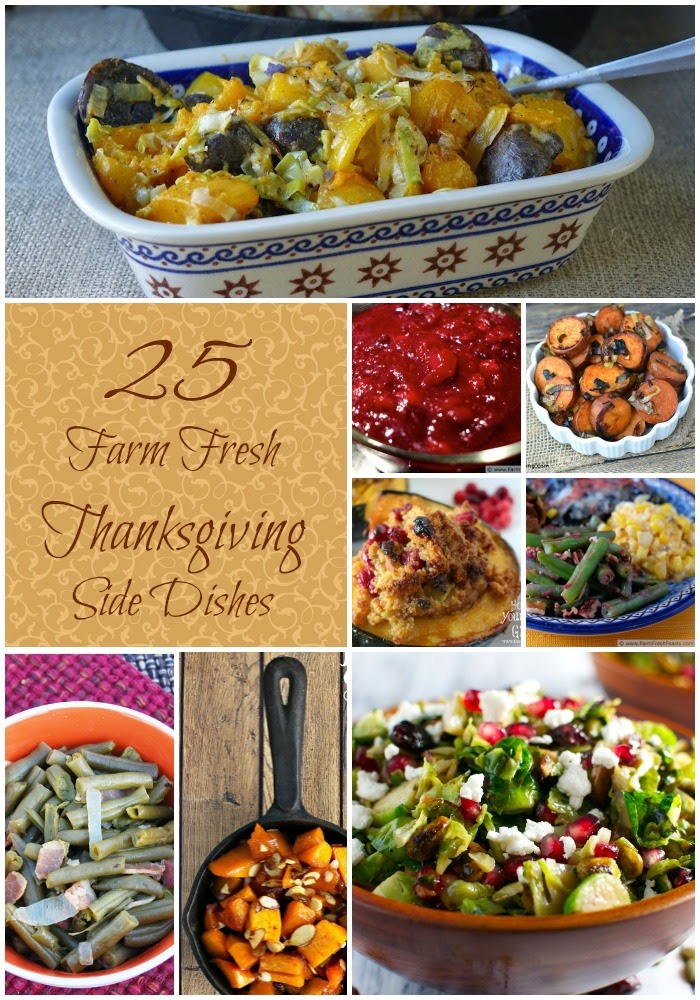 Thanksgiving is almost here! I assure you that if you asked the guests at the original Thanksgiving table if they prefer their stuffing out of a box or the kind in a bag, they'd look at you like you had three heads. They knew something then that we're all striving to get back to now – farm fresh dishes are the best!
A few of our all-time favorite farm fresh side dishes at Rural Mom are:
and Sausage Cornbread Dressing with Apples and Pecans 
Below, you'll find some of the more amazing farm-fresh Thanksgiving side dish recipes from some of the best bloggers on the web. Give them a try and let us know what you think!
3. Make Ahead Irish Mashed Potato Casserole
5. Easy Butternut Squash Soup
6. Acorn Squash With Cornbread Sausage Stuffing
8. Brandied, Candied Sweet Potatoes
11. Cranberry Pecan Green Beans
13. Smoky Ciabetta Stuffing With Fennel, Grapes, and Apples
14. Paleo Baked Green Bean Fries
15. Colorful Roasted Butternut Squash With Potato, Pepper, and Leeks
16. Parsley Potatoes
17. Roasted Acorn and Butternut Squash With Corn and Smoked Sausage
18. Balsamic Roasted Brussels Sprouts
19. Green Beans With Bacon and Onions
21. Cheesy Spaghetti Squash
22. Butternut Squash with Maple
23. Sweet Potato and Leeks With Honey
24. Farm Fresh Broccoli Cheese Soup
25. Apple/Apricot, Beet, Cranberry Sauce
The following are appetizers rather than side dishes, but they looked so delicious I thought I'd add them!
Fall Color Vegetable Appetizers
Sausage Cheese Apple Balls
Cranberry Honey Butter
What's your favorite Farm Fresh Thanksgiving side dish?