Hold the door open and stare into the cold abyss of your refrigerator.  What do you see?  Neatly organized shelves with easily accessible items?
If so, bravo!  You've likely reaped the benefits already that we're discussing.  But, if you see a hodge-podge of items scattered about the front of the fridge and some questionable left-overs stuffed in the back, read on…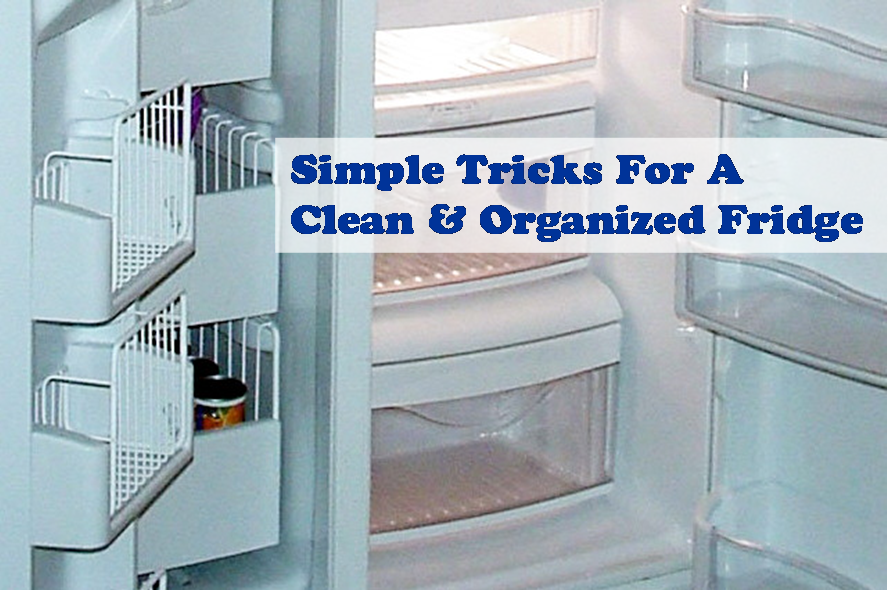 Did you know that by proper organizing the contents of your refrigerator, you can save both time and money?  When you keep the door open to hunt for items, the refrigerator will consume more energy and have to run longer to keep it cool. Keep your fridge organized, though, and you'll be able to reach in and grab what you need instantly. Not only that, but you will be well on your way to the start of an organized kitchen.
Follow these six tips to for the lickety-split way to organize your refrigerator today:
Plan Your Meals
Create a specialized place on the refrigerator for a copy of your weekly meal plan. You can use a sheet of paper and simply hang it using a magnet or you can go a little more elaborate with an erasable whiteboard. Keep a shopping list nearby to list ingredients you need.  This will help you to organize the contents of your refrigerator better by reminding you to use up leftovers and also by ensuring you have everything you need on hand when it's time to cook.
If you are not a meal planner or are seeking to use items you already have on hand, try using cooking apps like Su Chef http://su-chef.com  This free app transforms your iPhone or iPad into a personal assistant chef finding recipes with the ingredients you already have on hand.
Invest in Clear Storage
It is easier to find the food you are looking for if you can see inside the containers. You don't have to rummage inside the fridge. You don't have to spend a fortune either.  Recycle glass containers to use and search thrift and discount stores for inexpensive options.
Barbara Reich, author of Secrets Of An Organized Mom suggests using matching containers for separate foods and leftovers.
"Preferably, the containers should be clear, stackable, easy to open and close, and labeled!" says Reich.  "I love the Pyrex Easy Grab Bake 'N Store food storage containers.  They go from oven to microwave to refrigerator and freezer."
If your leftovers are often thrown away because you forget to eat them, you might want to even take it a step further and label the leftovers with the date you cooked it and put it in the refrigerator.
Also, when putting leftovers away, be sure to rotate the contents of your fridge so older food is in the front, while today's leftovers are in the back. This will help keep spoilage to a minimum.
Organize Food Logically
Place the food that you are going to need later that week at the back of the fridge and organize the items you need earlier that week in the areas where you can easily get them.
Avoid storing dairy products where you cannot easily find them. These perish easily. It would be a shame to purchase cottage cheese, and then forget that you have it stored in your fridge. Keep cheeses, yogurt, sandwich spreads and milk close to the door of the machine so you can easily see them.
"Group like things together and designate locations for standard items such as egg, milk and fruit that you always have on hand," says Reich. "This way you will always know where the basics are and whether you need more."
Clean Your Fridge Regularly
Once a week, go through the fridge and clean it out.  Place all items back in their designated spots.  Evaluate your leftovers.  Compost expired leftovers that were not eaten or if necessary, toss them out.
Wipe down shelves that have had food spilled on them. Wipe off bottle lids that have food dripped on the sides and check the temperature settings of the refrigerator.
Keeping your refrigerator clean and organized is key to staying on top of keeping your kitchen organized.  It's also a smart time saver and a smart way to keep your food costs down!